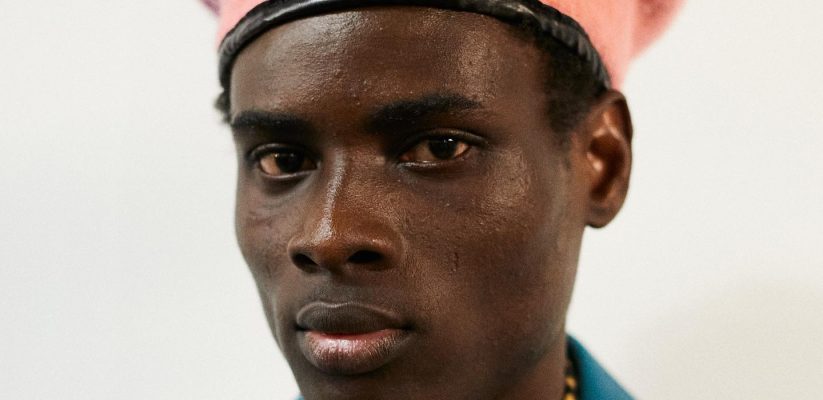 Our Fashion Design BA has an exceptional reputation for being aligned with the international fashion industry, enabling students to have outstanding opportunities to engage with the industry throughout their course.
We were the first undergraduate course in the world to show on schedule at London Fashion Week (LFW) and to show all our graduate collections at Espace Commines in Paris. Currently, our Fashion Design BA is one of two undergraduate courses to show on the official 2023 London Fashion Week (LFW) main schedule.
@londonfashionweek commented on Instagram "The university has developed an outstanding international reputation for producing highly talented and original fashion designers, with alumni including #BFCNEWGEN designers @robynlynchireland, @ahluwalia, @ss_daley and @paolocarzana.
Other recent graduates from the course are working in the design studios of international fashion houses including Givenchy, Louis Vuitton, Burberry, Lanvin, Alexander McQueen, Balmain, Smythson, JW Anderson, Stone Island, Calvin Klein, Ferragamo, Kenzo, Carven, and Loewe.
This year we were delighted to present our undergraduate show at the opening of London Fashion Week (LFW) in June 2023. The show – sponsored by L'Oréal Professionnel, The British Fashion Council, Alexander McQueen, Burberry and many more – featured 14 designers in their final year on our Fashion Design BA course. We spoke with three of the designers, Victoria Olejniczak, Grace Tayo and Nothando Ngwawaira after the show, to hear more about their experience of studying at Westminster and presenting their collections as part of London Fashion Week (LFW).
What were you most excited about building up to the London Fashion Week (LFW) show?
Victoria: The most exciting thing about the LFW show is being able to see your work on the runway — seeing your whole collection and several months' worth of work all together. The fact that there were many members of the press and recruiters in the audience made it all the more exciting and a great opportunity to promote yourself as a designer and a professional. Being able to finally showcase my collection to friends, family, and all my tutors made this an extremely proud moment for me.
Grace: I was excited to see my guests; friends, family and my mentor that I invited to the show. It's one thing to constantly talk about what you're doing each week and the challenges you face but to reach the stage where you can finally share your work with the people that matter most and hear their opinions was a great feeling. I was looking forward to seeing my whole collection on the models, fully styled. The day of the show, was the first time I got to see all six outfits come to life. In the run-up to the show, every day is super busy creating and perfecting your looks, so this was my first chance to see everything come together.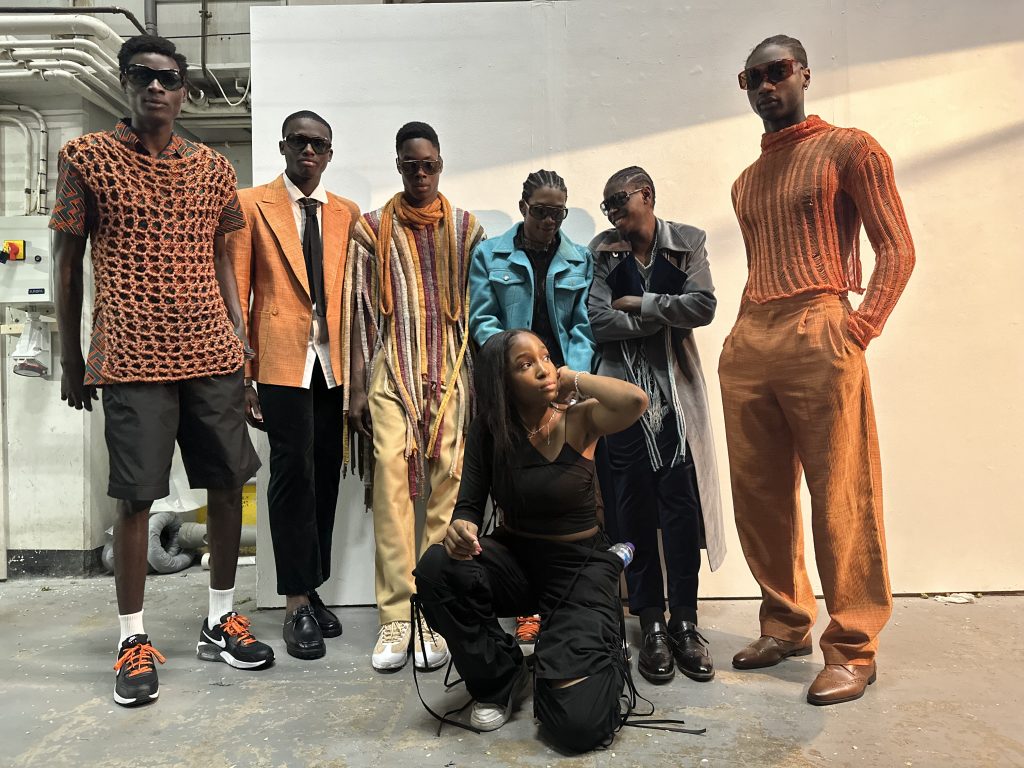 Nothando: I was most excited about seeing my designs go down the runway, the models wearing them and being in my first fashion show.
2. How has your course prepared you for your final collection?
Victoria: During the four years, we were taught everything there is to know not only about the industry and professional skills, but pattern cutting, printing, and how to develop our style as designers. The placement year allowed us to truly understand the ins and outs of the fashion industry, so coming back for the final year we all felt extremely prepared to produce high-quality portfolios and collections. In the end, I felt like a designer or industry professional rather than a graduate student!
We had regular tutorials with our tutors and pattern cutters who were able to guide us and push us to create high-quality collections.
Grace: Throughout the development of the collection, we discussed with our tutors our interests and our strongest skills. They advised us to create a collection that we will enjoy and showcase what we are best at. Another aspect of preparing for our final collections is the role our classmates have to play. Everyone is so unique and talented, it inspires and motivates you to do more and try new things. The support we had amongst each other was one of my favourite parts of the degree.
Nothando: Well the course is a lot of work. Every element and module on the course has been useful and prepared me for my final collection. However, for our final collections, we were working and creating more than ever.
3. What inspired your designs and final collection?
Victoria: I always end up going back to my roots — I was born in Poland and spent the first five years of my childhood living there. My work is always inspired by either childhood memories, family photographs, or traditional Polish costumes. For my final collection, I focused on Polish pagan and folk traditions — in particular the pagan celebration of the arrival of spring, where groups of carollers dress up as different characters from folk myths. These characters inspired all the silhouettes and choices of fabric in my collection. The prints were inspired by traditional Polish embroidery found on ribbons and regional costumes.
Grace: My collection was inspired by jazz legend Miles Davis and vintage promotional posters. I love bold and colourful menswear and this was the first time I got to incorporate my knitwear designs. I used a vibrant geometric African printed textile that is a personal link to family and heritage and embodies the movement and energy of Jazz. In general, when I design I think of the type of person I would love to wear my clothes. I want that person to be fun and adventurous, which is why I never shy away from mixing techniques, textures and colours!
Nothando: My designs were inspired by my theme of Afro-Futurism and an idea of clothes that I had always wanted to bring to life. Clothes that suited me and my ideals of what I'd like to see men in.
4. How does it feel to exhibit at LFW with sponsors such as Burberry and Alexander McQueen whilst being a student?
Victoria: It is an extreme privilege to be able to present my work to such sponsors — not many BA courses give you an opportunity like this. Truthfully, it can be quite terrifying but that's what pushes you to produce your best work, as having these sponsors and recruiters comes with the prospect of being hired by them. It does make you feel more like a professional than a student!
Grace: The funny thing about big achievements is it takes a while to settle in your mind. At first, I was feeling so many emotions at once that I couldn't even put it into words. Eventually, I felt proud for coming this far and making it to this moment, grateful for all the support I received from classmates, tutors, friends and family. Although the show is over and it was a great accomplishment, there is still an element of pressure, as I look forward to the next step and finding my place within the fashion industry. However, after such an achievement and the range of skills I have developed on my course, I am positive that I will be successful!
Nothando: It felt amazing, our sponsors donated the denim for my jeans, leopard print and trouser fabric, which was cost-effective and environmentally friendly. Most of us in the class got to re-use fabrics for our collections. Our sponsors are big names within the industry and it was a privilege to be part of a show and present our collections to them.
5. What are your career aspirations and how do you think your course has prepared you to achieve this?
Victoria: Ideally, I would love to be part of the design process but I'm very passionate and enjoy every part of this industry. The course has prepared me for every aspect of fashion design, whether it be design, pattern cutting, fabric selection, or even creating technical packs for factories. My current plan is to start at a smaller brand, to help me strengthen my skills before moving on to a larger design house.
Grace: I completed a placement year as part of my course and from that time in the industry, I realised it is really good to keep an open mind. Fashion is broad and it's impossible to know all the different types of roles that exist. I am open to seeing where life takes me, what spaces I'll be in and what people I'll meet. However, this past year I took the time to learn how to design and create knitwear, so if I had the chance to work anywhere in the area of knitwear design that would be a dream!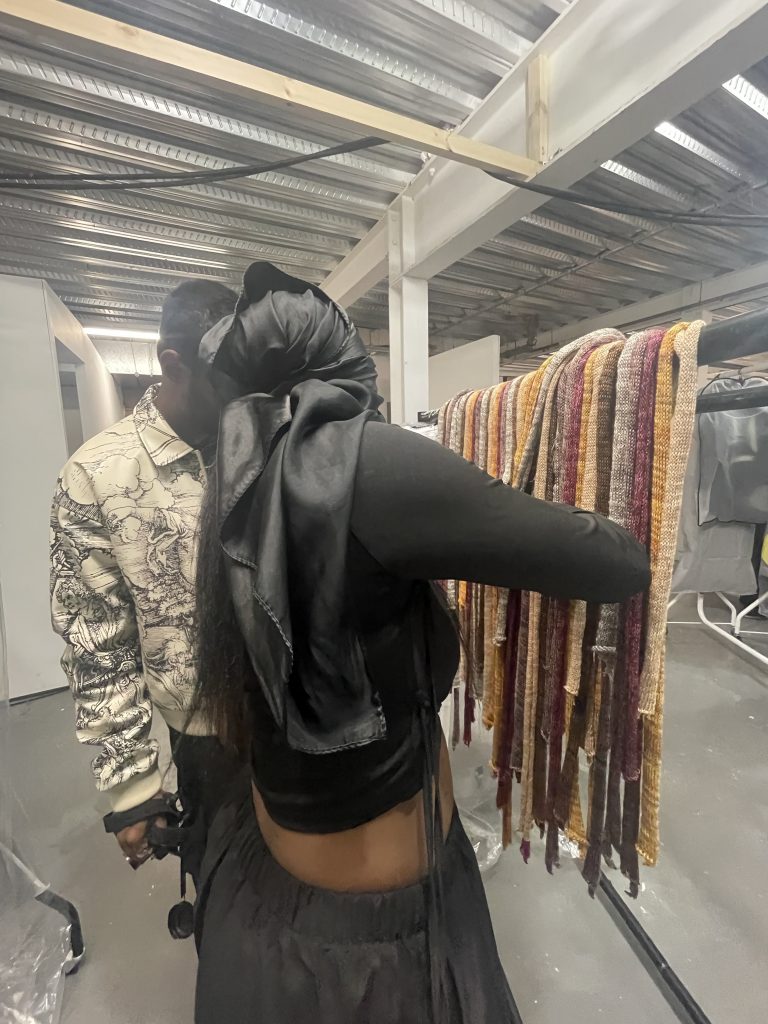 Nothando: The course has prepared me for hard work and taught me to trust and not second guess my ideas. In terms of aspirations, I would like to become a designer or print and textile creator. I also have a passion for painting and would like to see a future which involves me creating Afro-futuristic art.
Professor Peter Bonfield, Vice-Chancellor and President of the University said: "Congratulations and commendations to all involved. I loved every moment, it was an awesome show. Looking at all the collections, it was incredible to see all the amazing stories being told through fashion. The quality of work on display was on another level and demonstrates the talent and hard work of our students and colleagues. Our final-year students had an opportunity that not many get to experience, and I am proud to say that this is one of many great opportunities we offer at Westminster. Our practical courses and industry partnerships are essential to our teaching and learning and prepare our students to have successful future careers."
Mark C O'Flaherty from the Financial Times Weekend commented: "Usually, I take a million photos at a fashion show, but at the Westminster Fashion graduation show tonight I just got so wrapped up looking at the gorgeous cuts and details and fabrics, I barely lifted my phone. The standard was A+ and all of it retail-ready. Tonight, really showed that you can have your unique perspective as a designer but make it commercial."
To find out more, please visit Westminster Degree Shows 2023 or watch a TikTok of the LFW show (below) or the full show on Youtube.
Header image: Designer: Nothando Ngwawaira (Fashion Design BA, 2023)
Photography: Jessica Mahaffey