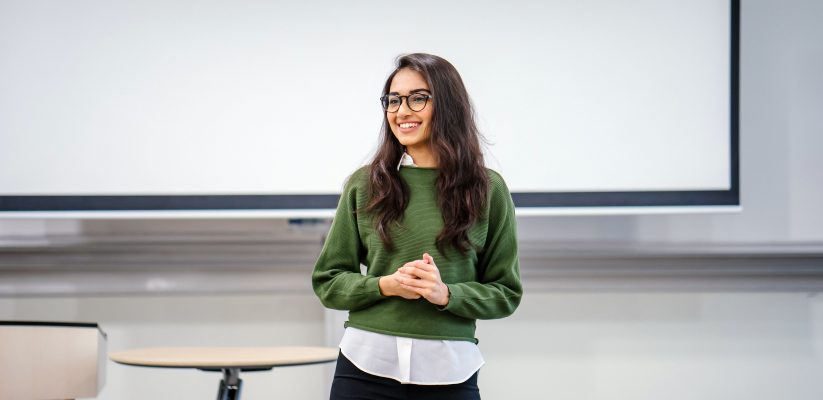 The annual conference, which took place at our Little Titchfield Street site, on the 28th February 2023, is an opportunity for staff and students across all levels to showcase the exciting research and projects they have been working on. It is also an opportunity to celebrate the great work being accomplished within the school.
The School of Computer Science and Engineering are extremely proud of their academics, who are all specialists within their fields and have many years of experience. Academics presented their exciting research on various emerging topics. Dr Esther Bonmati tutor on the Applied AI module for the Computer Science BSc and our new Software Engineering with Electronics BEng, presented her research on artificial intelligence being used on medical ultrasounds for cancer detection. Other presentations included work on computer image recognition and disruptive technologies.
The School works closely with partner institutions across the world. These partners offer a range of our Computer Science and Engineering courses to students at their institutions. Westminster students and staff also have the opportunity to visit and collaborate on many exciting projects.
Students and staff from one of our partners, the Informatics, Institute of Technology (IIT) (Colombo, Sri Lanka) attended and presented the interesting topics they are working on. These included competitive intelligence and data driven decisions, fraud detection mechanisms, machine learning and a machine learning based recommendation engine that can help secondary school students with academic and career decisions.
There was also a series of international talks from our partner Atlas University, India. The talks were presented by students and covered Mobile User Experience (UX) and Authentic Interaction Design. Academics from Westminster have been teaching and supervising student projects at Atlas University since the start of this year.
Dr Peter Bonfield, President and Vice-Chancellor welcomed the showcase of research and work presented. He highlighted the importance of the event to engage students with exciting computer science research that has great impact.
Feedback from participants was very positive and described the conference as an "excellent event of great importance. It was very useful to get a clear picture of the university and school research activities".