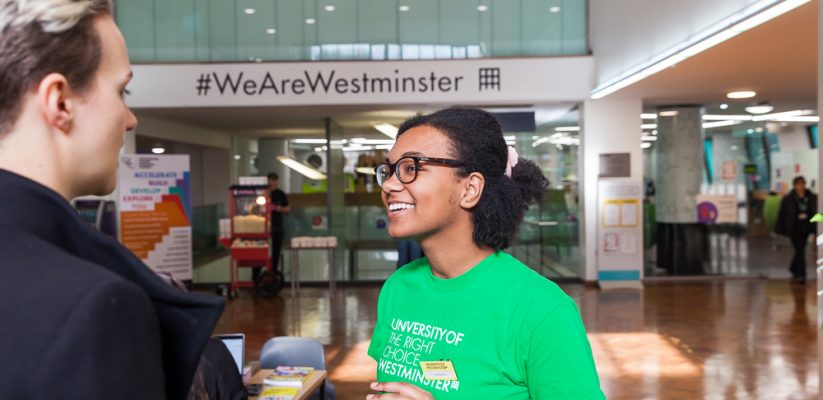 Starting a degree is a big commitment, and you might be worried about whether you'll have enough time to earn money alongside your studies.We spoke to Taruna and Tabassum, two of our current students, to find out their top tips on how to find a part-time job and balance your time around university.
How to find part-time roles
Taruna: Whilst looking for work back in my first year of uni, the best thing I came across was the university's Engage platform. Engage has a wide range of opportunities for students and has lots of information about full-time, part-time and vacation jobs, as well as paid internships and volunteering opportunities. You can even set up your own searches and alerts to personalise your job hunt! 
The Careers and Employability Service also offers Talent Bank, which acts as Westminster's dedicated recruitment agency for roles in various teams throughout the university, Westminster Enterprise Network (WeNetwork) which supports students with an interest in starting a business or freelancing, and many other services. All you have to do is get in touch with them and they guide you along the way. There are part-time jobs on campus and sometimes there are a few roles which can be done remotely. 
The University of Westminster Students' Union (UWSU) also provides opportunities for part-time work, including roles as digital ambassadors who create content for UWSU social media, or roles in the Student Union social spaces, cafes or shops on our campuses. 
At Westminster, all students are limited to a maximum of 20 hours per week of employment, which can help you to balance your time and not overstretch yourself.
Tabassum: Like many, I believed that studying full time and working alongside would be near impossible, however, Student Beans found that over a third of university students work at least one part-time job alongside their studies! I'm currently working part time as a student ambassador, and am in the midst of setting up my own online business. 
When starting this new chapter, I was anxious about time management and concerned about making multiple commitments whilst also maintaining a social life and joining societies.  As valid as these concerns were, I am delighted to say that not only am I managing to balance my commitments, I am also excelling in them. 
Working as a student ambassador gives me the flexibility to choose shifts that  accommodate my schedule. Not only is it helpful to earn some extra money, but it's also taught me to be confident in my abilities; it has made me dependable, I have made some wonderful friends but most importantly, it has given me the opportunity to positively impact fellow young people, those who I speak to at HE fairs and who attend our open days.
Taruna: It's helpful to be proactive and find a flexible job to fit around your university schedule. As long as you manage your time and prioritise, working whilst studying will enhance your employability, widen your networking opportunities, give you the chance to meet new people whilst earning some extra cash.  
I have been involved in many part-time or short term roles at Westminster, including becoming a Student Ambassador, Westminster Working Cultures Ambassador, FANS (Friends of Arriving New Students), Student representation (Course Representative, School Representative and Student Panel Advisor) and a student caller, making calls to support a fundraising campaign. 
You can study, work, socialise and find time for yourself – all you need to have is a schedule and stick to it.  University life is full of opportunities, grab as many as you can. I promise they're all worth it!
Latest posts by Emily Baker (see all)