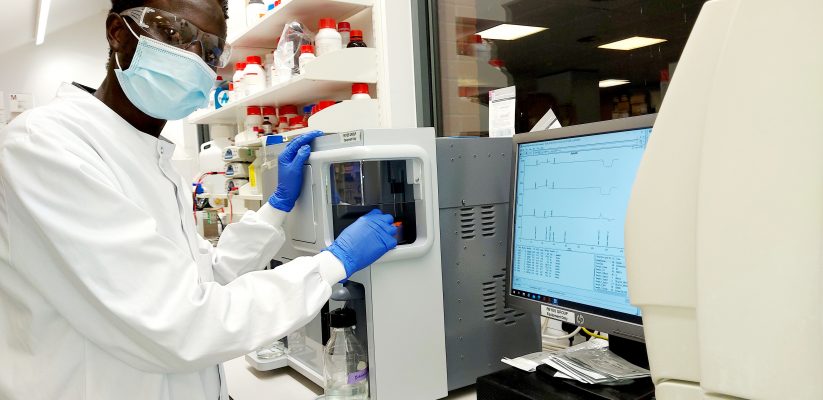 As part of a new alumni interview series, we are highlighting some of our Alumni Leaders in Health Innovation and Wellbeing, to celebrate their achievements and inspire new graduates.
We start with Dr Mustapha Bittaye (Biomedical Sciences BSc, 2012), whose interesting career has led him to be one of the core scientists to work on the Oxford-AstraZeneca vaccine for COVID-19.
---
Tell us about your career journey to date
"I started my career as a laboratory technician at the Medical Research Council (MRC) in the Gambia, where I grew up. I enrolled in a joint MRC Gambia and University of Westminster distance learning diploma program in Biomedical Science.
"I graduated as the best student in that program in 2009 and went on to obtain a fully funded scholarship from Westminster. I moved to London to complete a BSc in Biomedical Science and graduated in 2012 with first-class honours. I must say this was the defining moment of my career that laid the foundation for everything I went on to achieve.
"After graduating, I re-joined the MRC Gambia as a Scientific Officer to work on a malaria drug trial. In 2014, I was awarded a scholarship jointly funded by the University of Aberdeen and the MRC Gambia to pursue a PhD in microbial proteomics at the University of Aberdeen in Scotland.
"Whilst pursuing my PhD, I gained a positive reinforcement of my interest in vaccine research and development. Upon completing my PhD, I joined the Jenner Institute (University of Oxford) in 2019 as a Postdoctoral Scientist to work on the development of vaccines against emerging viral pathogens such as Middle East respiratory syndrome coronavirus (MERS-CoV), Lassa and Nipah viruses, all of which are high threat pathogens on the WHO research and development blueprint list of prioritised pathogens for accelerated development of vaccines and therapeutics.
"After a year in my post, I found myself fully involved in the development of a vaccine for another coronavirus (the current pandemic SARS-CoV 2 virus). Fortunately, the incredible work my colleagues and I conducted in our MERS vaccine trial became the blueprint for our current, ongoing COVID-19 vaccine work."
How was the experience of working on the COVID-19 vaccine?
"The experience of working on the COVID-19 vaccine is like no other in my entire career before.
"Although the framework was already in place for delivering such a massive trial, the incredible speed at which we have got to do everything is just unimaginable. This was us doing everything we had done in the past in parallel rather than in sequence. It was a race against the virus, to try to save lives and livelihoods as well as restoring normality.
"Another challenge we had to deal with as scientists was working in the lab in a completely different way – such as wearing a mask, keeping socially distanced, constantly washing our hands, turning around data at breakneck speed and long hours of enduring hard work and constant planning.
"Throughout the pandemic, the spotlight has been on scientists working hard to develop a vaccine and everybody was aware that a vaccine offered the only hope of light at the end of the tunnel. In addition, I was also aware the vaccine I was involved in developing, if successful, offers the best hope of having an immediate global impact due to its stability, affordability, and ease of production at large scale. This gave me extra motivation to work even harder for a cause that has only one goal, to save lives and end the pandemic everywhere."
What lessons have you learnt working on this vaccine?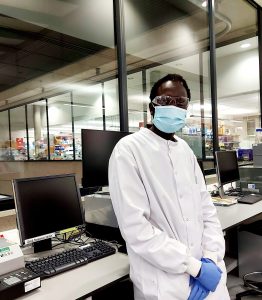 "The key lesson I learnt working in this trial is that as humans, when we are united by passion and put our efforts together to work on a common objective there isn't anything we can't achieve. I have come to realise the incredible importance of team working and that nothing in science can be achieved alone.
"The selfless volunteers who participated in the trials and the incredible tenacity and hard work of everyone involved in this trial, from the scientists in the labs to the doctors and nurses in the clinics as well as the couriers that keep things moving, is what brought us this far in this unprecedented trial. I have also come to realise that humanity is fragile and the tools that enable us to battle the challenges of today took many years of development. So if we are to stand any chance of tackling or dealing with future pathogenic threats, a global collaboration and coordinated investment in research and public health is needed."
What impact did studying at Westminster have on your career development?
"The most valuable thing I learnt studying at Westminster was the need to develop a strong personal and professional network. The cultural diversity and supported learning environment provided by the University enabled me to surround myself with a diverse network of individuals, including staff and students, who played a key part in helping me unlock my hidden talents and fulfilling my potential. This I believe epitomises the true value of a modern and life-transforming educational establishment.
"I had substantial practical experience by the time I started my studies at Westminster, but a thorough understanding of the theoretical and fundamental knowledge that underpins these practices was something that I was missing at the time. The wide range of academic and practical courses that constituted my degree program formed a perfect recipe that brought the two nicely together and created a clear path that reflects my scientific strength and interest."
Do you have any advice for current students studying science?
Find out what you are passionate about and enjoy doing
Show flexibility and embrace change
Aim for excellence rather perfection and remember every failure is a chance to learn
Believe in yourself and seek out advice from mentors
Finally, science has the potential to transform society for the benefit of humanity which is something everyone should aspire to do
Latest posts by Jenny Stubberfield (see all)