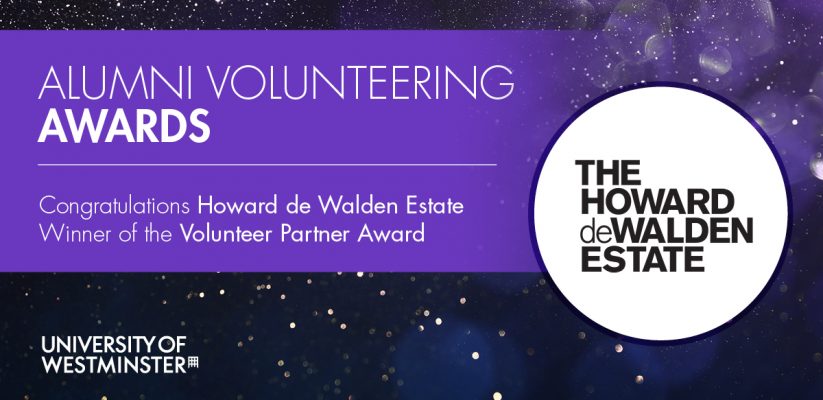 This Volunteers Week, we are delighted to recognise the contribution that our alumni volunteers make to the Westminster community through the Westminster Alumni Volunteering Awards.
The Volunteer Partner Award recognises non-alumni partners who generously offer specialist knowledge and insights to support Westminster students' development.
And the winner is…
The Winner of the Volunteer Partner Award goes to… The Howard de Walden Estate.
The Howard de Walden Estate, a founding member of the Chancellor's Circle, have provided outstanding support to students at Westminster for over six years. The Howard de Walden Estate has funded annual scholarships for students who are estranged from their families, hosted internships and Westminster Working Cultures UK, supported mentoring programmes, and provided financial support for the University's hardship fund during the cost-of-living crisis.
The Howard de Walden Estate is responsible for overseeing a diverse community of residents, educational institutions and businesses, including Marylebone Village's retail and leisure offering and the world class healthcare providers of Harley Street Medical Area. The scholarships for estranged students have supported students with accommodations and living expenses, enabling them to focus on their studies and offering a lifeline to students who don't have the family support system we often take for granted. One previous scholarship recipient Laura Sanchez Hincapie, who graduated in 2022 said: "Being disabled and working was tough for me; I had more time to focus and study so my body wasn't in distress. People like me want to succeed and make something of our lives. The funding is a game-changer to us – to feel that someone believes in us and our futures feels so encouraging, not only financially but emotionally. Like other students estranged from their families, I had never felt such support before; the Howard de Walden Estate changed my final year at university and my life."
As well as financial support, the Howard de Walden Estate has provided employee mentors for over four years and summer internships for students to work at their Head Office. Interns are able to learn all aspects of the business from property management services to urban planning, architecture, finance and marketing. The Estate engage students through a wide variety of activities, from hosting 60 students for a morning workshop, individual mentoring relationships, to helping someone studying a property related degree get first-hand industry experience over the course of a month.
This year, the Estate is funding cost-of-living scholarship grants for real estate and architecture students enabling the recipients to focus fully on their studies by providing support for their daily living costs such as rent, utility bills, clothing, food, transport, and additional study materials. The Estate became a founding member of the Chancellor's Circle this year, in recognition of their increased commitment to Westminster and its students.
The Estate responded to the award: "We are really humbled to be nominated and are honoured to have won. We look forward to growing our mutually beneficial relationship as part of our Chancellor's Circle commitments. We are proud to support Westminster's students, promote our industry and have the opportunity to engage our colleagues and learn new skills through this growing partnership."
Congratulations to our Volunteering Award winners! Find out more about the Alumni Volunteering Awards, and the other winners here.
Latest posts by Freya Wooding (see all)