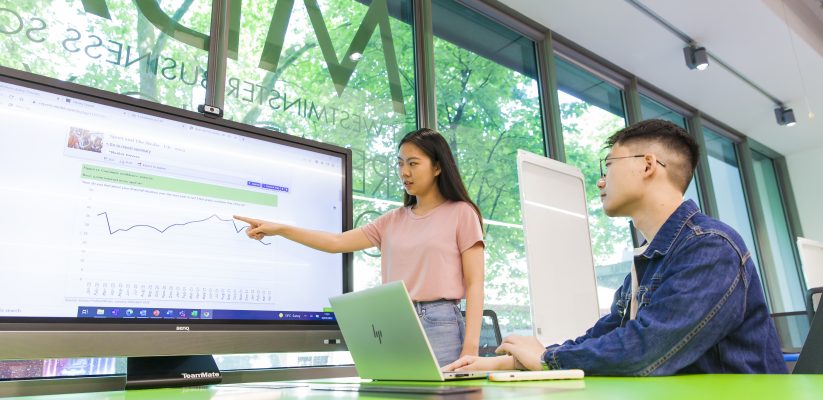 Do you have a business challenge our students could support you with?
If you're a business owner, seeking to research areas that would support your business growth, but don't have the time – we can help you.
The team at Westminster Enterprise Network (WeNetwork), the University's award-winning enterprise hub, are interested in partnering with alumni business owners to support you through challenges and provide solutions that you can embed in your business.
What kind of business challenges can students help with?
So far, University of Westminster students have supported employers to address problem areas across a range of themes, including marketing insights, consumer insights, branding strategies, and sustainability and supply chain processes.
For example, our students could help you address questions such as:
How is the cost of living crisis changing our customers' behaviour and how can we adjust our strategy to improve sales and create jobs?
How can we improve our customer journey – from awareness, to consideration, purchase, customer retention and advocacy?
The team at WeNetwork are open to discussing any ideas you may have to resolve challenges within your business.
How does the creative live brief work?
Our Industry & Engagement Officer will schedule a brief call with you to discuss your business challenge and help you to adapt it into a 'creative live brief' which is suitable for our students.
The work will be conducted by University of Westminster students as a part of a transfer of knowledge exchange. Undergraduate or postgraduate level students would work on the creative live brief, under academic supervision, as part of their module.
How can I get involved?
If you are interested in setting a business challenge, please contact the WeNetwork team to register your interest. Please email wenetworkb2b@westminster.ac.uk with 'Creative Live Brief' in the subject line.
We look forward to hearing from you.
---
Latest posts by Jenny Stubberfield (see all)