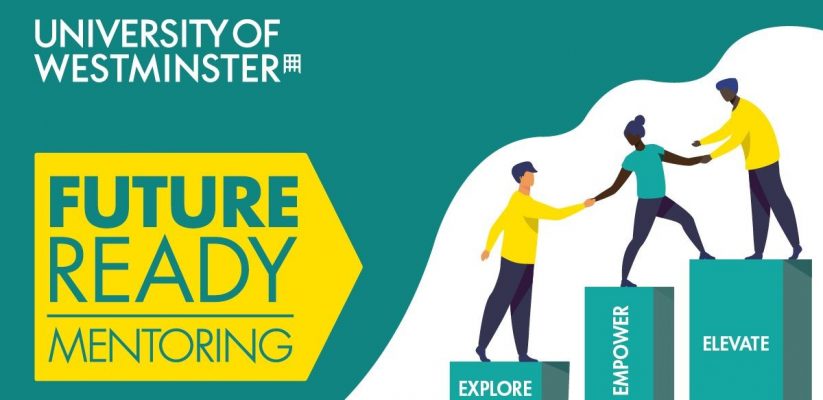 Mentoring Ambassador, Andrea Rezman (Journalism BA, 3rd Year), shares her tips on how to kickstart your mentoring relationship confidently.
---
While mentoring is a unique and exciting opportunity, you might also have questions and doubts about what's coming next. Your mentor might be working in your dream role, so it's not surprising that you would want to make an excellent first impression.
There are many things you can do before your first meeting with your mentor, which can help you to be more confident and give both of you a clearer picture of your goals, and what you want to achieve by the end of your mentoring journey.
There are a few tips which might help you to start and maintain your mentoring experience confidently:
1. Take the initiative to reach out
Your first email to your mentor is a great opportunity to introduce yourself and give your mentor a broad idea of your previous experiences, goals, and future career plans. You might also send your mentor your resume, and let them know about your availability and preferred way of communication. Don't forget to include a word of thanks for volunteering to help you.
2. Set up a LinkedIn profile and find out more about your mentor
There isn't any other social media site quite as useful for career building and networking as LinkedIn. With nearly 850 million users, the site plays a major role in establishing business relationships; with its help, you can create a personalised profile, easily contact professionals working in your field and join various professional and job search groups.
Your LinkedIn profile functions as a public CV, and it can be useful to send an invitation to your mentor before your first meeting. You can use this opportunity to look through their profile, familiarise yourself with their professional history and find things you have in common. You might find that they wrote about a topic or took part in a project you are passionate about, which can be a great future point in your relationship to connect about.
3. Have specific goals
As you might already know from your mentoring training session, having specific goals you would like to achieve is a great way to start your journey. It makes it easier both for you and your mentor to know what to expect and to track your progress.
You might think that setting goals are straightforward, but it might be trickier than you would expect. Sometimes you only realise halfway through that your goals are only vague ideas that are only partially or not at all defined. In this case, following the SMART method can be useful to help you determine specific and truly effective goals in five simple steps.
These form a system of criteria, which can help you to precisely define your goals, create the necessary focus for work, and assign tasks more easily:
Specific: What exactly do you want to achieve? Determine as many details as possible about your goal!
Measurable: In the case of a SMART goal, two things should be measurable: your progress and whether your goal has been met.
Achievable: It's important to be aware of our time and energy in order to set realistic goals. They shouldn't take impossible efforts to achieve, but at the same time, they should still be challenging. Otherwise, they won't motivate you, and it will be hard to move forward. The SMART goal should also be action-oriented (Actionable), so its fulfilment should depend primarily on your steps taken to achieve it and not on external factors.
Relevant: When choosing a goal, it is essential to interpret it in context. Always set a goal that truly motivates you, that you find joy in, but at the same time, something that contributes to your future professional development.
Time-bound: A problem you might face when setting goals is that their implementation falls somewhere between "soon" and "someday". A specific time frame is necessary in order to be able to designate and perform the right tasks at the right time. In addition, without a time frame, the measurement of progress cannot be interpreted.
4. Be well-prepared and ask questions
Nothing is as impressive as being well-rounded in your own field and being eager to learn. As someone just starting their professional journey, you should be hungry to learn, improve, and grow. In a way, your mentoring relationship is almost entirely focused on you, so take advantage of it, and use it wisely! Ask in-depth questions that lead to discussions, and think of questions that only your mentor can answer about their careers and experiences at work.
5. Take charge of your learning and be respectful
While having a mentor is incredibly helpful, they cannot do the work for you; they can only give you advice and guidance. You should be willing to take responsibility for your own learning, by asking questions, actively participating in the conversations and making sure you complete the goals set by you and your mentor between sessions.
Make sure to turn up to meetings on time or let your mentor know as soon as you can if your plans change. You always have the option to reschedule a session, but if you only contact your mentor last minute to let them know you can't make it (even worse if you don't let them know at all), or you come unprepared, it is disrespectful towards your mentor who volunteered their free time to help you. Not to mention, you are also not getting the amazing benefits and advice you could.
And last but not least, remember: your mentor had to face challenges or had goals similar to yours. In other words, they have once been in your shoes, and they have volunteered to guide you in your professional goals.
Make sure to be ambitious, but don't take on too much responsibility: wanting to achieve too many goals simultaneously might make you feel you are not doing a good enough job and stop you from feeling motivated.
---
The University of Westminster's Future Ready Mentoring programmes give you the opportunity to connect with an experienced professional to help you develop your skills, build your network and gain an insight into the world of work. Find out more and apply today.
Latest posts by Jenny Stubberfield (see all)