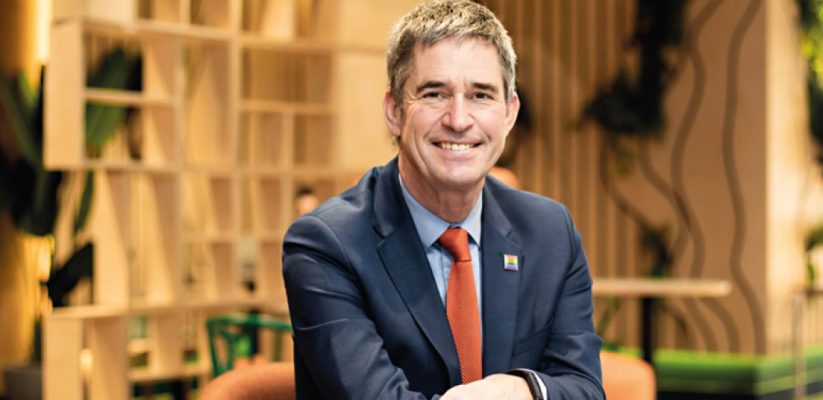 Dear Alumnus,
As we reach the end of another academic year, I want to share my thanks with all of you for your continued dedication to our university community.
Your proactive engagement with supporting Westminster students – through mentoring, careers talks and your inspirational alumni success stories – has helped us achieve so much together over the past year.
To our new alumni who graduated this month – congratulations again! We are all so proud of what you have achieved. You are now part of a strong, dynamic and global alumni network which will support you as you embark on your new career.
There have been some exciting developments since my last Alumni Blog which I'm delighted to share with you here.
Our student clubs and societies
We have enjoyed a tremendous growth in participation in our Stduents' Union Clubs and Societies over the last year, with more than 10,000 of our students actively engaged. Our Dragons sports teams have enjoyed significant growth in participation and success with league wins for seven of our nine 1st teams. We will soon complete our new sports hall – the Dragon's Den – ready for another year of sporting and other endeavour. Go Dragons!
Student and colleague shows, conferences and events
Our campuses are back to full participation again, where over the last couple of months we have hosted a plethora of student shows and other events. The quality and creativity of work on show has been breathtaking and is a huge testament to our superb students and their lecturers and technician support teams.
Planning permission granted at 29 Marylebone Road
It was super to receive planning permission from Westminster City Council earlier this summer for our new centre for employability and enterprise at 29 Marylebone Road. This centre will provide a new hub for business and industry to engage with our students and support their employability. It will be a space where students, alumni, employers and our local community can interact through inspirational events, workshops and other activities. Keep a look-out for more updates as this exciting project develops.
Soho Poly
Our Soho Poly summer festival took place in June, following the completion of a programme of improvements to our historic London venue. The festival featured an eclectic range of activities, including theatre and music performances, free community workshops and the 'Disrupt Your Everyday' challenge – in which local businesses were engaged to bring art and creativity into their ordinary working day. It was great to see so many alumni engaging with the festival. If you were unable to join us this time, make sure to look out for future events in this wonderful space.
Inclusive Westminster
We recently hosted the second annual Westminster Conversations Conference on Challenging Racisms in Higher Education and Beyond. We were so pleased to welcome speakers, panellists and attendees from our own community and from other universities across the country, focused on exploring and challenging racism in all its forms.
It was fascinating to hear and discuss such a wide range of subjects including, for example, Black and female experiences in academia, Islamophobia and Antisemitism; all discussed in the same space with such integrity, openness and compassion. Another thought-provoking event focused on delivering against our EDI Commitments in a progressive and intersectional way.
Student programmes
Meanwhile, our recent Westminster Employability Awards Celebration, Big Idea Competition semi-final and Green Fund awards ceremony have all highlighted the tremendous commitment of our students to developing their employment and research skills – and the dedication of you, our alumni, to supporting them.
A special mention to our Westminster Working Cultures (WWC) UK programme, which has been recognised with a Gold award in the annual Council for Advancement and Support of Education (CASE) Circle of Excellence awards. Congratulations to our Alumni Relations team and thank you to our alumni hosts who have supported the delivery of the programme.
---
Do continue to stay in touch and share your achievements with us. I look forward to engaging with more of you across our employability programmes over the next academic year.
Have a great summer everyone
Sending all best wishes,
Peter
Latest posts by Jenny Stubberfield (see all)