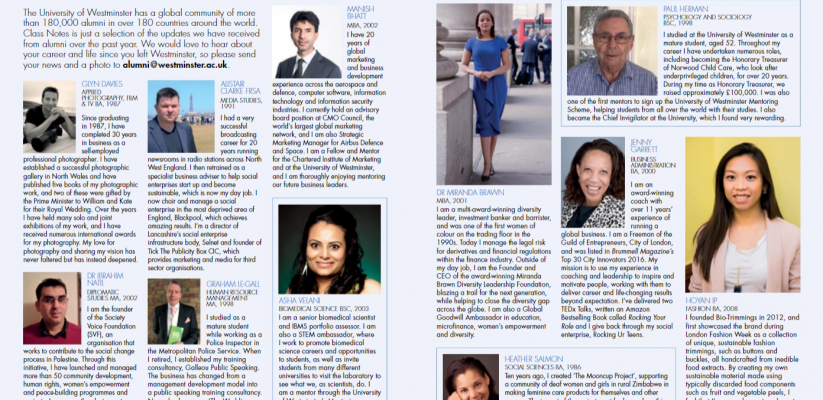 We know that our graduates have gone on to do amazing things and we love hearing all about your personal and professional achievements. If you've got an update to share, Class Notes is a great way for you to communicate your news with the rest of the alumni community and feature in our alumni magazine.
What is 'Class Notes'?
Class Notes is a feature in our annual alumni magazine Network, which allows our alumni to give a short update on what they have achieved since graduation. To give you an idea, last year's Class Notes can be seen on pages 42-45 of Network 2018 here.
How do I submit my Class Notes?
If you're interested in submitting something for the 2019 edition, please send an email to alumni@westminster.ac.uk with 'Class Notes' in the subject line by Friday 7 June 2019.
Your email must include:
 A short update (about 75 words)
Your degree title and year of graduation
A good quality head shot (preferably a JPEG)
We look forward to hearing from you!
Please note that while we will endeavour to include as many of your updates as possible, we are restricted by space and may be unable to feature every submission. 
Got more to share? Why not complete an alumni profile of the University of Westminster website, and inspire new students with all that you've achieved! 
Are you on the Network magazine mailing list? Log in to your alumni account to update your address. 
Latest posts by Jenny Stubberfield (see all)