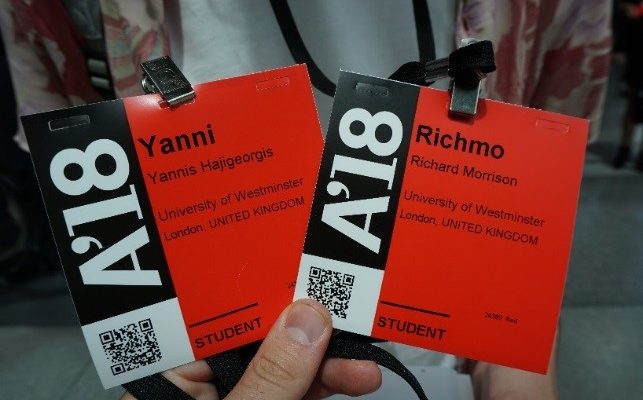 Richard Morrison and Yannis Hajigeorgis, March RIBA Part 2, 2018
Thanks to the support of the donors, Yannis and I were able to attend the AIA Architecture Conference in New York – one of the world's largest architecture conferences which takes place in a different city within the United States each year.
Our funding was linked to our final year thesis projects and the areas of interest that we both shared. We are both interested in the role of technology in architecture and the talks  'Technology's Dark Side: New Threats to the Practice of Architecture' and 'Millennials & Baby Boomers: Calibrating Healthcare Design for Generational Distinctiveness' were both fascinating discussions that broadened our understanding of technology's role within the industry. In addition 'Color & Paint in Environments for the Aging' expanded my interest in design for the elderly – something which proved useful in a recent job interview when asked about my interest in architecture outside of an academic setting.
The trip was also a fantastic opportunity for networking. We each received business cards and various offers of employment from the trip, which we have been pursuing since returning to the UK. For two young architects beginning our careers, the location of the conference offered an exciting prospect for networking and future career aspirations.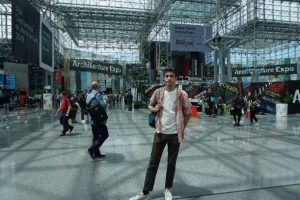 We were over the moon when we found out we had been awarded the funding. The trip was a fantastic way to round off our time at the University and act as a spring-board to the next stage of our careers. We both agreed that the funding is a fantastic asset to the University – something we always mention to friends who are considering attending Westminster. Overall, we feel very lucky to have been given this opportunity.
On a personal level, the trip has broadened our horizons in terms of architecture and the ideas and topics covered in the lectures. Reading about cities is one thing but visiting them is another, and being able to see one of the world's densest metropolises up-close was fantastic. We are both interested in living abroad- specifically in America, and the conference has been a great way of making this dream closer to a reality.
In addition, just the experience of being in New York and seeing some of the biggest and most impressive architecture projects in the world was a great way of expanding our architectural vocabulary and preparing us for job interviews at some of the larger firms whose work we have now seen up-close.
We are extremely grateful for the opportunity the funding provided us with. The trip enabled us to simultaneously expand our understanding of architectural topics, experience US culture and progress our careers. It also acted as a fantastic bridge between our studies at Westminster and our new jobs. Thank you to all of the donors who have contributed to The 125 Fund, I hope this scheme can continue to grow and build on the success it has already established this past year.
We are thrilled to be running another telephone campaign this November. To celebrate, we are sharing with you The 125 Fund Stories, a selection of testimonials from the grateful beneficiaries of your generous donations. For more information, please visit: westminster.ac.uk/about-us/support-us/the-telephone-campaign
Latest posts by Jenny Stubberfield (see all)