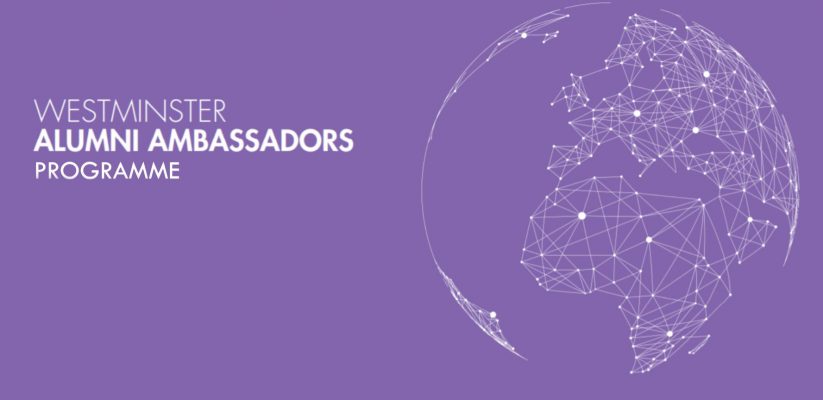 At the University of Westminster, we are proud to have such a diverse community of alumni, students and staff creating a rich, global network of individuals from all around the world.
We have alumni from almost every country. And so, to help us keep in touch with graduates in nations outside the UK, and to help us represent the University in countries around the world, we have appointed our international alumni ambassadors.
Our ambassadors are active and responsive volunteers, whose key objective is to increase the engagement with Westminster in their respective country or region. They support our reputation, increase international student recruitment and dedicate their time to enhancing the student experience with their global perspectives.
As well as engaging with the various programmes we run – such as mentoring and Westminster Working Cultures – our ambassadors volunteer at international recruitment fairs, share their experiences with prospective students and are always on-hand to provide us with quotes or videos for university content.
To celebrate and recognise the dedication of these ambassadors, we will be including an 'ambassador bulletin' update in every newsletter, to showcase some examples of how our ambassadors are supporting the University.
Find out more about our alumni ambassadors, including how to contact them, on the webpage.
André Modenesi (Media Management MA, 2016) – Rio de Janiero, Brazil
One of our two ambassadors for Brazil, André, recently supported our Westminster Working Cultures programme and spoke to students about work opportunities in his native Latin America.
André graduated in Journalism in 1999, in Rio de Janeiro, Brazil. After 15 years in newsrooms, he reasoned the environment of systemic – and seismic – change in the media called for professionals able to better weave the creative and the business sides of the industry. Therefore, Andre took a sabbatical year and joined the Media Management MA at the University of Westminster in a Chevening Scholarship. When returning to Brazil, now a Master of Arts with distinction, he moved from Journalism to Entertainment, and is now a writer for variety shows and a volunteer ambassador for both the University of Westminster and the Chevening Scholarship.
We caught up with André to ask about his experience volunteering with the Westminster Working Cultures programme, and what it means to him to be an alumni ambassador in Brazil.
How was your experience taking part in the Westminster Working Cultures programme?
 It made me feel hopeful and refreshed. WWC put me back in touch with some of the most wonderful aspects of life at Westminster: the raw energy and unshakeble hope of the students, their willingness to experiment and pivot, the sparkling and creative clashes of different cultures and backgrounds put together.
 What were you most keen for students to take away/ learn from you at the WWC event?
Before the event, I was keen for them to reflect upon the way their careers would unfold, to project the most desirable or probable developments. But during the event my thinking changed, and I wanted them to realize the fundamental importance of being open to the unreflected, unprojected and improbable – and yet desirable – developments that now and then present themselves.
 Did you learn anything yourself by taking part in WWC?
The word here would not be so much "learn", but "realize". It never ceases to marvel me how the clashes of ideas, worldviews and backgrounds are able to create new ideas and views, and to spark realizations. The one above, about the importance of the uncharted possibilities, came to me during the meeting.
 Why do you choose to volunteer for the University?
I wanted very much to stay in touch with the University. Not only because I had a great time in Westminster, also because I love it – and find it highly productive – to stay in touch with very different people, from very different backgrounds.
 What does it mean to you to be our international Alumni Ambassador for Brazil?
It means opportunities. Opportunities to meet new and interesting people, from areas, in my country, very far from where I live, from very diverse professions, and also opportunities to help people who want to go to Westminster.
Latest posts by Jenny Stubberfield (see all)