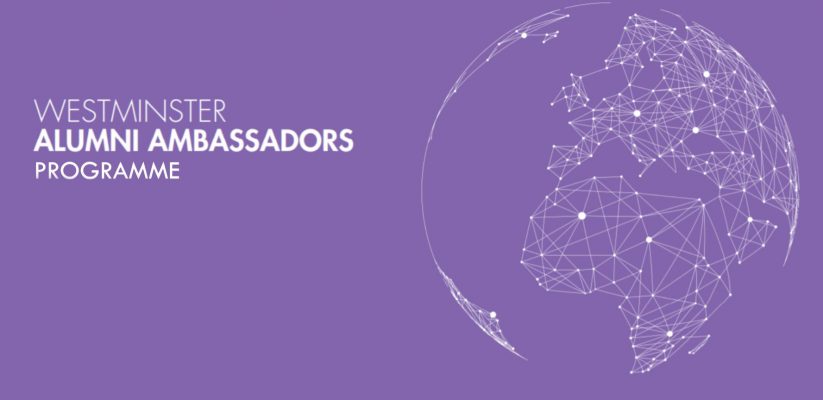 Our Alumni Ambassadors
We have alumni from almost every country. And so, to help us keep in touch with graduates in nations outside the UK, and to help us represent the University in countries around the world, we have appointed our International Alumni Ambassadors.
Our Ambassadors are active and responsive volunteers, whose key objective is to increase the engagement with Westminster in their respective country or region. They support our reputation, increase international student recruitment and dedicate their time to enhancing the student experience with their global perspectives.
As well as engaging with the various programmes we run – such as mentoring and Westminster Working Cultures – our Ambassadors volunteer at international recruitment fairs, share their experiences with prospective students and are always on-hand to provide us with quotes or videos for university content.
In each 'Ambassador Bulletin', we celebrate the dedication of our ambassadors by highlighting some of the work they are doing to support the University.
---
Paul Ntambara (Media and Development MA, 2016)
Paul is one of our long
est-serving International Alumni Ambassadors. Based in Kigali, Rwanda's capital, he supports the network of Westminster alumni across East Africa. Earlier this year, Paul created a WhatsApp group, allowing many of our East African graduates to reconnect, socialise and network with each other.
We spoke to Paul about his experiences as a student, an Ambassador, and his plans for engaging with more local alumni in the future:
"I joined the University of Westminster in 2015 to pursue a Masters programme in Media and Development. I spent much of my school time at the magnificent Harrow Campus. I look back at my time on campus with a lot of nostalgia – I made friends from all over the world, given the University's international outlook. I have since kept close contact with a number of them. The University of Westminster provided me with the perfect opportunity to explore London, one of the greatest cities in the world. The city offered me opportunities to grow socially and professionally. With my interest in media, I had access to some of the biggest media houses in the world. I had the opportunity to listen and engage with some of the biggest names in the media game! Harrow conversations every Wednesday was always a place to be for scintillating conversations.
"Becoming an Alumni Ambassador was one way of encouraging students, primarily from Rwanda, to enrol at the University of Westminster. It was also one way of helping potential students by giving them information about the University and the UK. My role also entails mobilizing fellow alumni to network socially and professionally and stay connected to the University that gave us so much.
"I have had the opportunity to share my experience with potential students in the East Africa region during a recruitment event organised by the University. This is in addition to other one-one sessions with students seeking opportunities for higher learning in the UK. It is always interesting to respond to an array of questions about the weather, food, transport, accommodation, medical care, nightlife, among many.
"Recently, working closely with the Alumni Office at the University, we set up a WhatsApp group for the alumni in East Africa. We aim to reconnect, network but also participate in University activities like mentorships through this platform. It is exciting to see alumni who were at the University in the '80s reconnecting and sharing their experiences.
"We look forward to growing the group and engaging in more meaningful activities that will impact the alumni community, potential students and the University."
Visit our webpage to find out more about our alumni ambassadors, including how to get in contact with them.
Latest posts by Jenny Stubberfield (see all)