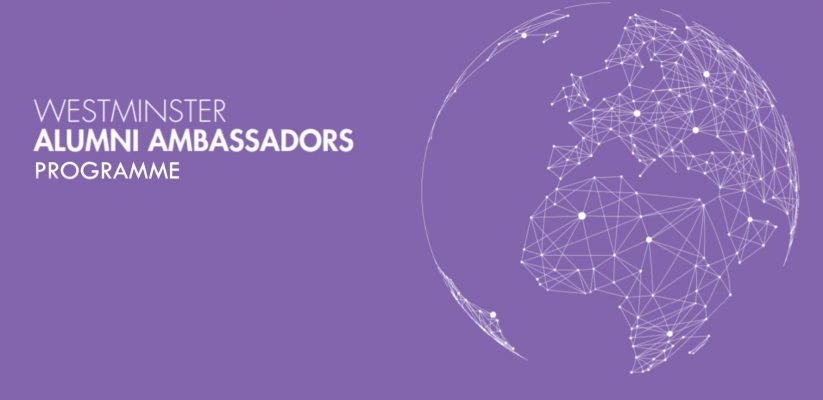 Our Alumni Ambassadors
We have alumni from almost every country. To help us keep in touch with graduates in nations outside the UK, and to help us represent the University in countries across the world, we have appointed our International Alumni Ambassadors.
Our Ambassadors are active and responsive volunteers, whose key objective is to increase the engagement with Westminster in their respective country or region. They support our reputation, increase international student recruitment and dedicate their time to enhancing the student experience with their global perspectives.
As well as engaging with the various programmes we run – such as mentoring and Westminster Working Cultures – our Ambassadors volunteer at international recruitment fairs, share their experiences with prospective students and are always on-hand to provide us with quotes or videos for university content.
In each 'Ambassador Bulletin', we celebrate the dedication of our ambassadors by highlighting some of the work they are doing to support the University.
This time, we speak with Battulga Bataa (Finance, Banking and Insurance MSc, 2017), our new Alumni Ambassador for Mongolia.
---
Can you tell us a little bit about your time at Westminster and can you pinpoint any highlights from your student days?
The mentoring scheme was a remarkable initiative during my academic tenure, as it enabled me to acquire practical experience and insights from former graduates. Furthermore, volunteering is an activity that I highly recommend as it enhances one's soft skills.
Why did you want to become an Alumni Ambassador for Mongolia?
Becoming an Alumni Ambassador could facilitate networking within the alumni community. As alumni, there is an opportunity to provide mutual support and encouragement to one another. Additionally, being an alumni ambassador provides an opportunity to promote the university and encourage potential students to consider it as an option for their education.
What impact do you feel studying abroad had on your own career?
When I had the opportunity to study abroad, I found that it had a significant impact on my career. It allowed me to immerse myself in different cultures, meet new people, and develop crucial skills like adaptability, cross-cultural communication, and independence. I believe that these experiences have expanded my horizons and improved my ability to solve problems, which is not only helpful in my professional life but also in my personal life.
What advice would you give to new graduates looking to commence a career in Finance?
Drawing from my personal experience, I believe that in the finance and banking industries, business conduct and ethics are of utmost importance. It is crucial to prioritise your values and ethical principles above monetary gains, regardless of the amount of income or profit generated from a deal.
How does the working culture of Mongolia differ from those in Europe, like the UK?
As you may know, Mongolian culture is characterised by collectivisim, where group harmony and loyalty are emphasised, while many European nations, such as the UK, are known for their individualistic culture, which values personal achievement and independence. In Mongolia, business transactions rely heavily on relationships and trust, often superseding formal contracts and agreements. Conversely, in the UK, there is a more formal approach to business dealings, where legal agreements and contracts are typically the foundation.
Tell us an interesting fact about your home country which we might not know!
As a fact, Mongolia has been a strong competitor in the World Memory Championships consistently ranking among the top countries in the competition. Our memory athletes have set world records and won numerous medals in various events, demonstrating their exceptional memory skills and dedication to the sport. For instance, at the 2019 World Memory Championships, our team won a bronze medal in the Names and Faces team event, as well as a silver medal in the Speed Cards team event. Overall, Mongolia's success in the World Memory Championships is a testament to the country's strong memory training culture and the skill and dedication of its memory athletes.
---
Find out more about our Alumni Ambassadors all over the world.
Latest posts by Freya Wooding (see all)