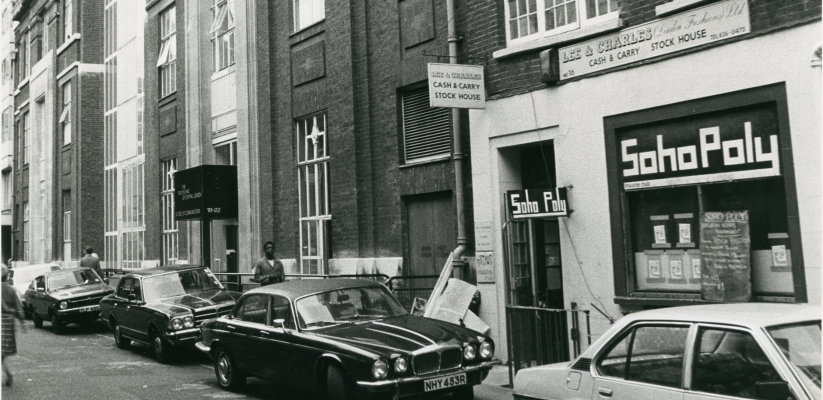 The University of Westminster has successfully fundraised the sum of £398,605 over 2 years to bring our original Soho Poly theatre back to life, after closing its doors 33 years ago. Funders included Westminster Council, The Garfield Weston Foundation and Derwent Community Fund.
The fabric of the theatre itself will be fully restored by April 2023 – but we are now urgently fundraising for internal fittings and fixtures to ensure the theatre is fully functional when we open, so we can hit the ground running with our artistic programming plans. £40,000 Matched Funding has been secured to help us raise the remaining £40,000 for the £80,000 required for the internal fixtures and fittings.
As the theatre was neglected for so long – urgent work is now taking place to address repairs to the fabric and modify the space so that it can become a fully-operational venue which is accessible to all, offering disabled access for the first time and meeting current health and safety regulations.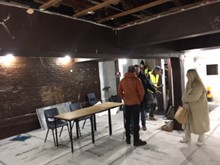 After 32 years of neglect, the Soho Poly will be re-established in its original space, retaining as much of its original unique character as possible. The theatre will be transformed into a warm, welcoming and fully accessible space. It will be adapted to ensure it is compliant with all health and safety regulation with the installation of glass partition doors for fire safety. Works to provide disabled access throughout the building will be undertaken including: the installation of a wheelchair platform lift which connects the basement theatre to the ground floor, providing step-free access; widening doorways and fitting an accessible WC. New heating and air conditioning will be installed and there will be a new lighting rig and electrics. The old staircase, which does not comply with health and safety regulations, will be demolished and a new, widened staircase with landings will be built allowing safe access to and from the building. The fire alarm, lighting, emergency light systems and escape signage will be modified to be compliant with regulations.
Fittings include the installation of an Information Desk and Box Office and a restored Green Room where performers can prepare for their shows. Acoustic panels will be installed in the theatre, as will bench seating to accommodate audiences.
Items we are currently raising money for include theatre benches, lighting, rigging, AV and sound solutions, a Box Office, Information Desk and Safety Curtain, amongst the range of budget elements in the theatre itself.
We will be reopening the theatre – very much continuing the work of representing the underrepresented, and our venue will truly be a resource for the whole community. The restored Soho Poly will create a vibrant community hub for inclusivity and wellbeing within the Regent Street and wider London area. It will offer community engagement and diverse programming to our partners and local schools and provide a contemporary performance and education venue for the London arts community.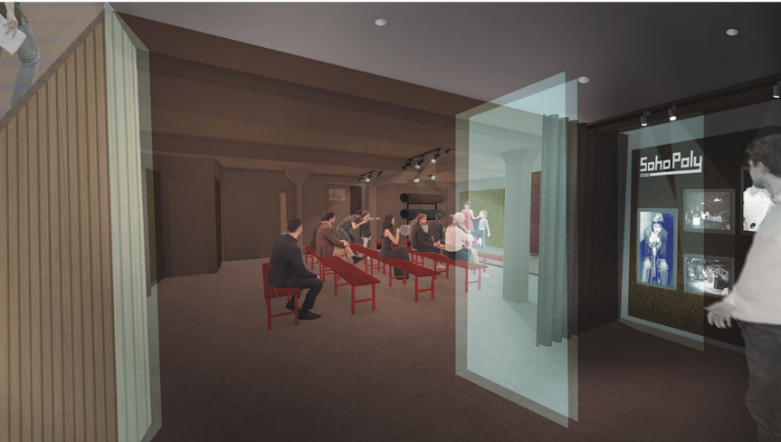 We are already partnering with organisations such as Open Age, Opening Doors London and RADA. We will work on a 'quid pro quo' basis whereby partners will use our space for free or minimum cost – in return for delivering learning and teaching, and workshops to our students and university community. The opening of the Soho Poly may even, it is hoped, lead to the university's first Drama and Performing Arts modules to add to our renowned Film and Animation courses as part of the university's School of Humanities.
If you would like to find out more about the progress of our restoration – or you yourself are interested in making a donation – please email us: Development@westminster.ac.uk
Thank you
Latest posts by Jenny Stubberfield (see all)