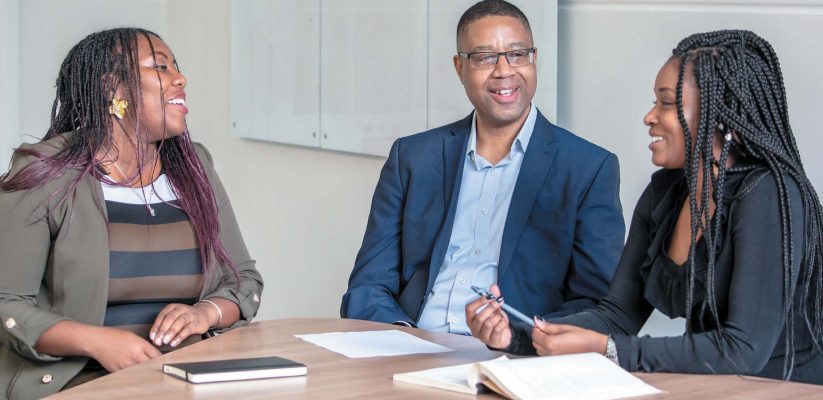 Here at the University of Westminster, our award-winning Career Mentoring Scheme gives you the opportunity to inspire a student by sharing your invaluable knowledge, experience and insight. As a nationally-accredited scheme, we are proud to have been making effective matches since the launch in 2010 and hope that you will join our community of highly-talented mentors.
Why mentor?
By choosing to give your time and signing up to be a mentor, you can:
Strengthen your listening and communication skills, and receive CDP-accredited training
Reinforce your own knowledge and enthusiasm for your industry
Positively influence the next generation of the international job market
Give back to the University of Westminster
We appreciate that our mentors are often very busy and so the Scheme is flexible to fit in with your lifestyle. While we encourage face-to-face meetings, if you are based internationally or are unable to meet on occasion due to work commitments, it is possible to engage with your student via phone calls or Skype, wherever you are in the world.
Key updates for 2019/20
We are pleased to announce some of the key changes in preparation for the new cycle of the Career Mentoring Scheme. To ensure that we can provide even better matches and a more valuable experience for everyone involved, we have redesigned our mentor application form so that we capture all information needed to optimise our matching process. Please complete the new application form at your earliest convenience to confirm your details and participation.
For the first time this academic year, our Career Mentoring Scheme will be made up of two cycles:
This enables us to provide current students and recent graduates with more opportunities to be matched at different stages throughout the year. We endeavour to find you the most suitable match based on mentees' career aspirations. If we are unable to find you a mentee during our first cycle, we have a second cycle in January 2020. You will be able to express your preferred cycle when completing the application form. If you are interested in mentoring continually throughout the year, we welcome applications for both cycles.
What happens after I complete the application form?
Once we receive your application, we shall endeavour to match you to a relevant student mentee. Where this is not possible, we shall match you at a point in the coming months when a suitable student match becomes available.
If you have any questions about being a mentor and would like to discuss this with a member of the Mentoring Team please contact us at career-mentoring@westminster.ac.uk or by telephone at 020 3506 4670.
Mentor Training Evening
We will be hosting the first mentor training session at the end of October. The session will be an opportunity for you to improve your knowledge of mentoring and add some new skills to your repertoire. It will be delivered by Dr Judie Gannon, Senior Lecturer in the International Centre for Coaching & Mentoring studies at Oxford Brookes University. The evening will also give you the chance to network with other mentors taking part on the Scheme. Refreshments will be provided.
Sign up to the Career Mentoring Scheme by mid-October to be considered for the upcoming mentoring cycle and for the chance to attend the Mentor Training Evening. Further details will be given once you have applied.
Meet the team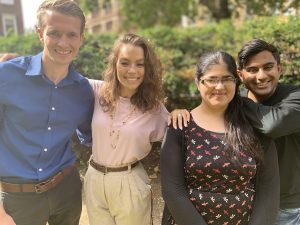 From left to right: Andrew Williams (Mentoring Officer); Ludovica Siniscalchi Bernabo' (Alumni Relations Officer (Mentoring)); Zurria Qureshi (Mentoring Coordinator); Anick Soni (Mentoring Administrator).
Best wishes,
The Mentoring Team
Latest posts by Jenny Stubberfield (see all)