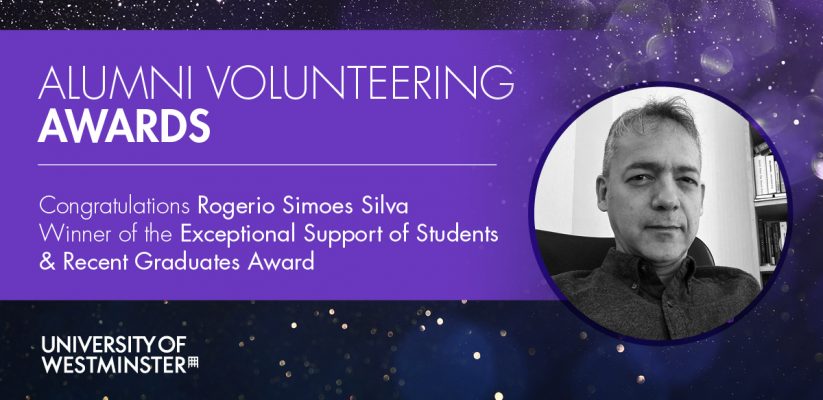 This Volunteers Week, we are delighted to recognise the contribution that our alumni volunteers make to the Westminster community through the Westminster Alumni Volunteering Awards.
The Exceptional Support of Students and Recent Graduates Award recognises alumni who go above and beyond to provide professional development support to students and recent graduates, through either one-to-one or group sessions.
And the winner is… 
The Winner of the Exceptional Support of Students and Recent Graduates Award goes to… Rogerio Simoes Silva (MA Social Media, 2015).
Rogerio is an experienced journalist, career mentor and co-founder of Unnon, a chat-based social app.
He has played an invaluable role in providing exceptional support to our students and recent graduates through mentoring, as part of the University's Career Mentoring Scheme. Through this scheme, mentees benefit from the expertise and insight of their mentors, allowing them to grow personally and professionally as a result of their mentor's support over six months.
Throughout this last year, Rogerio has volunteered his time to support several students through mentoring, with one of his mentees reporting the following:
"Rogerio was an exceptional mentor and incredibly inspiring. It was a learning curve for both of us as he had no official creative writing experience but immediately, we both went about making it work. We talked about the writing industry as a whole, creative writing topics, and my degree.
"It did not stop there though. During our sessions, Rogerio began to write creatively, and we would exchange our pieces, giving each other feedback on our pieces and discussing books we loved and were inspired by. It is very likely that I would not have gotten the poetry job I now have if Rogerio did not discuss poetry with me. We have now ended our sessions on an extraordinary high and will try to keep in contact with him for a very long time. He could have very easily accepted that we were from different writing experiences and just spoke about writing as a whole. He chose to go above and beyond, and I think that should be recognised."
Rogerio's dedication to his mentees, continued commitment and passion for helping our students and recent graduates to realise their potential, can truly be recognised as exceptional.
Congratulations to our Volunteering Award winners! Find out more about the Westminster Alumni Volunteering Awards, and the other winners here.
Latest posts by Jenny Stubberfield (see all)