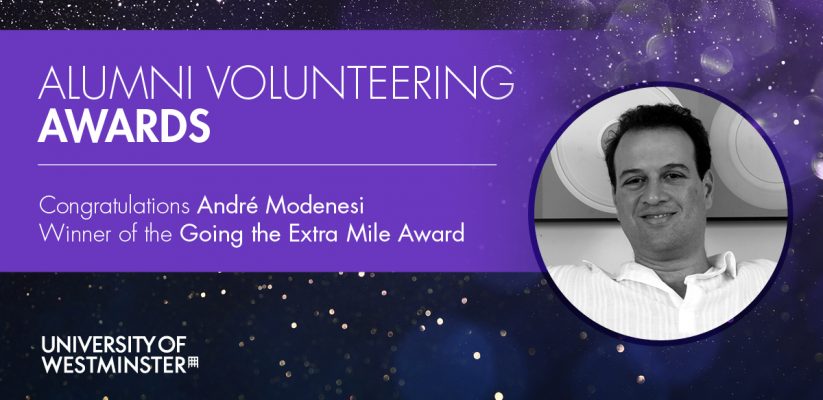 This Volunteers Week, we are delighted to recognise the contribution that our alumni volunteers make to the Westminster community through the Westminster Alumni Volunteering Awards.
The Going the Extra Mile Award recognises alumni who have provided dedicated support across multiple initiatives or activities.
And the winner is…
The Winner of the Going the Extra Mile Award goes to…  André Modenesi (MA Media Management, 2016).
André graduated in Journalism in 1999, in Rio de Janeiro, Brazil. After 15 years in newsrooms, he took a sabbatical year and joined the Media Management MA at Westminster.  When returning to Brazil, he moved from Journalism to Entertainment, and is now a writer for variety shows.
As a volunteer, André is the University's Alumni Ambassador for Brazil, a speaker for our Westminster Working Cultures Professional programme, and has contributed to our first ever Alumni Ambassador Bulletin.
In addition to supporting Westminster students, André has gone above and beyond to support nurture Westminster's alumni community in Brazil. His continued commitment to volunteering this year has been particularly exceptional, given the current circumstances heavily affecting Brazil and the Latin American region.
As a speaker for the WWC Professional – Career Insights: Latin America event, André was engaging and passionate about helping Westminster's Latin American students think of ways their future careers could unfold, and to appreciate the importance of 'uncharted possibilities'.
André has also contributed to our first-ever International Alumni Ambassador Bulletin, relaying once again his experience as a Westminster ambassador with enthusiasm.
It's this combination of André's eagerness to always stay in touch with the University (even in times of hardship), help future generations of Westminster students and alumni, and nurture the Westminster Brazilian chapter, which make him very deserving of the award.
Congratulations to our Volunteering Award winners! Find out more about the Westminster Alumni Volunteering Awards, and the other winners here.
Latest posts by Jenny Stubberfield (see all)