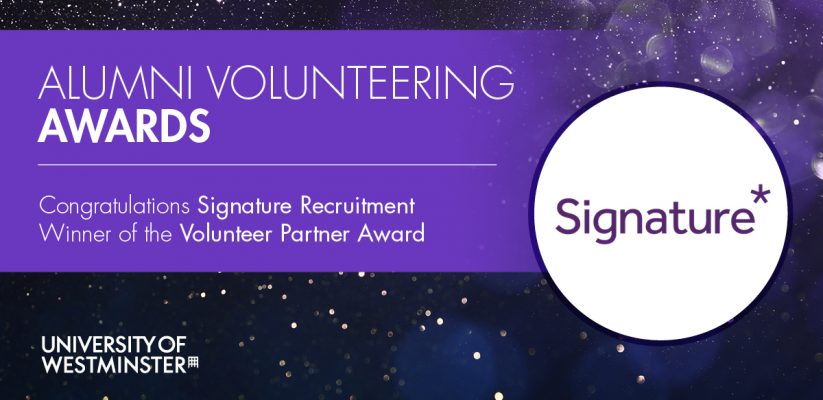 This Volunteers Week, we are delighted to recognise the contribution that our alumni volunteers make to the Westminster community through the Westminster Alumni Volunteering Awards.
The Volunteer Partner Award recognises non-alumni partners who generously offer specialist knowledge and insights to support Westminster students' development.
And the winner is… 
The Winner of the Volunteer Partner Award goes to… Signature Recruitment.
Signature Recruitment has played an invaluable role in providing exceptional support to our students and recent graduates through mentoring during the pandemic. Students benefited from gaining industry insights and practical knowledge from mentors.
During the last year, five members of the Signature Recruitment team have joined our community of mentors and have taken part in the University of Westminster Career Mentoring Scheme.
Mentors from Signature Recruitment have been able to share their experiences and help guide their mentees as they break out into the working world. It's clear that these mentoring relationships have flourished with one mentee saying the following about their mentor who works at Signature Recruitment:
"What I loved about my mentor, is she has given me a boost of confidence, and we built a relationship of trust over the few months we have been interacting."
In addition, Signature Recruitment has hosted CV skills workshops which they have been happy to share with our mentees on the Scheme, giving them the opportunity to gain practical skills, industry insights, and the chance to learn how to stand out from the crowd.
Congratulations to our Volunteering Award winners! Find out more about the Westminster Alumni Volunteering Awards, and the other winners here.
Latest posts by Jenny Stubberfield (see all)