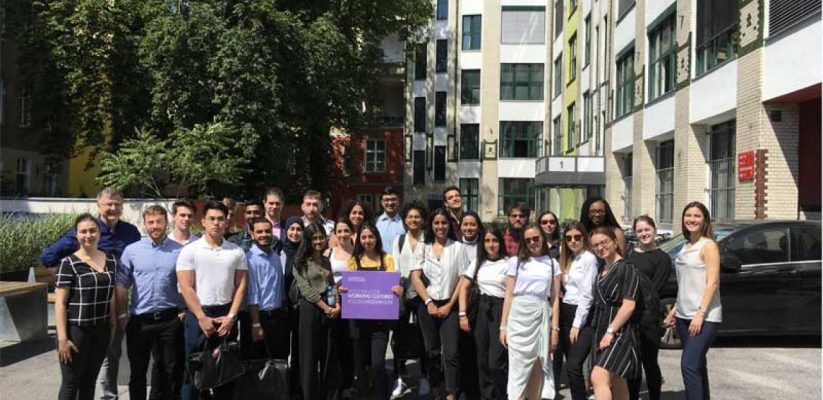 Our Westminster Working Cultures programme launched in 2017 and since then, we have taken over 170 students on life-changing journeys around the globe.
Through the programme, our students have explored Berlin, Dubai, Hong Kong, Mumbai, Shanghai and Washington D.C. They've learnt what it's like to live and work internationally, seen how business is conducted in other cultures and met with some of our inspirational alumni for insightful presentations, tours and networking.
In June 2019, 27 students had the chance to experience Berlin. Here, we've gathered some feedback on their personal highlights of the trip, and what impressions the experience has made on their student journey and future aspirations.
"I believe the trip has enhanced my graduate employability due to the commercial awareness that I have gained as a result of participating in all of the programmes and events that we were a part of and networking with many of the guest speakers who were more than willing to give us whatever information we required. I have gained such a diverse set of skills that are not easily accessible in day to day life such as become critically and environmentally aware as well as efficiently adapting to new cultures and experiences in such a short space of time."

Aisha Rasul – Law
"It will be great to tell future employers about this experience since it shows that I stood out and was selected for an opportunity like this when not everyone has. It shows that I am engaged, eager and willing to learn, expose myself and chase after all the opportunities that I can grab to further develop myself both as a person and future professional."

Aline Moura – BA (Hons) Public Relations and Advertising
"Aside from the talks, travelling abroad and understanding the way the world functions in Berlin taught me various graduate skills that I would not have been able to learn in employment. I learnt about understanding and appreciating the difference in cultures and adapting to different environments. I was able to hone my communication skills by speaking to the other students as the entrepreneurs, as well as with the local habitants. As a result, the skills I learnt through this experience has taught me valuable skills that I will take forward into employment as evidence of me being a well-rounded individual."

Neriah Mooneegan – Film
"The international experience gained by travelling to Berlin with WWC is definitely one of the highlights of my student journey so far. I met like-minded people I wouldn't normally have had the opportunity to connect with, and we made great memories together. I think the most important graduate skill I developed was the ability to be global in outlook and engaged in communities. We met alumni and professionals from such a broad range of backgrounds and expertise who had each found their groove in the amazing city of Berlin. Learning from each of their individual journeys and experiences that lead them to where they are today, allowed us to gain invaluable information of the working world and life after graduation."

Faiza Sharif – Business Economics
"The international experience of visiting Berlin has helped me develop essential graduate attributes which will be necessary when finding employment. Qualities such as leadership and teamwork and problem-solving which I have been able to develop and practice will be useful when completing the rest of my degree, as well as when applying for internships and jobs in the near future."

Gabriela Jimenez Garcia – Journalism
"In the competitive job market, employers are seeking not only for qualified graduates, but also for people that have used their time at university to participate in extracurricular activities. Those experiences actually present the candidates and their personality, and in most of the cases mean that the graduates have been constantly working on their improvement and future development. Leading on from that point, I consider that the international experience has given me the chance to prove to my future employers my engagement since year one at university."

Marieta Kotova – Business Management (Entrepreneurship)
"My experience in Berlin helped me become a better analyser and decision maker though our meetings with different entrepreneurs, and I used these skills at the workplace, for example, taking responsibility for hiring the people that I consider suitable for a certain role. Also, visiting organisations in Berlin made me more commercially aware and gave me the ability to solve problems, which will help me contribute to the decision making at an organisational level at some point in my career and would help me finally gain a management position in the company."

Antonia Basca – Human Resource Management
"This was an amazing experience; my confidence has grown so much, and my motivation as well. I hope to keep this momentum going and keep succeeding, even when put down. I can't wait to see what I and everyone on the trip achieves."

Juan Guillermo Restrepo Flores – BA Marketing Communications FT
Read more about the 2019 Working Cultures trip to Berlin here, or find our more about the programme on our Westminster Working Cultures webpage.
Latest posts by Jenny Stubberfield (see all)