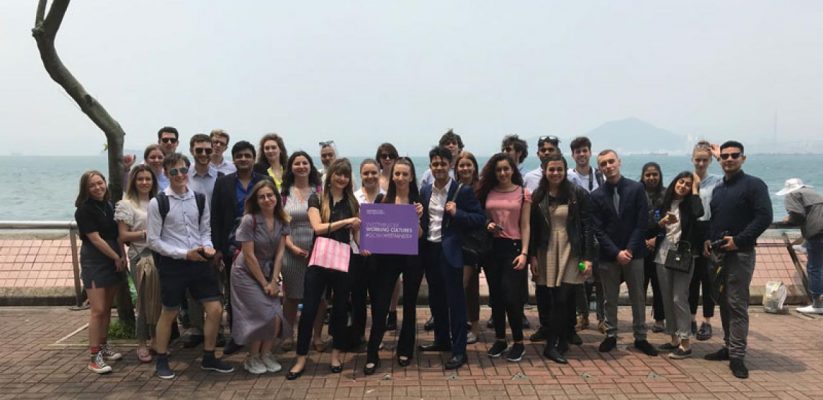 Our Westminster Working Cultures programme launched in 2017 and since then, we have taken over 170 students on life-changing journeys around the globe.
Through the programme, our students have explored Berlin, Dubai, Hong Kong, Mumbai, Shanghai and Washington D.C. They've learnt what it's like to live and work internationally, seen how business is conducted in other cultures and met with some of our inspirational alumni for insightful presentations, tours and networking.
In April 2019, 28 students had the chance to experience Hong Kong. Here, we've gathered some feedback on their personal highlights of the trip, and what impressions the experience has made on their student journey and future aspirations.
"Being part of the Westminster Working Cultures trip to Hong Kong has been an amazing, valuable and fulfilling experience, where I got the chance to meet fellow students from different campuses and we learnt from each other on a daily basis. Moreover, having the chance to attend various sessions organised by alumni professionals in their organisations has been an incredible opportunity to develop my interpersonal skills, global awareness of the business in Asia and the culture itself. It has been a great experience which I believe will help me in my graduate career search."

Mirel  Abtulova – Business Management with Human Resource Management
"This experience has been unforgettable in so many ways, with the most important being in the way it has and will continue to shape my professional life. In my future CV and job interviews, I intend to convey this experience as the most valuable opportunity for developing my transferable skills and graduate skills."

Neha Mulgi – LLB Law
"Experiencing how different Asian markets are to European has helped me to work further on my global outlook. I learnt a lot about the culture of Hong Kong and how interactions between professionals vary to Europe. This is going to be an enormous advantage for me in the future, as my long-term plan is to live in one of the East or Southeast Asian countries. While whatever applies in Hong Kong will not necessarily be true in other Asian countries, becoming aware that those differences exist and looking out for them while applying for jobs abroad is a key to performing well on the interview and at work likewise."

Katarzyna Ozga – International Relations and Development
"Overall this trip has provided me with an experience that I will cherish. Not only was this trip and amazing cultural insight into Hong Kong and China but has also given me the exposure into employability and graduate attributes that will strengthen my chance when looking for a professional position. Networking with the alumni of the University made me aware of the various career paths that have come from the University, and how I may apply the experiences I have had on this trip to broaden my scope of employment."

Lauren  Havlik – Business Management
Read more about the 2019 Working Cultures trip to Hong Kong here, or find our more about the programme on our Westminster Working Cultures webpage.
Latest posts by Jenny Stubberfield (see all)