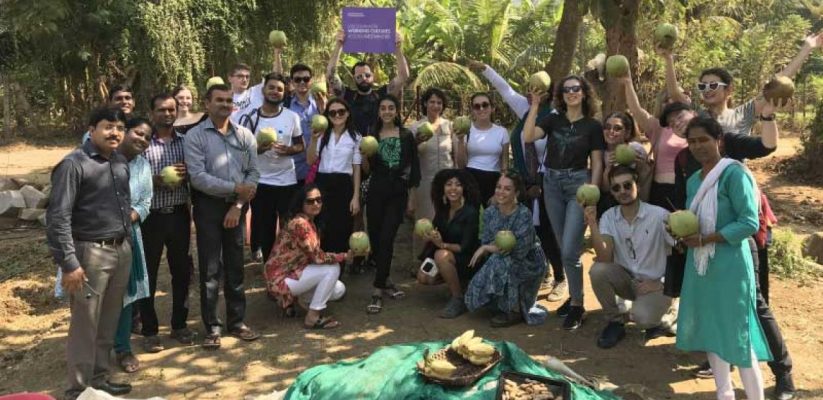 Our Westminster Working Cultures programme launched in 2017 and since then, we have taken over 170 students on life-changing journeys around the globe.
Through the programme, our students have explored Berlin, Dubai, Hong Kong, Mumbai, Shanghai and Washington D.C. They've learnt what it's like to live and work internationally, seen how business is conducted in other cultures and met with some of our inspirational alumni for insightful presentations, tours and networking.
In January 2020, 16 students had the chance to experience Mumbai. Here, we've gathered some feedback on their personal highlights of the trip, and what impressions the experience has made on their student journey and future aspirations.
"I think the biggest impact personally was experiencing the trip with 15 other students whom I'd never met before. We are all from such a diverse background and it was honestly a pleasure to integrate with like-minded individuals and experience a truly incredible city together."

Erin Bush-O'Brien – Fashion Buying Management
"Going to Mumbai was the trip of my life; from an employability point of view, I experienced a very rich educational experience throughout 6 days, where I improved my business, communication, networking, team building and decision-making skills. Having international work exposure is to the upmost importance into a globalised and interconnected world, where opportunities arise not where you were born or live but in countries with different work ethos, cultures and traditions from yours. I strongly believe that international experience is highly beneficial in workplace and also to compare and contrast different way of running businesses, educational, healthcare and political systems and be inspired of good methods that work and can be included in my routine. I already talked about my experience in Mumbai to a potential employer, for an internship position. It added value to my arguments and made my work and extracurricular experience richer and more interesting."

Alina Pacurar – Business Management (Accounting)
"I cannot overstate how much confidence and motivation I have returned with. I have met people who have studied at my University and have gone on to change their field, people who have had real influence. It has made it clear to me how this really is just the start of my journey, by being the 'CEO' of my life, by believing in myself, by holding big goals, the future can only be exciting."

Ellis Milsom – Sociology
"The international experience has enhanced my employability as it has really given me a boost of drive and confidence that I needed. During our guest speaker's talks we were encouraged to participate and be vocal and I can safely say I've come back with a new found confidence in articulating my thoughts in front of others – something I can definitely take to interviews when i'm searching for grad jobs!"

Erin Bush-O'Brien – Fashion Buying Management
"This trip made me aware of how important is to engage with different activities, even if they are not part of your area of study, because there is something new you can learn and adapt to your knowledge."

Abril Sigle – Photography
"My favourite session was with Rohit as his lecturing style was more direct and active using role-play; which made learning about a bit of financial/corporate history much more interesting for myself – if I can say that as a finance student I'm sure he captured everyone's attention, even those who are not from a corporate-involved field of study."

Ronet Harewood – Finance
"We visited the Ram Ratna International School which was honestly one of the best things I have ever seen. I was completely overcome with emotion while the Principal of the school delivered a presentation of how they run the school. The school has such a positive outlook for their students, implementing things like 10 minutes of dancing on a Monday morning and 'School Court' for when disagreements occur. The enthusiasm and pride the Principal has for her students is remarkable and the emphasis on topics such a mental health was truly infectious. It genuinely made me want to work with children and improve the education system in our country and it's a day that will stay with me forever."

Erin Bush-O'Brien – Fashion Buying Management
"I 100% recommend applying for WWC and if you are lucky to be accepted, go for it. You will gain so much from this trip, academically but also socially. I have struggled in my first semester to make friends and to meet people outside of the classroom, but this trip has allowed me to make friends which I value so much. This trip has helped my confidence and also improved networking skills, which was something I did not know I could do. The knowledge you learn from this trip is valuable and I will treasure it for the rest of my life. I have built contacts from different industries in India and have experienced culture in a different country, something not many students can claim."

Jamie Greenfield – Politics
"Apply, apply, apply! I can hand on my heart say that I experienced one of the best weeks of my life with WWC and it's something I will look back on and cherish for life. Not only did I get to experience a country so far from my own culture, I've met some incredible and kind people who I hope to stay in contact with."

Erin Bush-O'Brien – Fashion Buying Management
Read more about the 2019 Working Cultures trip to Mumbai here, or find our more about the programme on our Westminster Working Cultures webpage.
Latest posts by Jenny Stubberfield (see all)