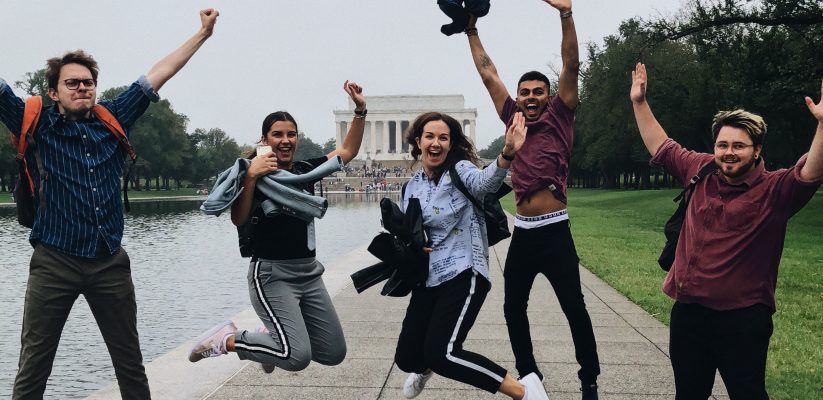 Our Westminster Working Cultures programme launched in 2017 and since then, we have taken over 170 students on life-changing journeys around the globe.
Through the programme, our students have explored Berlin, Dubai, Hong Kong, Mumbai, Shanghai and Washington D.C. They've learnt what it's like to live and work internationally, seen how business is conducted in other cultures and met with some of our inspirational alumni for insightful presentations, tours and networking.
In September 2018 and 2019, students had the chance to experience Washington, D.C. Here, we've gathered some feedback on their personal highlights of the trip, and what impressions the experience has made on their student journey and future aspirations.
"This international experience has prepared me greatly when it comes to my employability. One thing I developed was an ability to network. The slightly intense atmosphere of the networking event meant that I had to think on my feet, and sell my credentials while not being overbearing. As I go into my final year, this skill will be very important as I will be attending many networking events. It means that I can create good rapport with professionals and get my foot in the door. It may even result in employment if I happen to be in the right place at the right time. Additionally, it was very helpful to have talks on how to apply to jobs within the US. As someone in the music industry, I understand that the US holds many opportunities, perhaps more than the UK does. As a result, to give myself the best chance of success, it is important that I broaden my horizon beyond Britain. Having a foundation of understanding when it comes to US working culture gives me a competitive advantage and increases my employment potential in the US."

Oluferanmi Akintola – Music Production Performance and Enterprise
"One of the things that really impacted me during this trip was meeting so many amazing women with inspirational stories and careers. As a young female professional, it was extremely motivating to hear compelling stories from people like Dr Ellen Stofan, Dr Sharon Klotz and Timothy-Anne Burnside. I found that all of them shared the same passion and commitment to create more diversity and equality in the workplace, but also, I learnt how much resilience and perseverance are needed in order to succeed."

Alice Stella – International Business BA Honours
"This opportunity to visit Washington D.C. with the Westminster Working Cultures programme was not only a dream come true but also an extremely useful and unforgettable experience where I have learned a lot about the capital's history, culture and professional environment."

Egle Lusciauskaite –  BA Public Relations and Advertising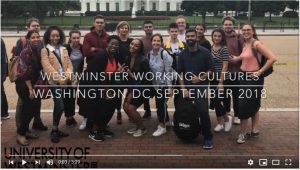 To hear more from our students about their experiences on the Working Cultures trips to Washington, D.C, visit the alumni YouTube channel here.
You can also read more about the 2019 Working Cultures trip to Washington in 2019 here,  or find our more about the programme on our Westminster Working Cultures webpage.
Latest posts by Jenny Stubberfield (see all)