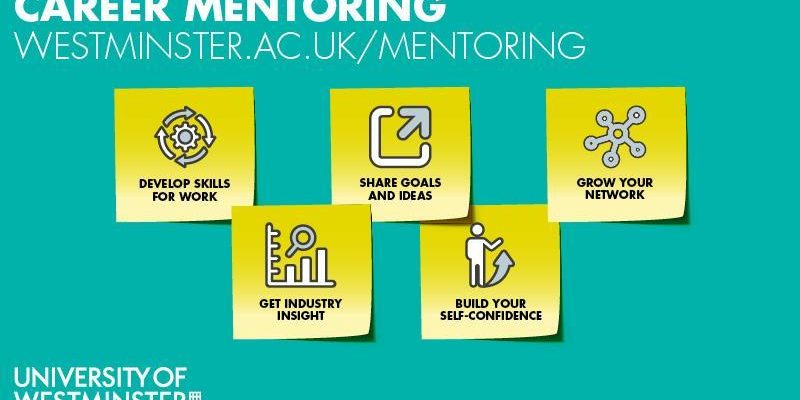 As you now step into the "real world", you might be feeling excited, but also a little overwhelmed.
Transitioning from the structured world of academia to the world of work can be challenging. But don't worry, we are here to support you on your way!
Having a mentor can help you navigate this new phase with confidence. Here are some of the benefits I have found whilst having a mentor as part of the University of Westminster Future Ready Mentoring programmes.
Six benefits of having a mentor:
Knowledge and Experience Sharing: An advantage of having a mentor is gaining access to their vast knowledge and experience. Mentors have already walked the path you're embarking on, and they can provide valuable career insights, tips, and strategies that aren't found in textbooks. Their firsthand experience can help you avoid common mistakes and accelerate your learning curve. For example, providing you with specific application advice and sharing their day-to-day professional responsibilities.
Career Guidance and Direction: As a recent graduate, you might not have a clear idea of your long-term career goals. A mentor can help you explore different career paths and industries based on your interests and strengths. They can guide you in setting realistic and achievable career goals and help you create a roadmap to achieve them.
Networking Opportunities: Now more than ever, it's not just about what you know but also who you know – so having a mentor can help you open doors to new connections and tap into their extensive professional networks.
Friendly Support and Encouragement: The post-graduation phase can be emotionally overwhelming. Doubts, fears, and uncertainties are bound to arise. A mentor can provide friendly support during such times. They understand the challenges you face because they've likely faced them too. Through their empathy and encouragement, you gain the confidence to overcome obstacles and pursue your aspirations with determination.
Access to Insider Knowledge: Classroom education can only provide a glimpse of how knowledge is applied in the actual world. A mentor offers firsthand insights into industry trends, best practices, and practical approaches to problem-solving. Their knowledge can assist you in staying ahead of the curve and make informed decisions in your career. By sharing their experiences, mentors offer a shortcut to valuable knowledge that would otherwise take years to acquire independently.
Personal and Professional Development: A mentor helps you develop personally and professionally by helping you identify your strengths and weaknesses, challenging you to go beyond your comfort zone and unlock your true potential. Their confidence in your abilities can inspire you to set higher goals and strive for excellence in your endeavours.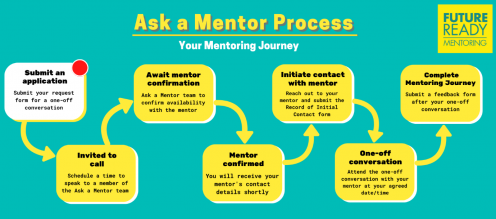 As part of the Early Career Support for graduates, the Ask a Mentor Service is a short-term mentoring opportunity which gives you the chance to have a one-off conversation with one of our professional and experienced mentors.
The Ask a Mentor team will match you with a mentor based on the industry or career you wish to pursue. This service is offered to all University of Westminster students and those who have graduated within the last three years.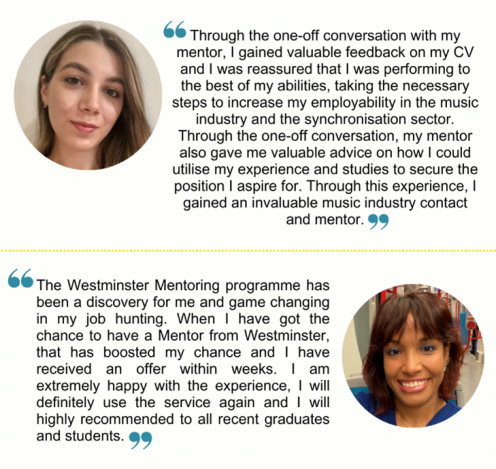 The advantages of having a mentor are numerous, including guided learning, friendly support, networking opportunities and access to insider knowledge. By seeking out experienced guidance, recent graduates can navigate the challenges of the real world with confidence.
Remember, the mentor-mentee relationship is a two-way street. Be proactive in seeking mentorship, showcase your eagerness to learn, and demonstrate your commitment to growth. Embrace the power of mentorship, and you'll find yourself on a rewarding journey of personal and professional development.
To learn more about the Ask a Mentor Service, visit their website here. If you have any questions, and would like to apply, please contact them at askamentor@westminster.ac.uk.
***
Many thanks to Zainab, our graduate intern for The Early Careers Support for Graduates, for this blog!
Feel free to get in touch with us for further information and support! You can contact us via email on careers@westminster.ac.uk to support you on your career journey!
Passionate about Student Engagement, Data Management and content creation
Latest posts by Anna Dolidze (see all)