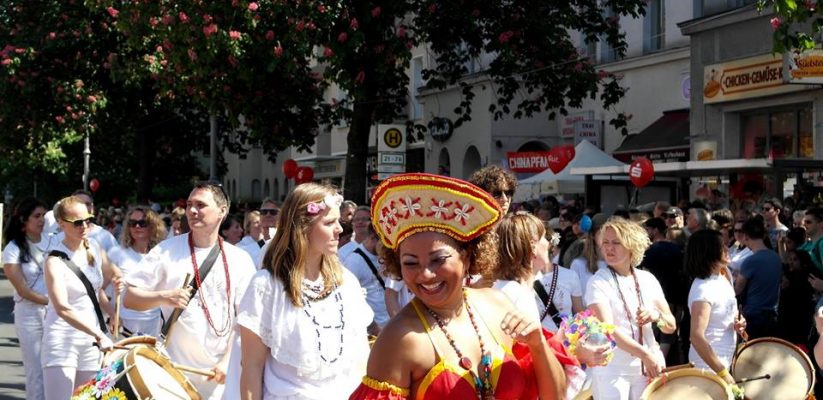 The German Capital is hosting one of the biggest cultural festivals worldwide – Carnival of Cultures – and I am lucky enough to discover the story "behind the scenes" by joining the parade this year.
This great city is truly the place to be in summer time! The academic year is almost over, in about two weeks from now you will receive the official confirmation that you have successfully passed your exams, so you better start making your plans for this holiday.
I have decided to give you a hint and show you how a usual Sunday could turn into a spectacular demonstration – maybe you could consider Berlin as your next trip destination.
Four days full of music pleasing all eclectic tastes, cultural parades, concerts and joy – this is what Karneval der Kulturen has promised to be – "the recipe" for a brilliant long weekend. Carnival of Cultures is an urban festival that celebrates diversity through cultural representations and identities. If you feel like joining a dance group, the parade is the right venue to be. You do not need 10 years of ballet, just some good motivation to learn the basic steps and maintain the atmosphere. Are you more into music? I hope you are not an indecisive person, because there are plenty of options to choose from: on the street-fest stages and the off-stages, world-renowned and up-and-coming bands, whilst artists perform a variety of music styles: from reggae over chanson to classical sitar-music. 
Karneval der Kulturen is open to all and all forms of cultural expression. The caravan turns the street into Berlin's largest stage where everyone has the chance to reveal their secret talent. The first edition took place back in 1996 gathering 50,000 people and since then the event has become more and more popular. After two decades full of joy and iconic moments, Karneval der Kulturen reached over 1 million guests managing to close quarter of a city and give people freedom to fully embrace the festivity. I believe I have teased you enough with over-detailed news, so let me share with you some "living proofs" of yesterday's cultural parade. I hope you will enjoy it. 🙂
FANCY SOME MOTION PICTURES? WATCH Karneval der Kulturen – Parade
View the best photos since 2011 on Berlin's Carnival of Cultures website.
Read this post and other stories on Diana's personal blog
Latest posts by Diana Florescu (see all)