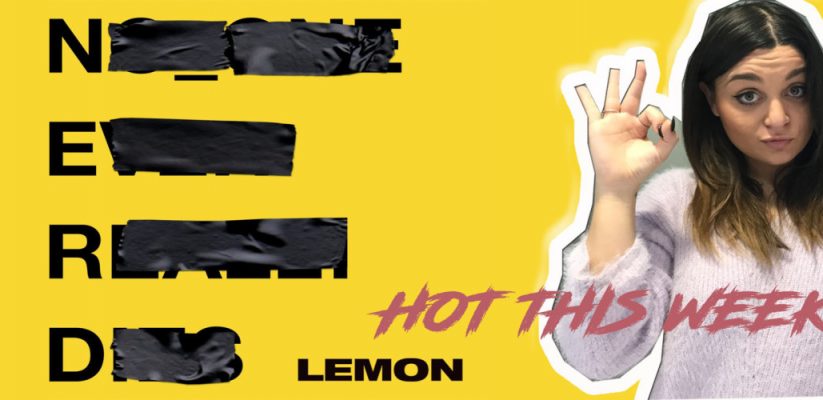 THIS WEEK'S WINNER IS…..
LEMON !
 N.E.R.D. x Rihanna
[youtube https://www.youtube.com/watch?v=L_u97PqWX6g&w=560&h=315]
What, you haven't heard the song yet? Get listenin' and Imma let this one slide..
(the song made me use the slang)
THE ARTISTS
N.E.R.D.
Meet N.E.R.D. – the ultimate American funk rock band.
Members  (left to right): Chad Hugo, Pharrell Williams (duh!), Shay Haley
Genre : Alternative rock, NU metal, Rap rock, Hip hop, Rap metal (mhm, I had no idea some of these existed)
Acronym for:  No_one Ever Really Dies
RIHANNA
UHM, no introduction needed…
THE SONG
Ever since Apple Music introduced me to this song, I've had it on repeat every freakin' day. It might be the hot topic of the month (if not of the year)! It's something about this beat that makes you wanna jump out of your bed and start twerking. Mhm, I said it, start twerking, because ladies, that's the only way your ass will be shakin' once this song hits the clubs. No wonder this makes me twerk, check out that chick in the video!
With LEMON, N.E.R.D.'s announcing a huge comeback, and I feel there're more crazy collabs on the way! The funk band was seen as an anomaly back in the 2000s, but considering all the stuff we've witnessed in music in the past few years, this tune is now actually refreshing, and RiRi's "boastful verse" sure helps. I know everyone talks about the synths on the song, the repetitive vocal samples (Bouncin' around, Waitaminute), but what strikes me the most is that little pause in the end, that leaves you craving for more, and then gives you another bite of this sweet, tasty beat, so it maximises the satisfaction. You wouldn't have had the same orgasm feeling of accomplishment if the song had finished with the Bouncin' around verse, BELIEVE ME. Oh, dear Pharrell, I do believe you'd make the greatest lover of all times…
FURTHER RESEARCH & MATCHING OUTFITS
I strongly recommend you to listen to all N.E.R.D.'s albums/songs, it'll drive you nuts! Especially SHE WANTS TO MOVE – a more popular one. But that, of course, only if you're into rap, rock and the combination of the two. It sure ROCKED my world!
As for the outfit, this is how it made me feel:
( Yes, it's a bathroom selfie, yes, i put my leg up where I shouldn't have..  it's about the FUNKY socks, dude..! )
AND THE SNEAKERS THO'….
Feelin' the swag-ish vibe yet?
Have a wonderful week twerkin' to this song!
Yours foreva',
Delia
Latest posts by deliapitu (see all)