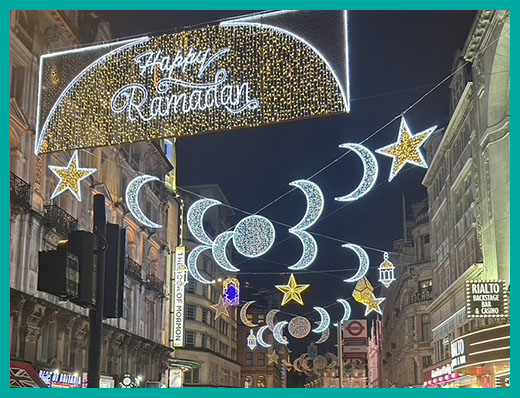 In the last few years, Ramadan has been falling during term times and this will continue to happen for the next few years. This can be hard for international students, like me, as it's difficult to fly back home and spend it with family and friends. However, London offers a vibrant and diverse Muslim community that welcomes international students with open arms during this holy month. 

Connecting with the community

London has a vast Muslim population and one of the best ways to spend Ramadan in London is by attending the various Iftars and Suhoors that are hosted by Islamic societies in the city. These events provide a great opportunity to meet other Muslims, learn more about Ramadan, and break the fast with fellow believers. It's also a great way to get a feel for the different cultures and countries represented in London's Muslim community and learn more about how the holy month is celebrated in different Arab and Muslim communities. This year, an open Iftar takes place everyday at the Victoria and Albert Museum in South Kensington which has also rented pop-up mosque and Ramadan Pavillon for Muslims and non-Muslims. Check out websites like Eventbrite or Meetup for listings of Iftar events happening in the city. Another way to connect with the community is through ISOC (Islamic society at the University of Westminster) which organises different events during Ramadan. 

Finding Halal Food during Ramadan

Being away from home during Ramadan also means missing all the food and family gatherings. Food has always been a big challenge for me because I'm very sensitive and I can't cook. However, London is a diverse city that caters to a range of dietary requirements, including halal food. There are many halal restaurants and food options available throughout the city. Edgware Road (dubbed 'Little Cairo' or 'Little Beirut') is one of the places that has lots of Middle Eastern restaurants offering halal options and Iftar menus during Ramadan. Different restaurants in Mayfair and Knigtsbridge also have halal options in their menus. Additionally, many supermarkets like Tesco, Sainsbury's, and Waitrose offer halal meat and other halal food products along with other Ramadan edition meals and deals. 

Exploring the City

Probably the Ramadan lights installed for the first time in London's West End in Coventry street is the best display to see this Ramadan if you are in London. The 30,000 lights illuminated with 'Happy Ramadan' have been switched on by the Mayor of London, Saqib Khan, who is one of the 1.3 million Muslims in London celebrating Ramadan. Also, many attractions have extended hours during the month, making it easier for students who are fasting to plan their visits around Iftar and Suhoor.

Happy Ramadan!
Feriel

For more insights from international students studying at the University of Westminster and living in the heart of London, please visit International Student Blogs.