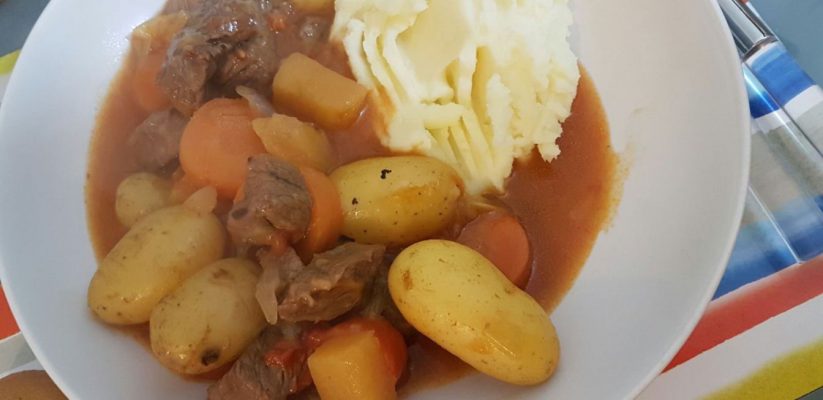 Shorter days have set in and so has the bitter coldness. If, like me, you can't stand the cold and spend every waking minute next to a heater, this recipe is for you. It's my mums recipe, and it's a dish she makes every winter without fail like her other winter staples (loads of vegetable soup and hearty pasta 😍). So for the first year I'm fully cooking by myself, I've decided to give it a go – and I'm pretty sure I did her proud.
Mama H's Winter Stew
Packet of meat chunks for stew (beef or lamb is best)
Chopped vegetable selection (hard vegetables like potato, swede, carrots, leeks, onions, etc)
Chopped tomatoes (can)
Cube of chicken stock
1/4 cup of Brandy
Bouquet Garni
Salt and Pepper to taste
Oil
First heat some oil in a big pot. Once heated, fry your meat chunks until cooked. Sprinkle a teaspoon of sugar to caramelise the meat slightly to give a sweet flavouring. Take them out and put them into a separate plate. Place vegetables in pot.
Once cooked and tossed slightly, put the can of chopped tomatoes in, the chicken stock dissolved in boiling water, Bouquet Garni, and salt and pepper to taste. Then re-add the meat, stir, and add brandy.
If after this, your stew ingredients are not covered with liquid, add boiling water until covered. Then cover with a lid, and simmer on medium-low heat for about an hour, checking every 10 minutes and stirring.
NOTE: Halfway through the cooking time, if you feel your stew is too runny and diluted, dissolve around four teaspoons of flour/cornflour in water and add to mixture. Be careful that there are no lumps!
Once cooking time is done, stir and make sure you are happy with the consistency and check the vegetables and meat are cooked and tender. Serve with mash and french bread. Voila!
Do not be intimated by making stews or casseroles. I was at first, but this recipe is surprisingly easy and straightforward, with basic cooking skills it will be a breeze! Perfect for those days when you want to curl up for an hour in front of the tv with a hearty meal. It's also perfect for a student budget as all the ingredients are pretty cheap and easy to find (and probably already in your kitchen!).
Let me know how your stew comes out! Did you modify it when you made it?
Read this story and other posts on Nicole's personal blog