By Rachel Aldred (Professor of Transport, Westminster University)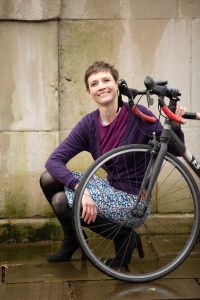 Just before the pandemic started, I managed to get my GP to refer me for an autism assessment through the local NHS. This was something I'd been wondering about for a while, looking at articles and forum discussions, following #ActuallyAutistic chat on Twitter. After getting on the list, I didn't hear anything for some time, and assumed that either it had got lost or things had ground to a halt. Maybe, I thought, it wasn't meant to be, and maybe I wasn't even autistic anyway. A bit over a year later, though, I got invited to the first of two assessment meetings.
At the end of Summer 2021, I had an autism diagnosis. I don't regret it, although as for many late diagnosed people, it can sometimes feel hard to be looking back over my life and wondering how things might have been different if I had known earlier, or to try and pull apart what is 'me'; what traits or behaviour might be understood as 'masking' or long learnt defensive reactions to ways in which neurodivergent people are marginalised by others.
I do though now have the privilege of professional seniority, which has helped me to feel that I can (and should) be open about the diagnosis from fairly early on. I know that there are many colleagues and students at Westminster and at other universities who feel unable to be open about their diagnosis or disability, and many other people who feel that something is 'wrong' with them but don't know what (as I did for many years). I want to support and help facilitate spaces where we (neurodivergent people, with or without formal diagnoses) can talk about what we experience and what we need; taking into account intersectionality and diverse interconnected axes of marginalisation.
This blog site is part of that: material is being created and will soon be shared, and more contributions/suggested resources are very welcome. I've been inspired and encouraged by colleagues, students, and others who have reached out to me and have shared or are sharing ideas and content. We'll soon be uploading material including from our first event on 8th December which will see a fantastic panel discussing diverse experiences and ideas around neurodiversity.
Latest posts by Rachel Aldred (see all)