Neurodiversity, Architecture & Cities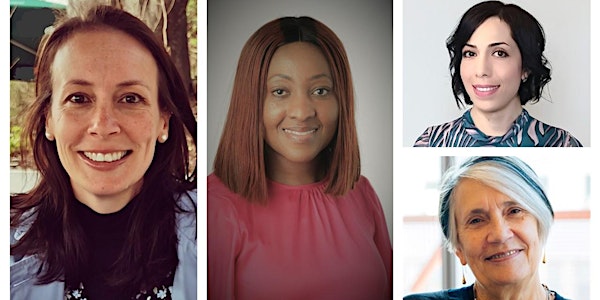 A hybrid panel conversation hosted by the School of Architecture and Cities on the implications of neurodiversity for our disciplines.
21st March, 2023
Our four expert panellists are Dr. Jos Boys, Dr. Therese Kenna, Atefeh Motamedi, and Patience Udonsi. Each has their own expertise and distinctive perspective on how understandings of neurodiversity can contribute to – and challenge – research and practice in Architecture & Cities related disciplines.
This event is in-person and online. Booking link: https://www.eventbrite.com/e/neurodiversity-architecture-and-cities-tickets-472161276087
Dr. Jos Boys works at The Bartlett at University College London. Originally trained in architecture, she was co-founder of Matrix feminist architecture and research collective in the 1980s and one of the authors of Making Space: Women and the Man-made Environment (Pluto 1984). Since that time she has worked as a journalist, researcher, consultant, educator and photographer; and has published several books. Most recently she co-founded The DisOrdinary Architecture Project, bringing disabled artists into architectural education and practice to critically and creatively re-think access and inclusion. Jos explores how everyday social, spatial and material practices come to frame what is 'normal' and 'ordinary'. She works with others on design interventions that question our assumptions about who gets valued and who doesn't (in society, in the design of built space and in architecture as a discipline) She is author of Doing Disability Differently: an alternative handbook on architecture, dis/ability, and designing for everyday life (Routledge 2014) and editor of Disability, Space, Architecture: A Reader (Routledge 2017).
Dr. Therese Kenna is an urban geographer based in the Department of Geography at University College Cork, Ireland. Her research interests are centred on the geographies of exclusion in cities and associated urban planning and policy responses and implications. Her most recent work is focused on making space for neurodiversity in the city. Therese also has research interests related to diversity and inclusion in teaching, learning and assessment practice in urban geography. She is currently a Fellow on the ID+ project in University College Cork exploring ways of co-creating inclusive education for people with intellectual disabilities. Her work is published in international journals including Area, The Geographical Journal, Urban Policy and Research, and the Journal of Geography in Higher Education. Webpage: http://publish.ucc.ie/researchprofiles/A010/tkenna
Atefeh Motamedi is a strategic planner and co-founder of 'Neurodiversity in Planning'. Atefeh capitalises on her lived experience as a neurodivergent to identify issues facing neurodivergent people in accessing urban opportunities. She is passionate about inclusivity, accessibility and availability of urban opportunities to everyone, including neurodivergent people and actively promotes neuro-inclusive place-making. Atefeh is also interested in sensory landscaping and biophilic design that can improve everyone's experience and participation in the built environment and help achieve high-quality sustainable developments.
Patience Udonsi is a Lecturer in Learning Disabilities Nursing and Social Work at the University of Salford in Manchester. Research interests include neurodivergence, dementia, grief & loss, palliative care and trauma informed care. Patience is a Registered Learning Disability Nurse and a qualified Social Worker. Prior to working in Academia, Patience worked in various roles including managing supported living projects for people with Learning Disabilities and Mental Health Conditions, Community Nursing for people with Learning Disabilities & various health conditions, Social Work with people who have mental health conditions, Behaviour Specialist Practitioner with a focus on working with neurodivergent people, and Positive Behaviour Management Accredited Trainer.
University of Westminster 309 Regent Street, London W1B 2UW General enquiries: +44 (0)20 7911 5000 Course enquiries: +44 (0)20 7915 5511 The University of Westminster is a charity and a company limited by guarantee. Registration number: 977818 England