Panel on Neurodiversity, Architecture & Cities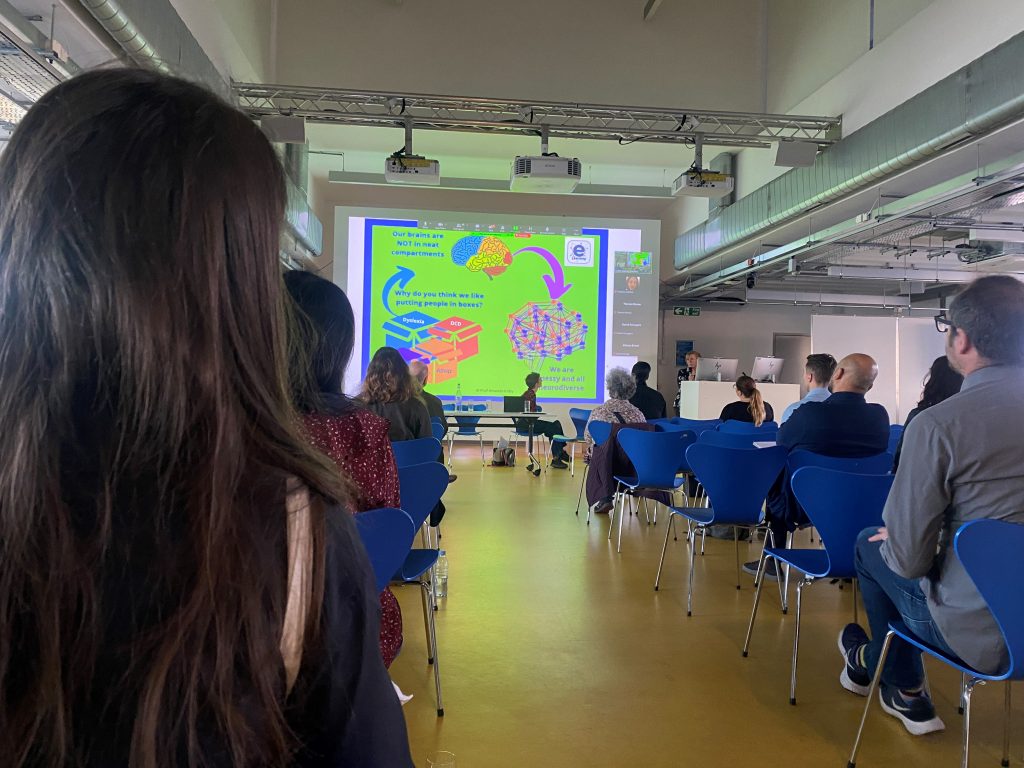 The 17th April saw the University of Westminster's School of Architecture & Cities Equity Forum host a hybrid panel event on the topic of Neurodiversity, Architecture & Cities.
Chaired by me (Rachel Aldred), the event brought together Jean Hewitt, Dr. Therese Kenna, Natasha Trotman, and Patience Udonsi. Each has their own expertise and distinctive perspective on how understandings of neurodiversity can contribute to – and challenge – research and practice in Architecture & Cities related disciplines. After short talks from the speakers, there was time for several rounds of questions from the online and in-person audience. Below you can access the video of the event.
About the speakers and resources to download/access
Jean Hewitt is an Inclusive Environments specialist with Buro Happold and an Honorary Associate Professor at the Bartlett, where she leads the "Designing Inclusive Places" module on UCL's MSc Health Wellbeing and Sustainable Buildings programme. She currently holds a voluntary post as the UK Government's Disability and Access Ambassador for the Built Environment. Jean is a longstanding member of BSI's B559 Committee for Accessible and Inclusive Environments, and is BSI's technical author for PAS 6463: Design for the Mind – Neurodiversity and the Built Environment. Download Jean's slides as a pdf document.
Dr. Therese Kenna is an urban geographer based in the Department of Geography at University College Cork, Ireland. Her research interests are centred on the geographies of exclusion in cities and associated urban planning and policy responses and implications. Her most recent work is focused on making space for neurodiversity in the city. Therese also has research interests related to diversity and inclusion in teaching, learning and assessment practice in urban geography. She is currently a Fellow on the ID+ project in University College Cork exploring ways of co-creating inclusive education for people with intellectual disabilities. Her work is published in international journals including Area, The Geographical Journal, Urban Policy and Research, and the Journal of Geography in Higher Education. Webpage: http://publish.ucc.ie/researchprofiles/A010/tkenna. Download Therese's slides as a pdf document.
Natasha Trotman is an Equalities Designer and Researcher whose practice explores extending the frontiers of knowledge around mental difference, which includes non-typical bodyminds, ways of being and marginalised experiences, in addition to also reframing normative notions of equality, equity, diversity, and inclusion. This is done via an intersectional design lens, spanning multi-modal interactions, place-shaping, investigative play, and policy design for varied audiences, participants, and organisations. A fellow of the Royal Society of the Arts, a member of the Chartered Society of Designers, a fellow of the Institute of Equality, Diversity Practitioners and a RIBA Awards 2023 Jury member. Natasha is currently a Design Expert Specialist for the Design Council and a consultant for Wellcome Collection, and a Co-Developer for Wellcome Collections Social Justice Curriculum; she is also an artist in residence at Somerset House's studio 48. Download a reading list provided by Natasha as a pdf document.
Patience Udonsi is a Lecturer in Learning Disabilities Nursing and Social Work at the University of Salford in Manchester. Research interests include neurodivergence, dementia, grief & loss, palliative care and trauma informed care. Patience is a Registered Learning Disability Nurse and a qualified Social Worker. Prior to working in Academia, Patience worked in various roles including managing supported living projects for people with Learning Disabilities and Mental Health Conditions, Community Nursing for people with Learning Disabilities & various health conditions, Social Work with people who have mental health conditions, Behaviour Specialist Practitioner with a focus on working with neurodivergent people, and Positive Behaviour Management Accredited Trainer. She recently published the article 'Young, gifted and black: the intersectionality of race, intellectual disability and neurodivergence' in Critical and Radical Social Work. Download Patience's slides as a pdf document.
About the School of Architecture & Cities Equity Forum, which sponsors the event: The purpose of the Equity Forum is to serve as an umbrella group for the School's academic community, and in particular its underrepresented groups. It aims to identify where policies and practice may be enhanced towards an increasingly inclusive environment free from prejudice, bigotry, and discrimination. In addition, the Forum will seek to promote inclusive environments as intellectually and creatively beneficial to the School community.
University of Westminster 309 Regent Street, London W1B 2UW General enquiries: +44 (0)20 7911 5000 Course enquiries: +44 (0)20 7915 5511 The University of Westminster is a charity and a company limited by guarantee. Registration number: 977818 England