This workstream will harness existing conversations and mechanisms for feedback and the practical application via the repositories mentioned in the Repositories workstream to identify recommendations to move this landscape towards better reflecting both text and non-text research.
This workstream is based on the work the University of Westminster, Jisc and Haplo (a division of Cayuse) have been doing over the past three years to highlight the challenges practice research multi-component outputs face.
It is where the first iteration of our project name first came into being (thanks to the creativity of project CoI Adam Vials Moore) with our presentation at PIDapalooza (2021) – Unheard Voices: practice based arts research and the PID landscape.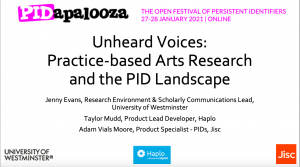 This was followed by a poster presentation atFORCE11 at the end of 2021 where we (with Rachael Kotarski from The British Library having now joined the team): Practice made Practical. Reducing the OTHER of non-text aimed to give a visual representation of what a practice research output could look like and highlighted the issues for these outputs when it comes to discoverability and interoperability.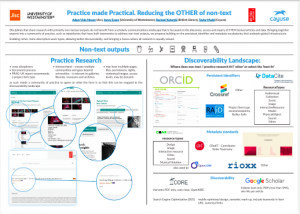 More recently, we ran a session at NISO Plus 2022 which aimed to bring together the different elements of the Practice Research Voices Metadata and Persistent Identifier workstream. Composing for the non-text infrastructure dance.
This highlighted the template changes the University of Westminster has made to the WestminsterResearch repository and the work the British Library has done to build a shared repository service to support the Galleries, Libraries, Museums and Archives (GLAM) sector. It focuses on the question of how we work to change existing open standards rather than creating new and/or proprietary ones – and highlights some recommendations – constructive ideas not criticism – of the current landscape.
We are planning a metadata workshop (informed by the research carried out as part of the project) to plan next steps for this landscape.