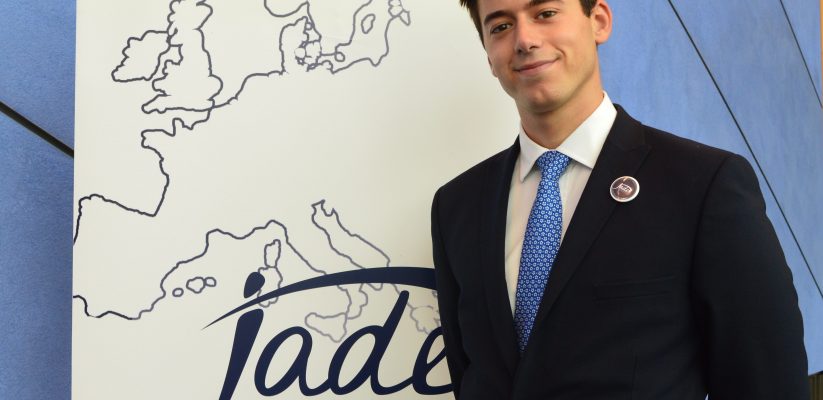 Introduce Yourself…
Hi everyone! I am Giorgio Sleiter, 21-years old and current Treasurer of JADE – European Confederation of Junior Enterprises. I am an International Business BA Student at Westminster Business School and currently pursuing my placement year in Brussels. I was born and raised in Italy and moved to London at 16 to finish my high school studies and start my bachelor in 2015. I would describe myself as a highly motivated and highly committed person who is always looking for ways to improve and become a better person, both professionally and personally.
Well done on securing a placement at JADE! Can you tell us about the application process and where did you hear about this opportunity?
It all starts with the usual routine, CV and motivational letter, after the screening I received an invitation to the interview. The interview lasts around 1 hour and 45 minutes, of which, 60 minutes are for the actual interview and 45 minutes are dedicated to an in-basket project to be submitted in 45 minutes. After the interview, I received an invitation to the assessment centre as well as a Belbin Test and an Assessment Project to be submitted within a week and presented at the Assessment Day.
I was a Senior Consultant at Westminster Business Consultants (WBC), the Junior Enterprise at the University of Westminster. After attending the JADE Spring Conference 2017 and hearing about the opportunity to apply for the Executive Board at JADE, I immediately decided to apply.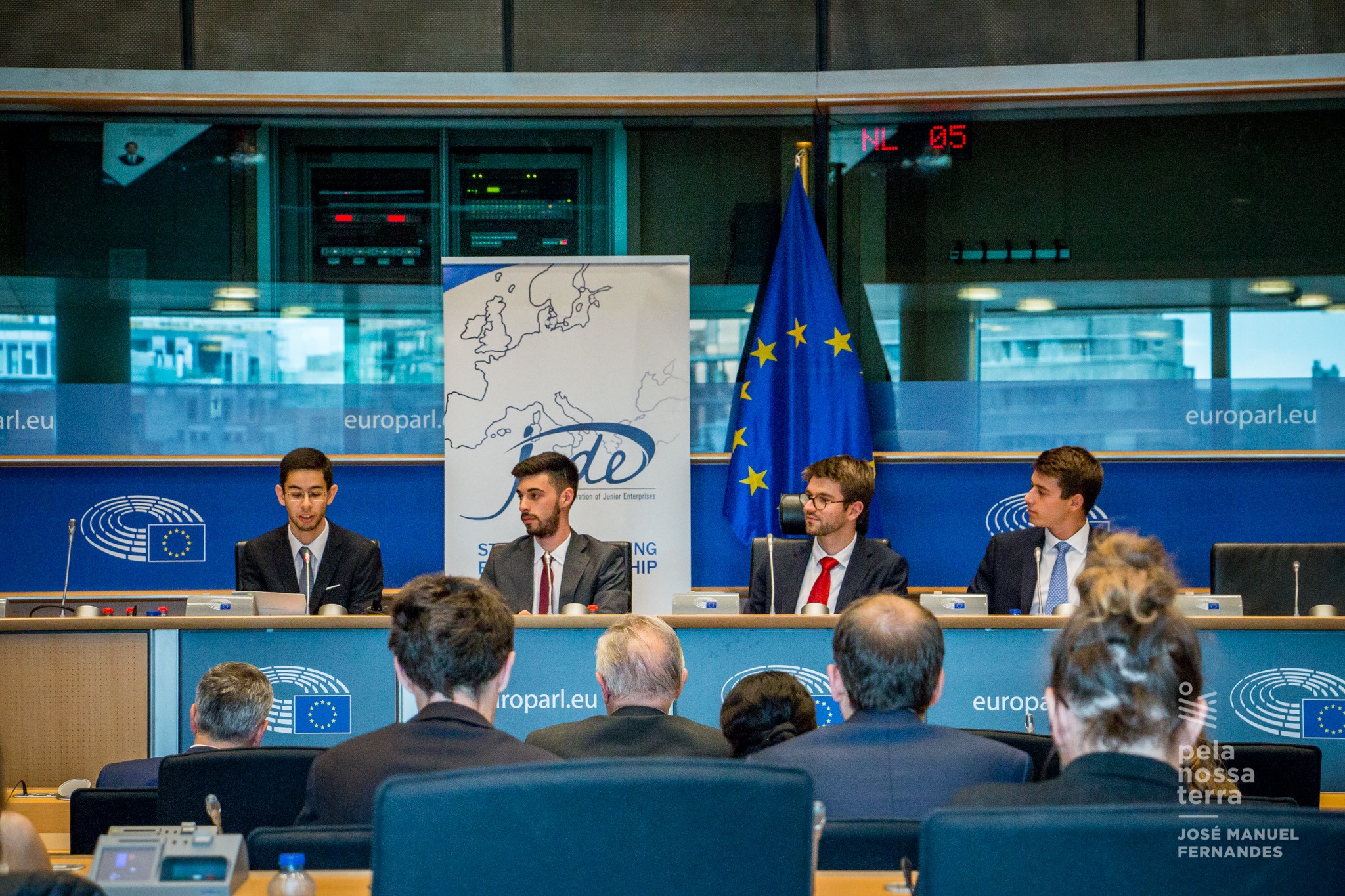 What are your day-to-day responsibilities?
At JADE, I am Head of Finance, Public Affairs and Training. I manage all the institutional relations with the European Parliament, European Commission, Student NGOs and other public stakeholders such as think tanks and trade associations. Managing relations entails also attending public events to where JADE is invited. I am also responsible for creating and monitoring the organisations' annual budget as well as updating all the accounting books and find ways to optimise the processes within the accounting department. In training, my main internal responsibility is coordinating a pool of 34 JADE Trainers, along with a project manager. In a more external perspective, I am currently coordinating a commission of national confederations to create national training departments in five countries as well as coordinating other commissions responsible for the creation of books of best practices for Junior Enterprises at European level.
What's the most memorable highlight of your experience at Jade?
It surely was hosting the opening ceremony of JADE Spring Conference 2018 to more than 400+ people. This was the biggest event ever organised in 25 years of history of JADE, and although this was one of the most challenging projects for the entire board, in my opinion, this was also the most rewarding experience to date.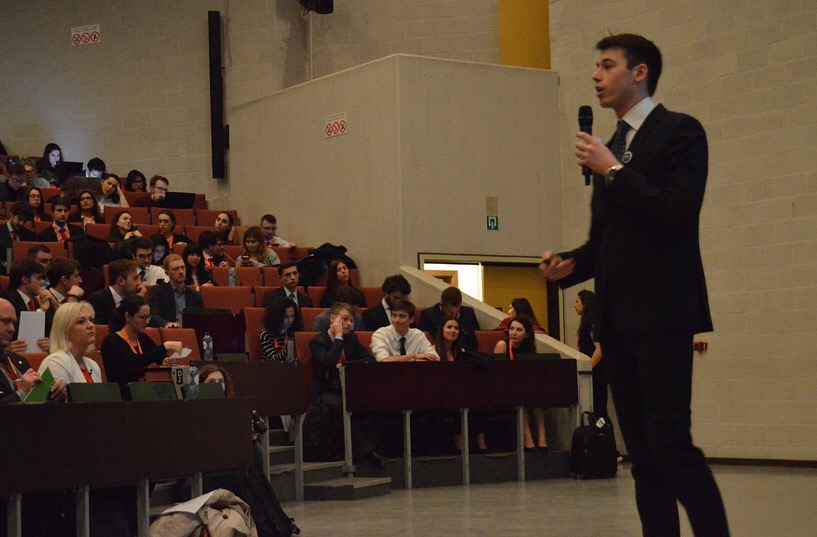 Has this opportunity helped you better understand your career path?
In terms of career paths, before beginning, although I was quite entrepreneurial, I wanted to pursue a corporate career. Now, my ideas changed slightly, not necessarily in career paths, but I understood the fundamental elements that will have to be present in my professional life to be happy and feel fulfilled. I understood that I want to be in total control of my day and tasks as well as sharing my passion with others which translates into "I want to create my own company". On the other hand, if I find a company that mirrors my values and satisfies my professional needs, I wouldn't cross it out for sure. Overall, I look forward working in the private sector.
Did you have to face any challenges when looking for a placement?
I think the biggest challenge is being able to juggle between classes, studying, extracurricular activities, social life and applications. We only have so many hours during the day, and at times it can be very hard to manage all aspects. To overcome the lack of productivity caused by the constant juggling, I tried to focus my productivity on one task at a time when possible. This allowed me to be much more efficient and at the end of the year, achieve positive results in my classes and extracurricular activities, and of course, getting a placement which was my n.1 goal.
What's the best piece of advice you would have given yourself a year ago when looking for a placement?
If possible, before talking about the "What" advice, I would like to talk about the "Why" and the "How", as they are significantly more useful than the advice per se.
Why?
The "Why" is very simple, selecting your placement based on what it would be "nice to try", it could turn out to be a nightmare if you end up not liking your role/responsibilities. A placement is very different from an internship simply because the time you will invest in it, is on average, four times greater. This means that finding the right placement is the most important element for your development both a personal and professional level.
How?
The "How" in finding the right placement, is to spend more time understanding yourself. Sometimes we are so busy with our lives that we forget about ourselves. Now, it is a habit for me to take a step back and spend some time asking myself basic questions like What makes you happy? What are the most important values to me? What do you like doing every day? These simple questions can be extremely powerful as you could realise that you do not even know what you like because you never spent time understanding yourself.
What?
The "What", comes only after the "How" and therefore, after understanding yourself. My suggestion is to spend most of your "application time" in research. Look for companies based on their values, missions and culture to see whether it is a good fit for you, not based on their salary or fringe benefits. This will help you create a shortlist of companies you would love to work for and will make your application process more pleasant as, at the end of the day, the company is just a reflection of you. Applying for a company which does not represent you will most likely result in three things: negatively affect the quality of your application, waste valuable time in collecting rejections, if you do get the placement position, you will probably invest a whole year complaining, instead of spending if focusing on your growth.
I personally didn't do any of this, but I would have loved to know this before. On the other hand, I had the luck to "casually" find myself into a network which represented my beliefs.
How has the Business Experience Team at WBS supported you throughout your placement?
They have been fantastic before, during and I forecast them to be awesome also after. They provided me with a lot of tools like RateMyPlacement and Engage which made research much easier. The BET Team is always very responsive and helpful at all time. Additionally, I have a personal mentor/tutor allocated from University that is there whenever I have questions about the project or anything related. I love how they try to engage us in university activities while being away for a year.
Would you recommend your peers to study at Westminster Business School?
100%! What I love about WBS is the multicultural environment and the time I have to work on other things. Being a very practical person, I like to dedicate a lot of my free time consolidating the knowledge through practical experiences. With Westminster Business Consultants, as well as the Basketball team, I have been able to meet fantastic like-minded people, pursuing my passions and work on projects while being at university. Seriously, who wouldn't like that?
---
Thank you so much to Giorgio for taking the time out of his busy schedule to answer our questions. Find out more about Giorgio's course in International Business (BA). You can also find out more about the opportunities available to you via engage or book an appointment with the Career Development Centre.
Find out about more successful stories on Westminster Business School Blog.
Latest posts by Nicole Pramotton (see all)