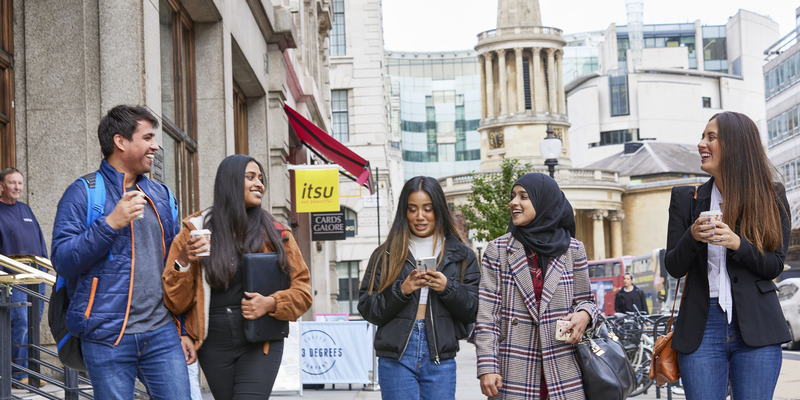 My name is Giulia and I'm a Marketing Communications BA student currently working as a Marketing Intern at Westminster Business School. These are my top five reasons why I am loving studying Marketing at the University of Westminster!
1.  The perfect city for Marketing
When I first arrived in London, I realised it was the best city to study marketing. For real! I was amazed by all the creative concepts and brands this city was offering me across all industries, from fashion and beauty to tech and restaurants. London is constantly covered by creative and award-winning advertising, the best PR stunts that attract the audience's attention, and brand personalities and strategies that can be perceived in every corner of the city. Every time you walk in the streets of London or wait for the tube to arrive, you will embrace yourself with all these fantastic concepts and ideas that you will then discuss in class with your classmates and tutors.
2. Best marketing courses to explore your creativity and talent
London offers some of the best marketing courses available and the University of Westminster offers five different marketing courses specialising in different areas. Before I started my UCAS application and picked my university course, I had a look at all the courses available and the different subjects I was going to cover in each of them, falling in love with one specific course. Being a creative person that doesn't like to focus on one specific aspect, studying a Marketing Communications BA was the perfect opportunity to gain knowledge in all the different areas of marketing I am passionate about like advertising, public relations, digital marketing, and social media, but also branding and marketing research. And now I am never bored! But if you prefer to specialise in Digital Marketing, International Marketing, Business Management or Marketing Management, there are courses for everyone's taste and are very easy to access as you will only need a personal statement. Exactly, no need to attend any stressful interview or test!
3. Get the support and guidance you need
The University of Westminster helps its students in so many ways. If you need guidance of any kind you can get your doubts cleared up by the Library and Student Centre, while if you need mental health support, the University of Westminster offers you the chance to talk to trained counsellors to help you overcome any difficulties you may encounter during your studies. Our institution wants to support students in every possible way and can help you to find a job, especially career-related placements and internships, and for this reason has launched Engage where lots of open job positions are posted every day. Between these benefits, you can also find the Careers and Employability Service team that will help you with writing your CV and Cover Letter, preparing a job-application or practising for an interview.
Ps. some of these benefits are valid even after you graduate!
4. It never feels like studying
This is my favourite thing: I never feel like I am studying. Our academics are creative and open-minded professionals with years of experience in marketing, and listening to their lectures is one of the most effective ways to learn about the marketing industry. The lectures are designed in a way which always allows for students to interact with each other, give their opinion and discuss industry hot topics as a group, which is very fun! Also, working on assignments is the best way to put into practice what you learn during the modules, as these projects are always based on real-world scenarios and real companies to make it look more real, students can also access our Digital Marketing Lab, the Switch 23, and work on live projects.
Here at Westminster, you will be able to explore your ideas and apply them to big companies' scenarios as a real marketer, but you will also build your personal portfolio, which is very good practice to show in interviews while looking for a job, so you can show how you think, and how you can apply your skills to real business problems!
5. Westminster helps you develop your professional brand
At Westminster there are so many ways you can shape your personal brand in the marketing areas you are passionate about, and one of these is the free access to the LinkedIn Learning Platform which offers courses about literally everything; you will also be able to access for free the whole Adobe Creative Cloud to be able to develop some valuable design skills which very demanded in the industry, and knowing the basic of Photoshop, Illustrator and Lightroom will be a great plus during interviews!
While studying on one of our marketing courses you will be able to gain for free numerous certificates such as the IDM Award in Digital Marketing Strategy released by the Institute of Data & Marketing, but also to take various Target Internet courses which will boost your employability and help you to expand your skills. During the module "Social Media Marketing" I also had the chance to gain the Hootsuite certificates, which are essential if like me you dream of a career in Social Media Marketing! For all these reasons, students in Westminster Business School are gaining placements and internships in amazing big companies such as Argos, Samsung, Mattel, and Sony.
I am a Marketing Communications student in my third year of university.

👉 Currently on my placement year as Marketing Intern!
Latest posts by Giulia Pilleri (see all)