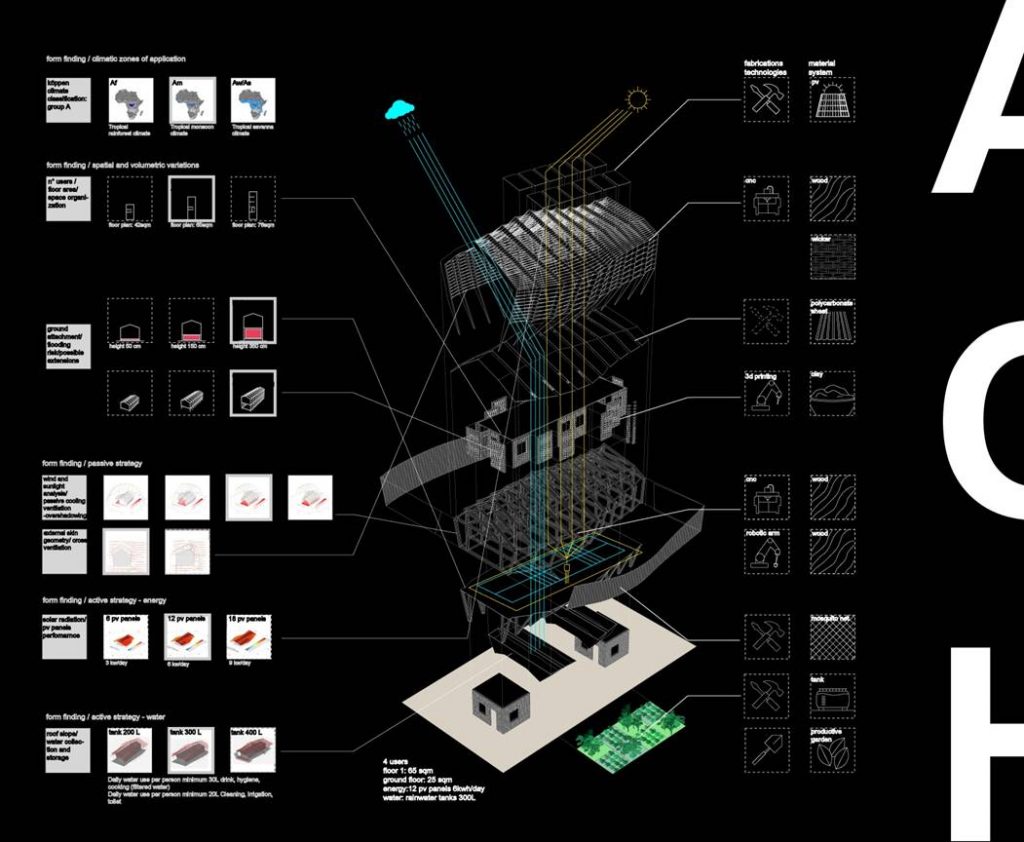 AFRICAN OFF-GRID HOUSING [AOH] RESEARCH PROJECT
Powered by
Global Challenge Research Fund (GCRF-UKRI)
Research Team
Dr. Paolo CASCONE (Principal Investigator) / p.cascone@westminster.ac.uk
Dr. Maria Christina GEORGIADOU / c.georgiadou@westminster.ac.uk
Maddalena LADDAGA / (Research Associate)
Benson LAU / b.lau@westminster.ac.uk
Dr. Rosa SCHIANO PHAN / r.schianophan@westminster.ac.uk
Intro
The research agenda of the African Off-grid Housing project investigates on how to design and build off-grid and affordable housing solutions for the African Sub-Saharan context. The project is developed at the School of Architecture and Cities of the University of Westminster with the support of the Global Challenge Research Fund (GCRF-UKRI).
The research agenda is based on the idea of producing innovative knowledge able to bridge traditional and advanced design strategies as well as construction technologies in response to climate change and the urgent need of affordable housing in Africa. Therefore, the [AOH] research by design methodology is informed by the analytical study of the cause-effects relations between the architectural geometry, the material systems and the environmental performances of a set of pre-colonial and contemporary precedents in relation to their climatic context. According to this initial analysis the project has developed a sort of design to build tool using a paradigmatic case study in Cameroon as an initial opportunity to test the design methodology, evolving a vernacular genotype through an environmental design parametric approach.
Therefore, the form finding of this initial housing genotype was informed by the negotiation between the site-specific climatic conditions, the spatial and energy needs of local users and the material systems available on-site. The performative criteria of the form finding included the question of self-sufficiency for upgrading informal housing scenarios in relation to energy, water, and food accessibility avoiding possible eradications. The housing configurations were developed to upgrade slums using recycled and local materials generating possible tailor-made variations within a scalability and incrementality strategy. Such information-based design methodology and its tool are conceived to be adapted to different social and climatic scenarios towards off-grid communities.
Keywords: African off-grid housing; climate sensitive design; synthetic vernacular architecture; sustainable constructions; eco-digital manufacturing.
University of Westminster 309 Regent Street, London W1B 2UW General enquiries: +44 (0)20 7911 5000 Course enquiries: +44 (0)20 7915 5511 The University of Westminster is a charity and a company limited by guarantee. Registration number: 977818 England