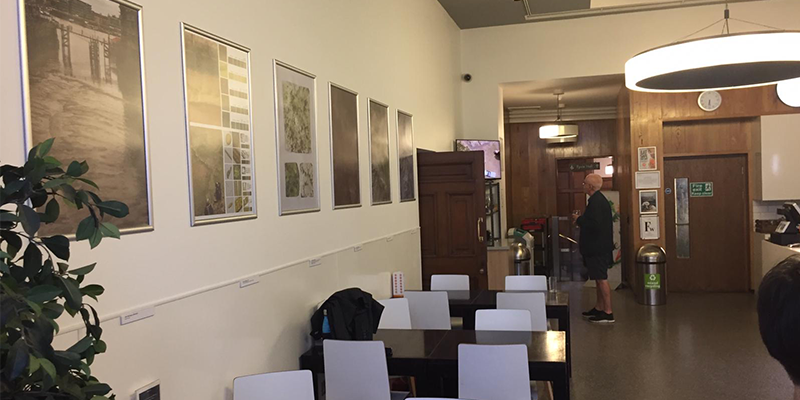 Our experiences as colleagues, students and graduates of Westminster have varied greatly during the COVID-19 pandemic – especially in terms of our different environments.
We would like to capture these experiences and celebrate our new beginnings through your photographs in our Gallery Café exhibition space within our Regent Street Campus.
The Gallery Café exhibition space
The Gallery Café is located at our Regent Street Campus, on the right-hand side of the main entrance.
After a break of a few years, the Gallery Café was relaunched as a working gallery in 2019. Since then, the Arts, Communication and Culture research community organised several exhibitions at the Gallery Café until the café was closed due to COVID-19.
Submit your photographs to the exhibition 
The exhibition, named 'Being Westminster Anywhere', will take place between 20 September – 15 October.
It is open to all colleagues, students and alumni to submit their photographs; this could be a walk through a sunny spot in the park, picking up an old hobby, working or studying in your kitchen – we would like you to use your imagination. Search for old photos or take new ones, capturing any meaningful experiences you have had since the first lockdown or to celebrate the gradual return to life out of restrictions.
Photographs can be colour, black and white, portrait or landscape.
If your submission is chosen, it will be printed in A1 or A2 size and displayed on the wall at the Gallery Café. (Or, depending on the quality and size of your photograph, it may be displayed as a part of a slideshow on the Gallery Café screen.)
The deadline for submissions is 5pm on Friday 27 August
Submission checklist
Before submitting, please ensure that your photograph:
Is (preferably) a PDF, .tiff or .jpeg file format and saved at the maximum quality possible
Is at minimum 180 ppi/dpi, or the largest size file you have
Has your full name at the start of EACH file name e.g. john-smith-YOUR-UNIQUE-FILENAME.pdf
How to submit your photograph
To submit your photograph to the exhibition, please complete this form by 5pm on Friday 27 August. 
Further information
Please contact Dain Robinson at d.sonrobinson@westminster.ac.uk if you have questions.
Latest posts by Jenny Stubberfield (see all)