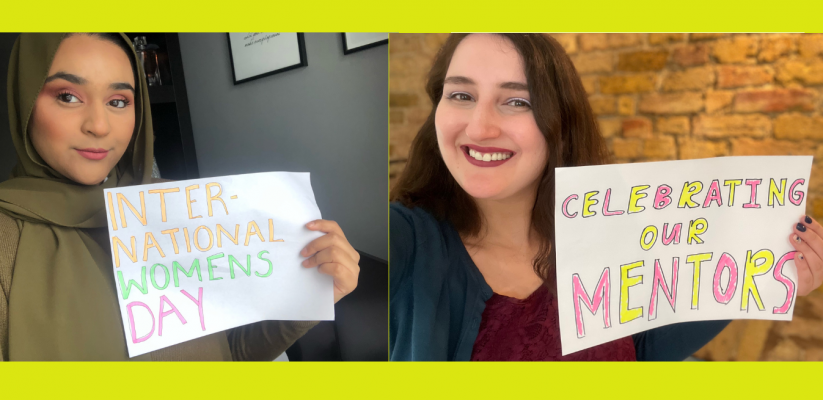 International Women's Day is all about celebrating each and every woman – those who are successful professionals, those who still learn important skills in academia, who dedicate their lives to helping others or being with their families. Every one of them is a role model, an inspiration to those who are around them, and an important link in the chain of strong, smart, and independent women that elevate each other. Celebrating this day gives us a chance to reflect on what we can do to make every workplace, professional or learning environment a more welcoming and safe place for women, how we can support each other better and ensure that women from a young age are given opportunities to achieve their goals.
"Lead by example: Support women on their way to the top. Trust that they will extend a hand to those who follow." – Mariela Dabbah
Mentoring is one of the most powerful tools that can be used to empower and inspire the future generation of female leaders. It allows students to meet people with similar backgrounds who can share their experiences of building a career, overcoming imposter syndrome, acquiring ethical leadership skills, and making their dreams a reality. All of these are particularly important for female students who have fewer role models looking like them and having had to tackle similar issues. Mentors open some previously unreachable doors, lead by their own example and make the first steps to crush the glass ceiling so that the path is clearer for those who will follow. 
Mentoring at Westminster
Mentoring can be a life-changing experience for Mentees and this is why we are so keen to recognise our female Mentors and thank them for the wonderful support they provide to our students here at the University of Westminster. According to Forbes' author, Naz Beheshti, mentoring programmes increase career progression for women and minorities from 15% or 38%, compared to non-mentored employees, therefore, at Westminster we are passionate that all our students, regardless of their backgrounds receive our Mentors' guidance to professional and personal development for women within organisations. 
We at Westminster want to ensure all our Mentors receive equal opportunities and therefore, strive not only for a diverse pool of Mentees but also an inclusive panel of Mentors. Around 40% of our Mentors are female with more and more female leaders joining us every month. 
To mark International Women's Day, join us in celebrating Mentoring success of our female Mentors and Mentees at the University of Westminster.  
'I was happy to answer any questions a student might have regarding going into teaching. I feel passionate about the profession and hope I helped the student understand the process a little more. The whole process has been faultless and considering I generally don't have much spare time; the communication was so efficient it made it easier to arrange. The student was extremely professional and courteous throughout the meeting – it was a pleasure to speak with her.'
Danniielle, Mentor
'Simply having an opportunity to gather advice and support from a professional in the industry I am entering is super valuable! There were so many questions I wanted to ask, and I feel very happy to have enrolled into the programme. As not only have I acquired new skills, practiced for interviews, completed industry-related tasks but have also made a friend who inspired me to follow my dreams through working efficiently and being determined.' 
Aiste, Mentee
How can you get involved?
If you are inspired by the positive experiences of our female Mentors and Mentees, find out more about how you can join our inclusive community of Mentors at the University of Westminster, today. 
Apply to become a Mentor now, and get in touch with the Mentoring Team if you have any questions by emailing career-mentoring@westminster.ac.uk
Latest posts by Jenny Stubberfield (see all)