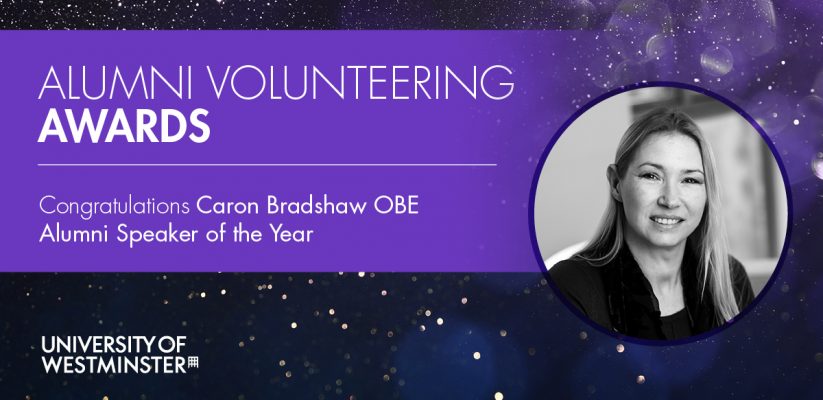 This Volunteers Week, we are delighted to recognise the contribution that our alumni volunteers make to the Westminster community through the Westminster Alumni Volunteering Awards.
The Alumni Speaker of the Year Award recognises alumni who have delivered an outstanding presentation, lecture, workshop or panel discussion to students, colleagues or other alumni.
And the winner is…
The Winner of the Alumni Speaker of the Year Award goes to… Caron Bradshaw OBE (Law LLB, 1993).
Caron is the Chief Executive of the CFG (Charity Finance Group), and recently received an OBE for her services to charity. Reaching out to congratulate her was the first contact the University had with Caron since she graduated, and since then she has been incredibly open and willing to support Westminster students.
This April, she volunteered as a speaker on our Westminster Working Cultures UK programme, and her openness and authentic telling of her professional journey resonated with every student on the programme. She delivered an honest session, speaking about the challenges she's faced as the first person in her family to attend university, a female in a male dominated leadership position and her challenges with her mental health.
Giving feedback on the session, one student said:
"Caron Bradshaw's talk about vulnerability and making more authentic human connections while maintaining professionalism resonated with me. As a spontaneous person, I often put on a tough persona at work and struggle to find the balance between being myself and being professional; Caron helped clarify this by explaining that it is about finding the right work culture."
Caron's talk only lasted for an hour, but the impact of her journey was seen in every student's feedback, saying how much they appreciated her openness and identified with her experience.
Congratulations to our Volunteering Award winners! Find out more about the Westminster Alumni Volunteering Awards, and the other winners here.
Latest posts by Jenny Stubberfield (see all)