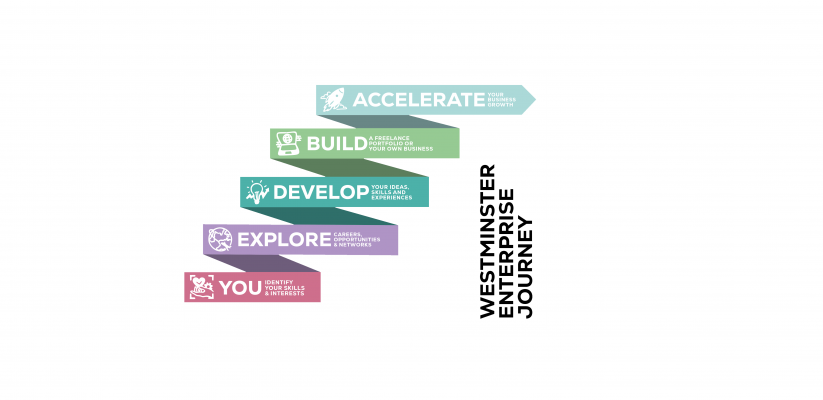 Develop your entrepreneurship skills, set up a business or advance your freelance career with the Westminster Enterprise Network (WeNetwork)'s 'Westminster Enterprise Journey'
Registering on the Westminster Enterprise Journey portal enables you to identify, access, track and manage the precise opportunities, services and support you need to develop your entrepreneurial skills and experience.
The application enables you to create your own personalised entrepreneurial workflow, guiding you through the key stages of: identifying your professional interests, exploring opportunities and networks, developing ideas and skills; building experience and accelerating your business ideas and careers.
Through the Westminster Enterprise Journey portal you can access:
Expert-led workshops and inspirational talks
Industry and community networking events
Paid freelance work and jobs listings via Talent Hub
1-2-1 business or freelance advice and support
Online community (chat group) on Slack
Competitions for business funding
Westminster Incubator Programme for graduates committed to working full-time on their start-up or freelance business
Westminster Enterprise Journey is available for graduates up to three years after graduation.
Sign up now! 👉 Start my enterprise journey
Latest posts by Jenny Stubberfield (see all)