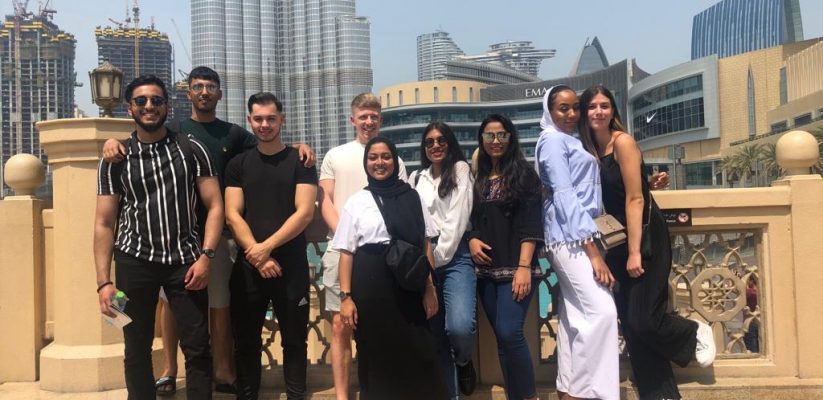 Our Westminster Working Cultures programme launched in 2017 and since then, we have taken over 170 students on life-changing journeys around the globe.
Through the programme, our students have explored Berlin, Dubai, Hong Kong, Mumbai, Shanghai and Washington D.C. They've learnt what it's like to live and work internationally, seen how business is conducted in other cultures and met with some of our inspirational alumni for insightful presentations, tours and networking.
In September 2019, 16 students had the chance to experience Dubai. Here, we've gathered some feedback on their personal highlights of the trip, and what impressions the experience has made on their student journey and future aspirations.
"I highly, highly recommend going on this trip! Words cannot describe how much it has opened my eyes to so many opportunities I hadn't considered before. At university, it's very easy to fall into the mindset of only coming in to study, to do well in exams, to get a degree in order to get a good job. Whilst these are true and are main aspects of going to University, there are also many incredible opportunities that the University offers. The experience you will gain from this programme will really develop your skills and make you a lot more employable. During this programme, the alumni you meet will give you amazing career advice, you will be able to build your network, gain confidence by going to a new country and enhance your graduate attributes and transferrable skills."

Abu Bakr Kalam – Psychology
"Visiting these institutions provided me with an international experience and the knowledge needed in order to prepare me for graduate employability. This trip really has broadened my understanding and awareness of how the working culture is different in Dubai in comparison to London. We were given a great amount of advice on how to write our CVs, cover letters and tips on how to conduct ourselves in interviews and possible question that could be asked or what they would ask.

"I was able to meet new people and graduates from Westminster, who have also been exactly where I have been, so they were able to provide me with the best of advice which is very inspiring and helpful."

Zainab Alli – Criminology
 "When I begin applying for graduate roles and attending interviews, the WWC trip to Dubai will be a big talking point for me. I can now prove that I have had experience learning in-depth about these specific qualities that employers want, and that I know how they are applied in a real-life working scenario. I will be able to talk to employers about the many skills that I have developed whilst being on the programme, how I developed them and how they make me a great potential employee."

Isaac Saban – Music: Production, Performance and Enterprise BA BMus
"All sessions were catered to our needs, there was not one session that was not useful to us! Whether we had a completely different career path to the institution we were visiting or not, all institutions were successful in helping us prepare for graduate employability with the insights and knowledge they shared.

"The international experience has helped me set targets and goals for myself, it has prepared me to plan and be organised and vigilant. Fundamentally, preparing me for the skills I need when I graduate."

Anika Zinat – Ba Television Production
"The skills and motivation that I gained from this experience has really helped me develop my professional and personal skills in order to do my best at university and in my career. It gave me the fundamentals for applying to graduate jobs as the talks we had with different HR members provided me with in depth information on how I can stand out from other candidates, how to improve my CV and cover letter and typical examples that I can provide in interviews. This was very helpful in learning what recruiters are looking for; especially being in a country which is growing in talent and expertise. All of the speakers allowed me to gain valuable information from their talks which will help me in my future decisions that I make and when applying for graduate jobs"

Rajan Borkhataria – BSc (Hons) Computer Science
"This international experience has greatly broadened my outlook on what is possible for me as an individual and for my career. Dubai has made me restructure my plan, as one day I hope to be able to live and work in Dubai and without this incredible experience I would not have come to this realisation.

"Visiting alumni in their places of work was truly inspiring and very insightful, as they had very similar humble beginnings to me but have achieved great success, which motivates me to work harder and learn from their journeys. I am tremendously grateful for the wisdom that they shared in order for me to establish myself and my career. The most impactful advice received was about how to structure my CV and in particular, the importance of a great portfolio (advice given by Stantec) as I wish to pursue architecture as a future profession."

Aleefa Haque – BA Architecture
"This program has allowed me to view my career options in a new light which encompasses a lot more possibilities than it did before. I feel like I now know how to play to my strengths and use them to my advantage, and work on my weaknesses to make them stepping stones towards a successful career. I was able to develop skills on this trip that I hardly knew I possessed, such as efficient networking and being able to put myself on the spot and present myself to potential employers."

Arsalna Usmani – BSc Architectural Technology
Read more about the 2019 Working Cultures trip to Dubai here, or find our more about the programme on our Westminster Working Cultures webpage.
Latest posts by Jenny Stubberfield (see all)