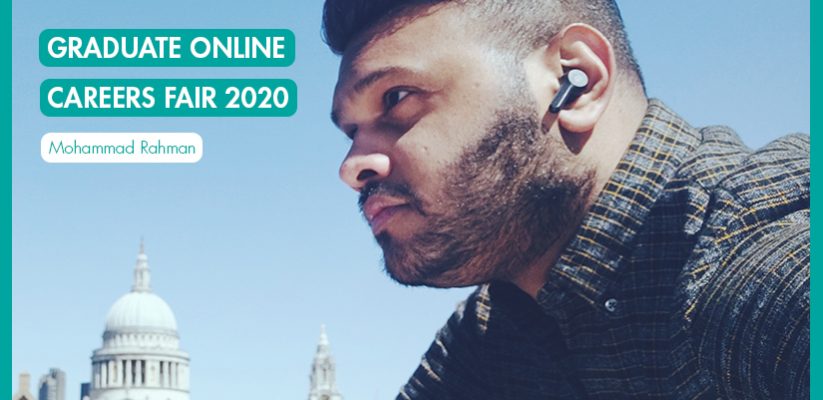 I am now coming towards the end of my Marketing Management MA course, and as an international student, I'm starting to think more about careers. One of the most important things on my to-do list is to secure a job placement that is willing to help me secure a Tier 2 visa. As such, I was looking forward to the regular careers fair that takes place at the Marylebone Campus. But sadly, due to the UK government introducing the Covid-19 lockdown, I was unsure about what to do.
Soon after the lockdown began though, I received an email stating that there was going to be an online graduate careers fair. To be honest I was sceptical about it. At a careers fair, you usually have several booths where the representatives of different organisations are present. Then you go around talking to each representative, picking up company brochures, etc. However, I decided to give it a try and registered to participate in the online career fair which took place on a virtual platform. 
The virtual careers fair platform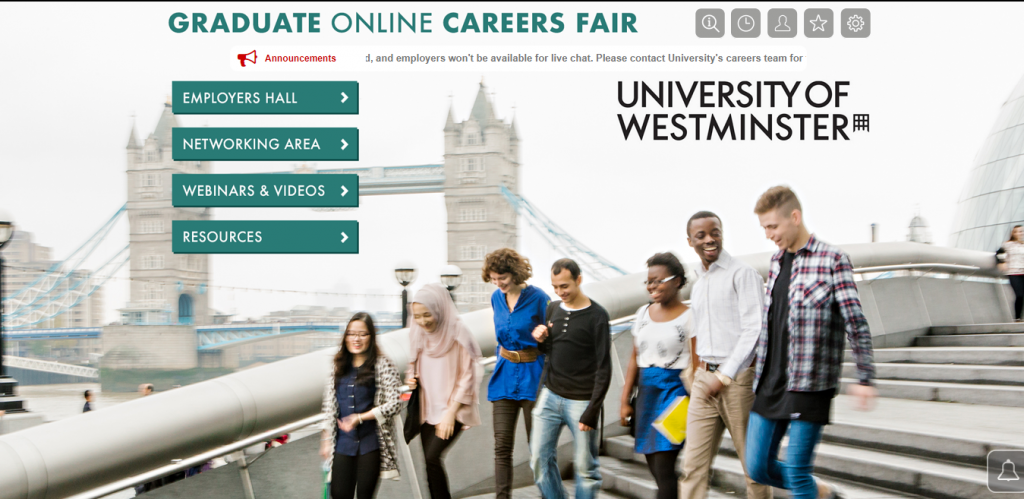 The virtual platform for the online fair had four main categories which helped me move around and have a complete experience.
Employers Hall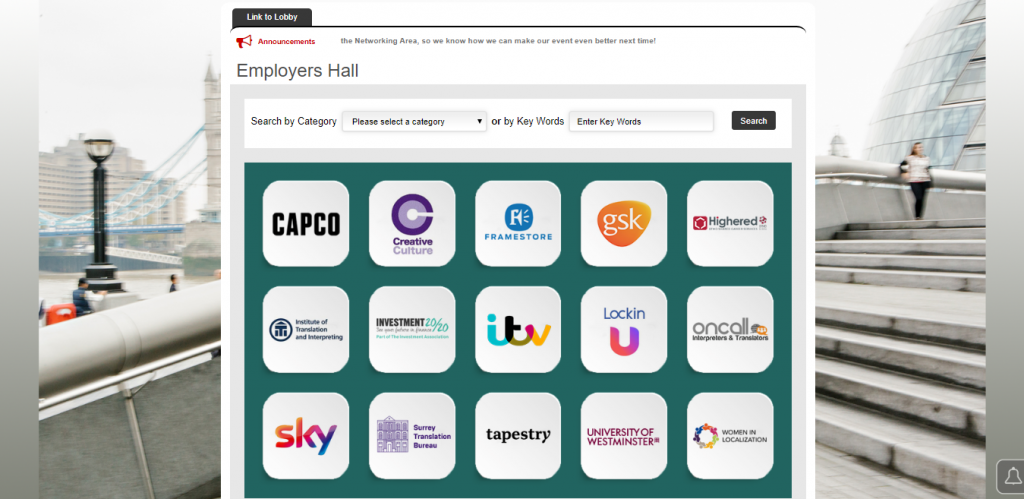 The first category represented the most important thing for which students attend career fairs, the "Employers Hall". The online career fair had 15 companies that participated in it, which were: CAPCO, Creative Culture, Framestore, GSK, Highered, Institute of Translation & Interpreting, Investment 20/20, ITV, Lockin U, Oncall, Sky, Surrey Translation Bureau, Tapestry, University of Westminster, and Women in Localization.
Virtual Company Booths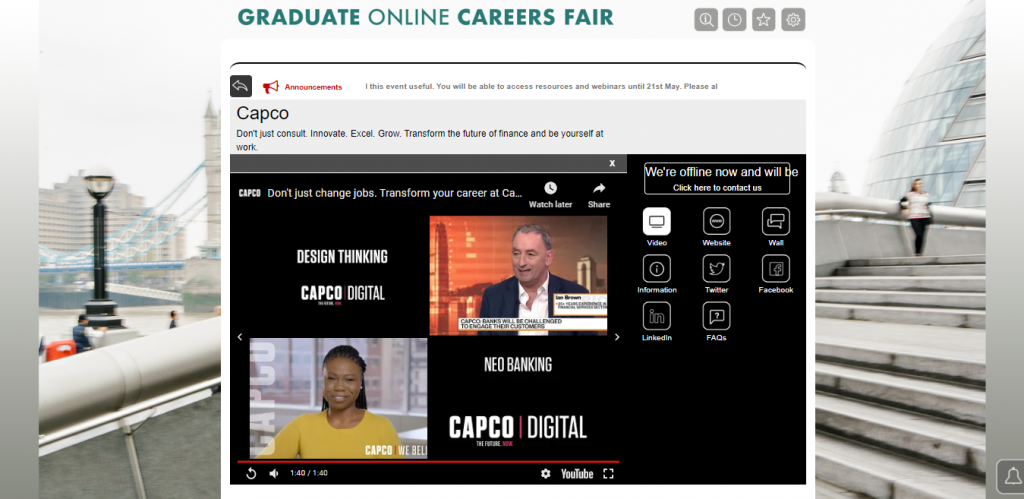 Once I clicked on any of the company's icons, it seemed as if I was visiting their physical booth. Most companies had an intro video which gave me an idea of the kind of work they do. It's also great to get an insight into the working culture of the company. In the virtual booth, I could also find a "Live Chat" using which I could engage with the employers and ask them questions. Additionally, the virtual booths provided all the necessary information I needed via brochures and furthermore, it had links to each company's website and social media pages so that I could go and browse for more details. 
The Networking Area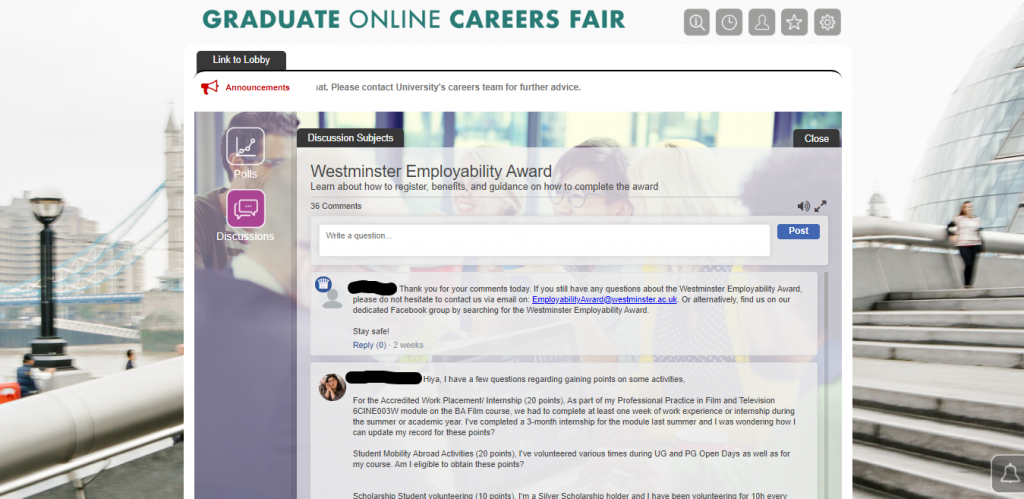 The networking area was a sort of discussion board where I could ask and get information about the event. You also receive advice from the University's careers service officers, and find out more about the Westminster Employability Award. The active discussion board made me realise that I was not the only one in the careers fair. There were plenty of other people and some of whom had quite similar queries.

Webinar & Videos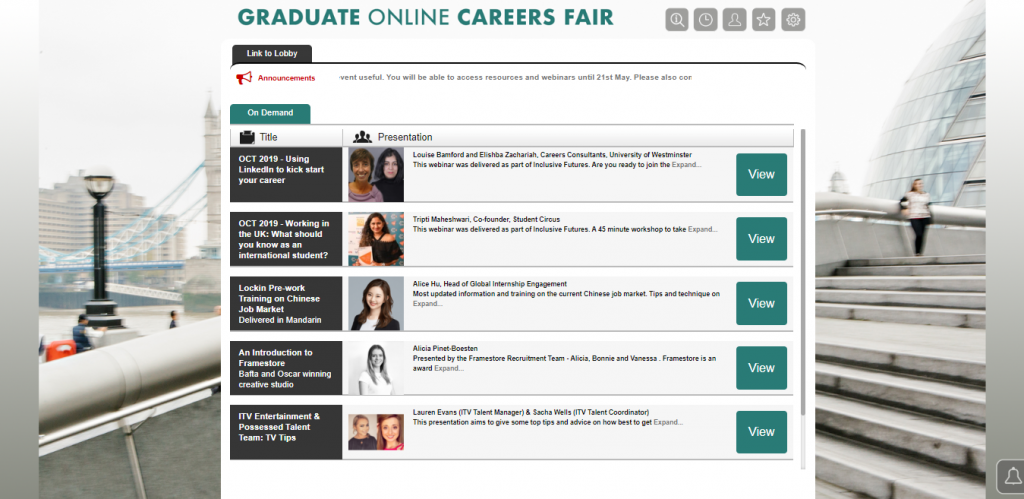 The webinar & videos section provided some on-demand presentations on topics like "Working in the UK: What should you know as an international student?", "Using LinkedIn to kick start your career" etc.
Resources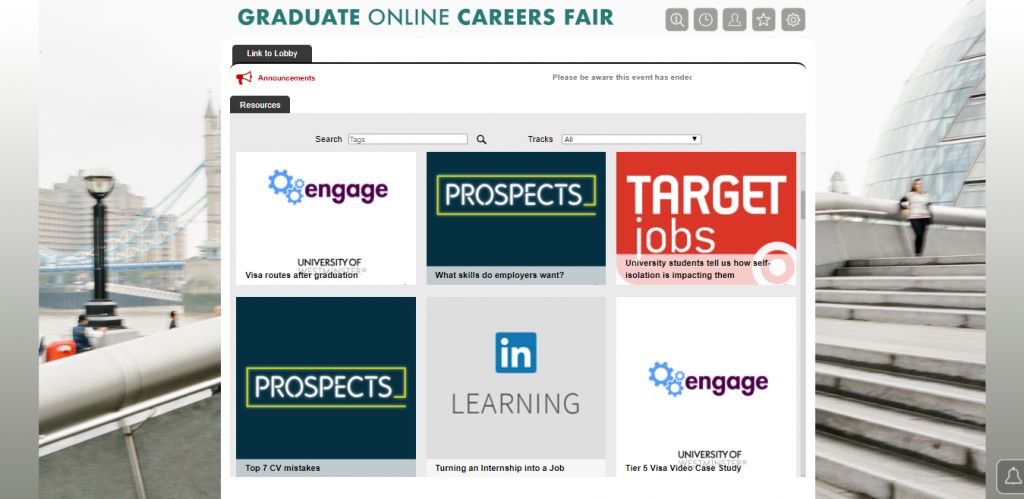 Finally, the resources section was there to provide useful links. These included titles like "top 7 CV mistakes", "turning an internship into a Job", "succeeding in an interview" etc. These resources give extra help to in their pursuit of a job placement.
Registration for the Graduate Online Careers Fair
The online career fair took place on the 23rd of April. So, a week before that I had to log into the virtual platform and create my profile. I uploaded a formal picture, and much like my resume/ Linkedin profile, I wrote a small personal bio. In this, I described who I am, what I am currently doing, and a few of my best professional skills/attributes. Plus, I could specifically say what I was looking for professionally. Additionally, I provided my contact details and a link to my Linkedin profile so that employers could find out more about me. 
My Final Thoughts…
Overall, I had a great experience attending the graduate online careers fair. The thing that really stood out for me though was the fact that during this lockdown (given the uncertainty of the situation), the University of Westminster thought about what was important for international students like me and managed to put together all sorts of resources that were helpful in a virtual platform. The University's Careers Team presented an innovative way to deliver a graduate careers fair online. This truly shows that the University does care for its students and looks out for what's best for us.
Mohammad
#WeAreTogether #WeAreWestminster @uniwestminster
Student Wellbeing at the University of Westminster – we are here to support you
For more insights from international students studying at the University of Westminster and living in the heart of London, please visit International Student Blogs.