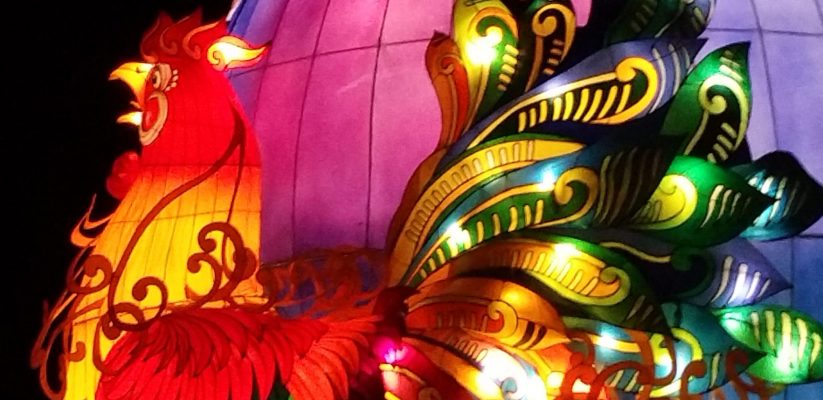 Celebrating the spring festival in Britain is quite different from China. Because no matter what, this is a different country with different culture and traditions. Actually even in China we have various traditions to celebrate this festival, based on where you are from. For example, as I know in southern China, people don't eat dumplings at the lunar new year's eve.
I'm from central China and we have something quite unique. People always think we will have a banquet on the new year's eve to celebrate, but in my hometown, we have that banquet during the week before the new year's eve. We invite all the family members, have a small ceremony to worship our ancestors, and we must have a certain number of dishes, usually that magic number is 10. Among those dishes, there must be a whole fish and nobody is allowed to eat that fish. It serves as a token for happiness and fortune, because there is a Chinese idiom "Every year has enough things to spend" and in Chinese the word fish, "yu", shares the same pronunciation with the word for enough (this is quite hard to explain when you write in English). Anyway, we don't eat that fish then, but we will have it on the first day of the new year. We won't waste it.
Here in London, or perhaps in the West, most people celebrate Christmas and then New Year on January 1st. I went to the Christmas Carol Service at St Paul's on Christmas eve and that was amazing. For Chinese New Year, there was a celebration at Trafalgar Square on January 29th. I went there with my friend and we were so excited before we got there, thinking there might be something special. But, it was unfortunately raining, AGAIN! I mean, I went to see the New Year's parade and it was raining cats and dogs. I basically saw nothing and got drenched, thankfully in the end my friend came to save me with her umbrella. So I guess maybe raining is the best way to celebrate in this country. Maybe here we should do the water-sprinkling festival! 🙂
But rain means something good will happen in the coming year, especially rain in spring. Because it brings water to the field and water is crucial for farming. Raining in spring means in autumn there will be a good harvest in autumn. However, raining all the time may have some different meaning. In 2016 we've seen a lot of disasters, that's the only word I can use to describe what's been happening in the world. Hopefully, 2017 will be a good year for everybody!
My friends and I had a great dinner on the new year's eve. Those dumplings were made by ourselves. Most of us never made dumplings before but we all thought that was the best way to celebrate. No matter what lies ahead, happy Chinese new year!