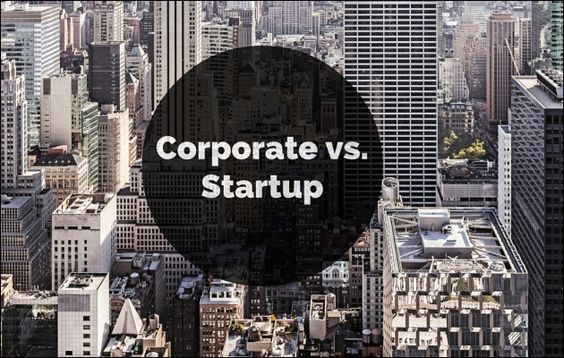 Student life is like a long-lasting marathon paved with last minute decisions that could propel your story forward. Once you get closer to the finish line, the pressure starts rising and suddenly you begin to wonder – so, what next?
Graduation day is just a few weeks away and you could hear most of our students debating about Graduate Roles, Work Placements or Graduate Schemes (lasting for up to three years). I believe it is a unique feeling that from now on you have to knock down real-life obstacles and get ready to face true business challenges – it looks a bit scary, no doubt! I empathise with everyone who has been taking exams over the past few weeks. We have been drowning in papers for quite a while, it is just about time to move on, don't you think?
That's why I am putting forward this debate – Startups vs Corporates World – Which one would you choose? I addressed the same question to people on Quora and it came as no surprise to see that opinions are highly divided. Over the past two years, I have been involved in many roles including working for a tech-startup in London. Our university is full of resources that could help you find the job that you want, I mention a few in this interview with the Business School. It's hard to pick the winning option between these two, in the end, it comes down to WHO you are and WHAT you want to achieve in your career.
Let's start with the Corporates World, as most of you have completed internships and work placements with some of the biggest companies on the market. I still believe that universities are corporate model-driven, so there must be a good reason for that!
Raise your hand if you're PRO-Corporates – why?

1. Security – You are not 35 years of age raising a family, but knowing that a solid and reliable organisation is handling everything from payroll to healthcare is comforting. Well-known, established brands are very unlikely to crash overnight. They might deal with PR Crisis and have poor level of CSR, but their financials allow for a better allocation of resources to assure long-term growth and survival, including you keeping your job!
2. Stability – I am not just referring to 9 to 5 office hours, but a healthy environment where you can move up the ladder and secure a high position over years. It takes time, commitment and hard work, but if your dream is to become the CMO and manage other talented people, this is the right path to take. 
3. You are a perfectionist – These companies "have" made it to some extent. Now it is your turn to deliver on your promises and perform at your best to keep them growing. Your boss would have high expectations from you and every mistake at this stage could be rather costly. If you work well under pressure, are always driven to hit targets and need directives, you could become a corporatist.
4. You are full of ideas, and big initiatives require a heavy amount of resources – Even though it might be hard to get all your ideas off the group, the company can invest in your ambitious missions or goals because it has the resources to do so. Corporates can afford to put time, money and assign other people to be part of your team. All that you need it is a good pitch, an idea of how you are going to scale the business and the passion to do it! You will be surprised about the freedom you get to explore your creativity even when working for a big enterprise.
In today's digitalised world, impacted by globalisation and the way people do business, we are witnessing a dramatic change on the corporates scene. Companies like Innocent and Airbnb (you may argue that it is still a startup, I prefer to see it as a hybrid) are optimising their offices by creating so called "co-working" spaces, re-aligning various departments that were meant to collaborate and take strategic decisions together for quite a long time. This will assure market profitability and if you are a team player and a visionary you could belong to them!
What's "not so good" about corporates? 
1. Formality and higher managerial levels – Remember when I said that big companies have the resources to support your ideas? Well, you must be extremely patient before you actually start building on your project, because there will be too many people involved in decision-making, and it feels really difficult to get anything done. It could take months until the regional manager gets to hear your pitch or even worse, your nicely crafted deck might get lost on its way to senior levels.
2. You no longer have the bigger picture – If you like to deal with the tasks specifically assigned to your job, that's fine. Once you raise your head from your papers and try to understand what is happening in other departments, things might get slightly blurry. You suddenly realise you are no longer in control of everything and some aspects could become uncertain. For someone who loves stability and transparency, this could be a big obstacle.
3. Long-term vision and 5 year business plan – There is nothing wrong with being organised, having your company's performance measured and writing strategic plans. However, once the '5 year business plan' is submitted, it seems to be engraved in the company's mission. You can hardly deviate from the chosen route and you need to deliver on your promises. If you like to think outside the box and come up with fresh ideas, this might not be the right place for you.

Is a startup better than a corporate then? 
(I might be biased given the fact that I am still working in a startup, but I will try to see the bigger picture)
1. Getting recognition – By saying this I don't mean a pat on the back, but actually getting noticed among the founders and the entire industry your startup belongs to. Developing a revolutionary product, making yourself heard, pitching your story at international conferences, all these practices could put you in the spotlight. For someone in an entry-level position, this could be extremely valuable. You must have one goal and one goal only: make something valuable enough that people will actually use it.

2. Ready to take big-risks, fall and rise again – If you happen to work for a startup found at a seed level, then be ready to get your hands dirty! You have no measurements in place, you are tight on budgets, you are just about to figure it out how to scale the business, however you want to make this work! It feels scary to go out there and pitch your product waiting for people's feedback. It must be one of the most frightening things to do, we all are scared of objections. We also happen to take it personally if we receive negative comments on our idea. Always embrace new opportunities and put your thinking cap on! Build it, test it, validate it, keep re-iterating it and learn from your mistakes!
3. Learn from true innovators and find yourself a real mentor – It is not always the case, but if we have a look around and analyse all these successful startups that took markets by storm such as Netflix, Spotify, Uber, Airbnb they are all managed by inspirational entrepreneurs. Working closely with other bright people could change your mindset completely, enough to persuade you start something on your own!
Now let's get to the ugly truth about startups
1. Lack of expertise – It feels like amateur hour and nobody around you actually knows what's going on. You are ready to fall, but you may argue thinking that you also "feel ready" to learn at some point. What if you get stuck and need advice from an expert? Can you afford to get one? How are you going to outsource that? Keep an eye on your team members and have a good understanding of the skills you need in your group. 
2. You are "on a budget" and feel constrained – My first point translates into another issue – lack of capital. By the time you reach seed A investment round, money is very likely to come from family and friends. Startups are reluctant to spend huge amounts of money to invest in you. This could also lead to insecurity in your job, we see startups exiting the market everyday.
3. Not the quickest and easiest path to get rich, own three houses and drive two cars (although it's impossible to do this simultaneously) – A startup company comes with a startup budget, which means you'll likely take a small pay cut. You may receive the opportunity to buy shares, but you are also lacking the hefty benefits package offered by most big companies. I guess this is not the ugliest point on the list, given the fact that we are still young, ready to explore and absorb plenty of information before we settle down and find comfort in 9 to 5 jobs.
As a final line, I am quoting one of the users who responded to my debate on Quora – "It depends on your aspiration and your current immediate demands. With a heck of a loan on your shoulders startup may not satisfy you. With greater ambition and lesser constraints startup will revitalise your adrenaline."
What do you think? 🙂
Latest posts by Diana Florescu (see all)