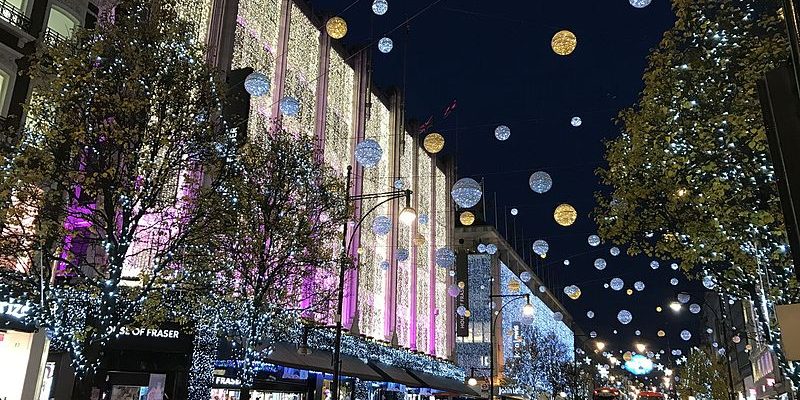 'Tis the season for chunky sweaters, red cups, hot chocolate, candy canes, tacky sweater parties and my personal favourite: shiny Christmas decorations!
And because Christmas is my favourite holiday, I've been planning since the middle of November meaning I like to think I've collected the best things to do and see in London. So curl up on the couch and jump into December with a few of my favourite things about London during the holidays…
No list about Christmas in London can start without Winter Wonderland in Hyde Park. Although it's been open since 20 November, I had to wait until the first weekend in December because what better way to start this wonderfully festive month. I mean who doesn't want to wander around an ice kingdom, drink from a carousel, (or my favourite) take in all the festivities from the top of a giant ferris wheel!
Personally, I am a horrible ice skater but the rinks always strike me as so beautiful throughout London. Looking for something classic? Try the ice rink outside the Natural History Museum. Fancy something scenic? Try the ice rink outside the London Eye. Don't want to freeze too much? Try the rink at Somerset House. Or better yet kill two birds with one stone and go skating at Winter Wonderland.
Don't want to spend a lot of money, well you're in luck because the best light display is free. The lights along Oxford Street are amongst the most famous and I would say one of the most photographed (if my Instagram feed is any evidence). If you have the time, I would suggest just walking down the busy street to do a bit of window shopping and take a few detours to Regent Street and Bond Street along the way.
Or maybe you want to do a bit of Christmas shopping at London Christmas markets, well no surprise you can do that at Winter Wonderland as well (one stop Christmas fun) but you can also find a variety of markets around London. Listen to festive music as you walk around the Southbank Centre's Winter Market and shop for handmade presents or maybe just eat a crepe or two.
These are just a small fraction of the things to do this Christmas. There is more than enough holiday cheer to go around in the city, even enough for me to be satisfied. What's your favourite part of Christmas in London?
Read this post and other stories on Staci's personal blog
Latest posts by stacianne (see all)