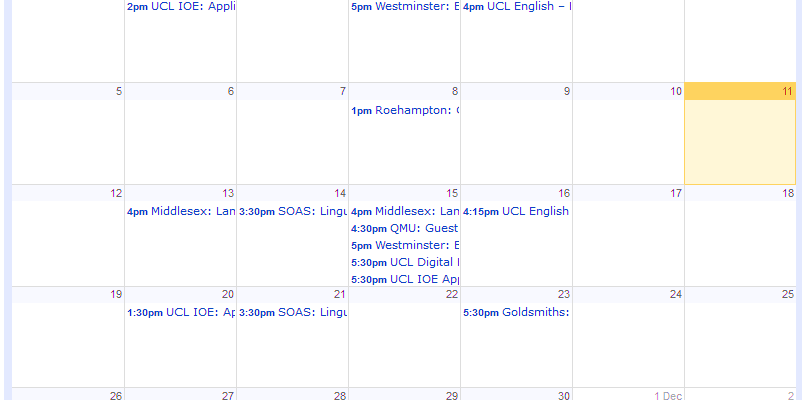 The London Linguistics Calendar is live!
We are pleased to announce that the 'London Linguistics Calendar' is live and part of the 'Westminster Forum for Language and Linguistics' blog. We have started the calendar to share information about Language and Linguistics events taking place in London for the benefit of academics working, living in or visiting London.
The response to the calendar has been overwhelmingly positive and supportive and we are pleased to be able to include events from different universities across London. Another aim of the calendar is to foster stronger links between universities and departments and to make the most of all the research seminars and events that take place by advertising them as widely as possible. This week is particularly busy with eight events in the calendar, although five of them take place at the same time on a Wednesday afternoon!
If you would like to include your events in the London Linguistics Calendar, please e-mail the details to: Wminlinguistics@gmail.com . We are able to include all open events (research seminar series, conferences or one-off events) in Language and Linguistics that are taking place in London. We are aiming to pilot the calendar this year and then if it seems useful we will carry in on into the 18/19 academic year. All feedback and suggestions are welcome!
Latest posts by Sylvia Shaw (see all)