Where are we now?
The music industry response to Blackout Tuesday
---
Following the George Floyd protests and Blackout Tuesday in the summer of 2020, there have been many different ways in which the broader society has responded, taking on the message of Black Lives Matter and producing an array of reactions, moving towards a positive change.
In the UK, the first industry response came from the music industry in the form of The Ten-Point Plan, which aligns evidence and metrics to strategic actions to help increase diversity and boost inclusion in the trade bodies that represent the majority of the UK music industry. This response has been championed as a template for other industries and the way they are taking action to address the BLM movement.
Within the University-wide festival World in Westminster, the Research and Knowledge Exchange Office supported our two researchers, Sally Anne Gross and Mykaell Riley in organising an event that addressed the wider context of the changes currently happening in the UK music industry and discuss the experiences and ways forward, both within and outside of music.
With the Fyvie Hall slowly filling up with curious students, external guests (many of them black musicians and musical consultants), and the UoW staff, it was clear that the interest in the topic of the position of the Black musicians within the music industry goes beyond just being modern, and extends to a painful awareness of it being one of the manifestations of the burning issues of unequal opportunities and (micro)agresionss that are based in centuries of systemic racism.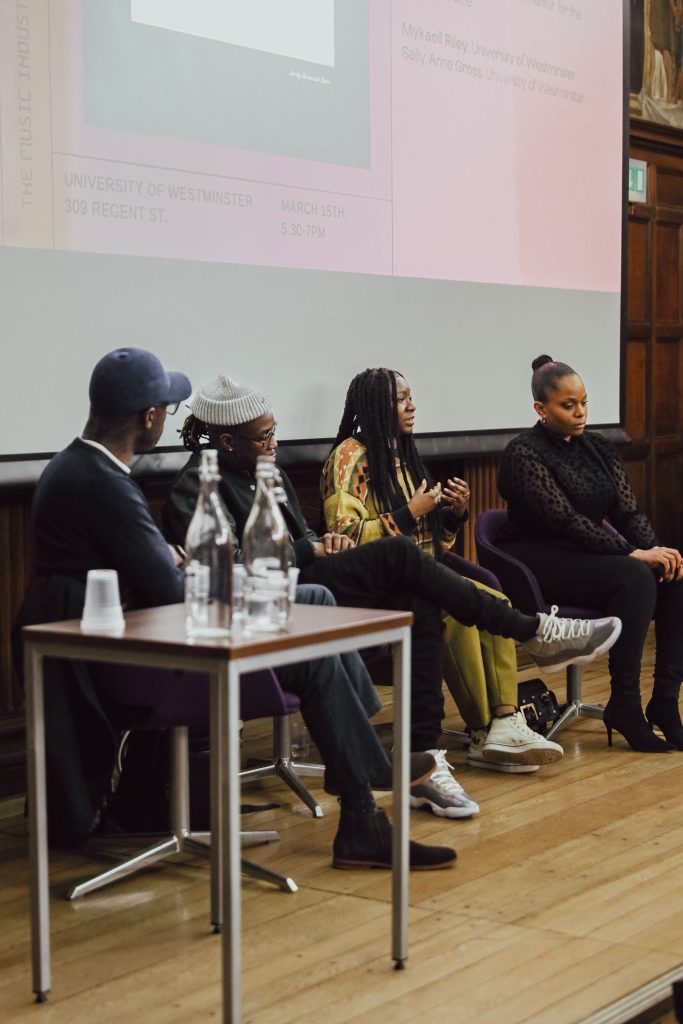 Introducing the panel was Sally Anne, giving us the first glance into the greatness of the work our guests have already done. It was even more exhilarating to hear both of our women panelists say that they were in fact Westminster alumnas. Charisse Beaumont, the Chief Executive of Black Lives In Music, told about her incredible journey from being a Westminster student, to an entrepreneur who opened her mobile phone company, developed her music label, and finally founded the BLIM, the incredible organisation that published the first report that gathered all the data on what it means to be black in the British music industry. Charisse says that the report has been seen by 700 million people. For the ones who need a more quantifying factor to see its strength and importance, the BLIM is one of the organisations that got funding from Warner, which pledged to support Black musicians worldwide.
The second guest was a recent Westminster graduate, Isatta Sheriff, a radio DJ, music consultant, and owner of a music label Doctored Sound that aims to promote and support Black female musicians.
Finally, the third guest, Yaw Owusu, who came all the way from Liverpool, the executive manager of Playmaker, one of the most creative and innovative music and entertainment production and consultancy companies in the world., and a senior manager at PRS Foundation, where he works to build Power Up, a new and pioneering initiative aiming to power up Black music creators and executives as part PRS Foundation's actions following Black Lives Matter movement conversations. By the end of the introductions, it was clear that the organisers managed to assemble a powerful star-studded panel.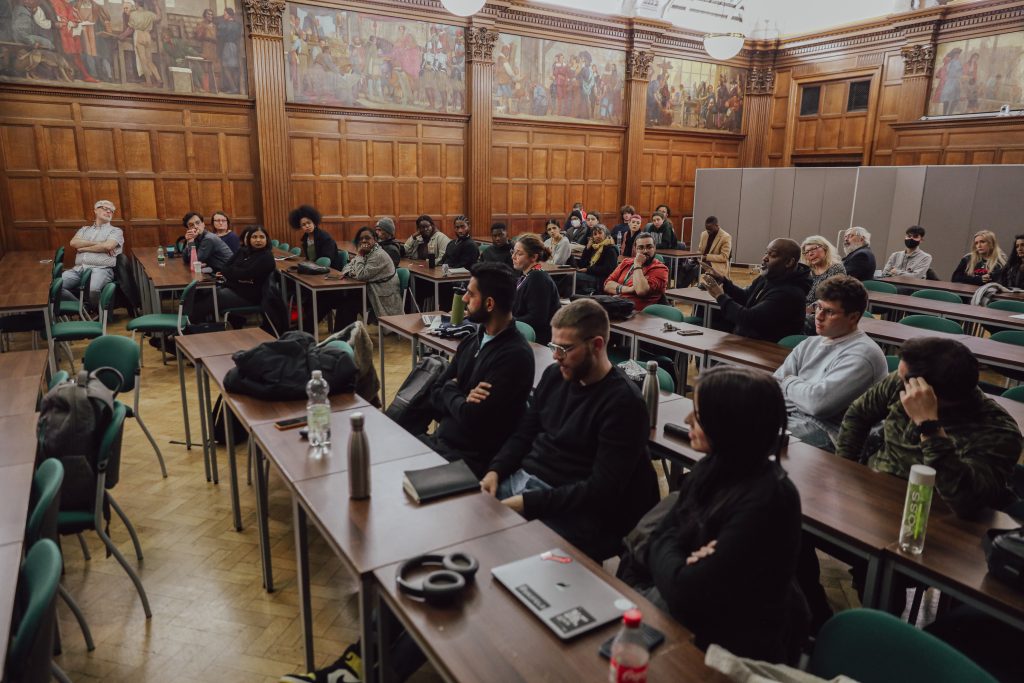 The panel discussion started off with Charisse Beaumont giving an overview of what their work consisted of in the last two years, and as she said, has been going on for the last 40 years. The organisation was established with the wish to collaborate with all agents of the UK music industry to achieve equality for people of colour so they can express themselves in music of all genres and in all areas of this profession. The report that was produced two years ago came out of the recognition that the root of these issues is primarily in the structural racism that essentially tends to negate any of the experiences of the Black people if there is not enough data to support it's happening. Unfortunately, it is not something reserved for music and goes across all levels of society, and it is expected of the people who are being oppressed to do the work. Beaumont mentioned that they found that 71% of Black musicians have experienced microaggressions at places of work, and 67% have experienced direct racism; 36% said that their mental health has significantly declined due to racism. She pointed out that all of these figures are even worse for Black women.
Isatta Sheriff quickly confirmed that all of these findings were absolutely true for her as well. Despite being highly educated in music and having a recognised career, she says that it's very difficult for her to be seen as anything more than a 'mom', a mentor who is invited to give her input, but is not really appreciated as much as her male counterparts. She mentioned being dismissed when she would make requests for specific things within the production of her own songs, and not being taken seriously. When asked about whether anything has changed within the last two years, after the legislative bodies and big labels made pledges to make changes to improve the position of musicians of colour, Isatta said that she had had many coffees and dinners with many people who want to help, but there have been no tangible changes. Isatta also mentioned another issue she had experienced, which is that Black men don't always tend to be allies to Black women, fearing that they would somehow embarrass them and possibly endanger their current position. This issue came up again later when a member of the audience asked an important question: what young Black music students can do to make the situation a bit better. The answer was clear: be allies to Black women as much as they are to the Black men.
"In the last 12 months, I have had lots of teas and dinners and experienced people wanting to do something, but the tangible reactions are still not there" @IsattaSheriff on her experience of being a black female musician in the UK.
On that note, bringing in some clear change and support is Yaw Owusu works with many different initiatives, such as the Playmaker and PowerUp. Namely, Yaw explained that he works with the PRS Foundation initiative Power Up which is a pioneering, 10-year project that aims to support 40 Black music creators and industry professionals each year. While addressing anti-Black racism and racial disparities within the British music sector, PowerUp also provides participants with a chance to receive grants of up to £15,000, mentoring from partners, marketing and promotional support. This programme aims to empower and advocate for Black talent, as well as to influence policy and shape the future of the music industry. PowerUp is inclusive in terms of musicians and professionals, spanning different music genres and occupations. Yaw talked about how the initiative started and what has happened so far, bringing attention to different invisible barriers that Black musicians are facing daily, and that have not been properly addressed. Additionally, answering one of the questions from the audience that addressed the imminent burnout and anxiety about not constantly working, Yaw made it clear that he was still able to do his work and make changes because he has managed to find a work-life balance in which he finally finds time for himself and his family. All the speakers agreed that it was absolutely necessary to first take care of yourself in order to help others.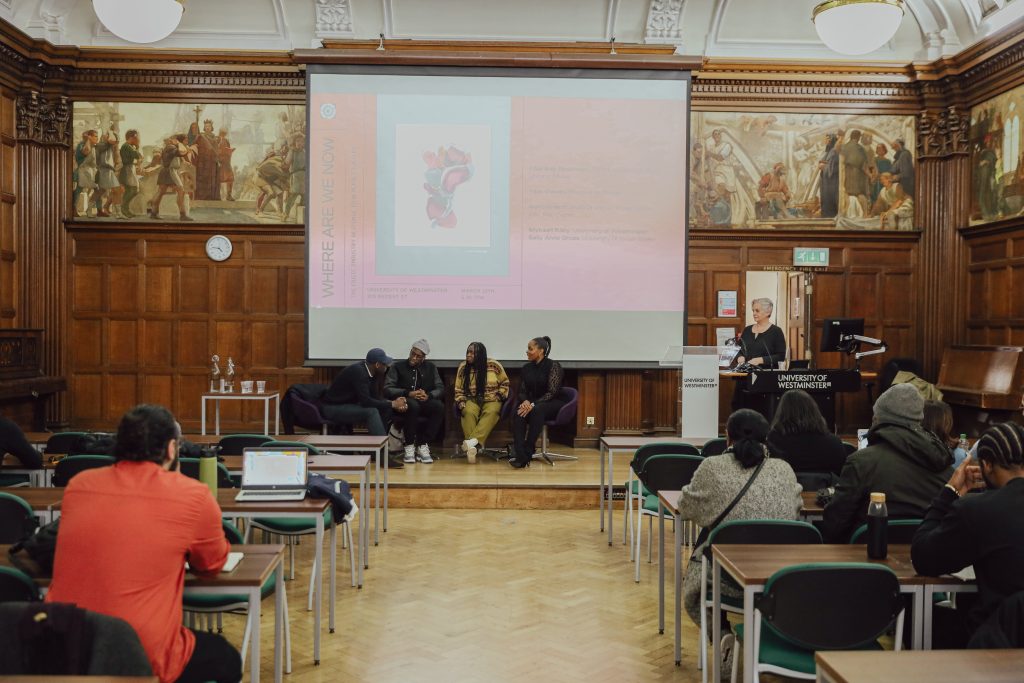 The audience was very engaged, and questions were coming from all sides. It was great seeing that there were other musical professionals who were ready to answer the questions as well and to engage with the students. It is fair to say that this event abounded with inspiring messages and calls from action to everyone that was present. As one of the guests in the audience said, "when a door opens for you, open it wide and keep it open." Let's hope more and more doors start opening.
Photos by Claudia Cantarini.
Latest posts by Rafaela Tripalo (see all)