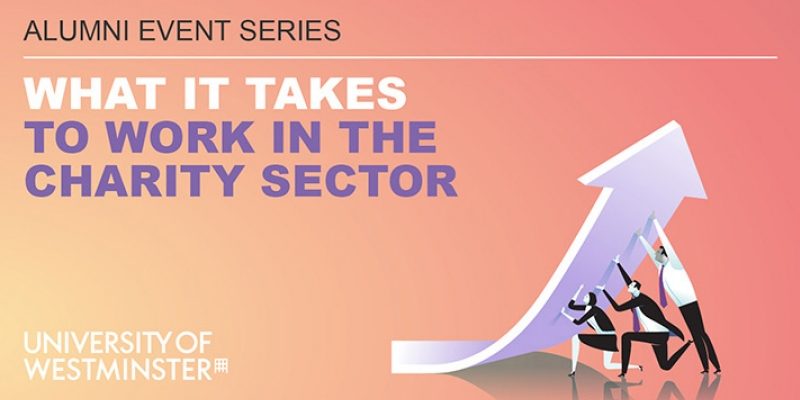 Ahead of the next Westminster Alumni event, What It Takes to work in the Charity Sector, we thought we would catch up with some of the guest speakers who will be joining us on Tuesday 27th March.

Introduce yourself
Leon: 26, LLB Law and graduated in 2013. Currently the Programme Manager for the education charity First Give. Leading all of our work in Wales. 
Chris: I completed an undergraduate degree in History and Politics with International students because I have always enjoyed history and worked out the hard way that it makes sense to pick a course you will enjoy. After completing my bachelor degree I worked in Employment for six years, then went to school to solidify my understanding of the Commercial world, and did master's degree at the University of Westminster. Throughout my working life I have had many roles including working in the Automotive industry, which I thoroughly enjoyed as a Supply Chain Coordinator; Retail; public sector as a Commercial Manager.
Heather: I studied Social Science (Modern History and Development Studies) at the University of Westminster between 1983 and 1986.  I loved every minute of my excellent course.  Immediately on completing my degree, I went to work for a charity looking after refugees who had come to the UK as a result of Nazi persecution prior to World War II and many subsequent persecutions.  I stayed there for seven years and learned that there are three things that drive a successful career in the charity sector.  You may naturally have these qualities, which is great.  But, if you do not, they can be developed with time and experience.  When I left that charity, I trained and entered the City as a lawyer (not my finest hour!), where I learned that I am not driven by money.  Whilst training to become a lawyer, I lived in Paris twice – including time spent as a volunteer working in a small charity in the basement of UNESCO's building in southern Paris.  I loved working in an international environment, where people from all over the world came to our office to catch up with our wonderful and amazingly diverse team.  
After leaving law, I remained in the legal sector for five years, managing a small City law firm.  There I learned the importance of working to a 'standard of excellence' if you want success in any endeavor.  When I finally left that role, after successfully achieving three practice management standards, I returned to the charity sector where I worked six and a half years for an aid agency – but on their UK service delivery.  This was a developmental role which I loved.  There, I recognised that I have a passion for empowering people, and I trained as a coach whilst in this role.  Following the success of a small development project in rural Zimbabwe, I took a post-graduate diploma in entrepreneurship at Cambridge Judge Business School where I developed what has become the core of my current work. The Positive Change Initiative Ltd is a bespoke transformational change practice that is transforming the way Changemakers deliver positive impact change globally.  We are developing four products to support  Changemakers in their work. To support myself whilst building the company, I take short-term change projects in the not-for-profit sector, whilst working in my positive impact change practice in between.  I have also written and published a book, 'NewBorn: A Modern Fable', which is soon to be published in the UK as a second edition.  I am also currently working on a publication of my second book.  Whilst 'NewBorn' shares the awakening of my journey as a Changemaker; my second book is designed to support people in doing great change in the world – fulfilling my greatest passion.
How did you get into your current position?
Leon: I've been in the charity sector for about 12 years. I started when I was quite young – I always knew I would have a full-time career in the sector, too. I'm passionate about youth development and working in areas of deprivation. First Give tackle both of these issues.  
Chris: Access UK was set up by myself and my business partner, so it wasn't a role I necessarily found but I can say previous volunteering positions with BTEG (Black Training and Enterprise Group, the Fairtrade Foundation and Centre Point prepared me well for understanding the dynamics of working/ running a charity.
Heather: I have a short-term contract with a not-for-profit organisation at the moment.  I love to work this way, as it gives me an opportunity to check out an organisation before I commit to it.  I have worked for some amazing organisations in the past and had some fantastic experiences working in this way.  For the most part, this sort of work comes via recruitment agents or through online searches. For example, a 6 week-role at the British Red Cross turned into a 6 and a half year commitment.  I always look for a challenge.  An environment where I can make a difference; and where my contribution will be valued.  I love portfolio working, preferably working 3 days per week for a payment; 2 days per week in a voluntary role.  Sometimes the voluntary role has been a project that I have created myself or for a voluntary organisation.  I have gained huge experience working in this way.  I've also developed an understanding of what works for me and definitely what does not.  Both are equally important.  My own business, Positive Change Initiative Ltd, is an expression of all the things I have discovered that I love to do and am good at.  It combines my core skills: thinking, organising and communication with making a difference.  My ideal combination for success.  I have found it to be true that you are far more likely to be successful in something you are passionate about, than when you are working in a role that you are surviving (or worse, loath).  I have found it to be true that you can earn money doing work that you love.  You just have to know how to go about finding or creating this kind of work. 
What made you want to work for/set up a charity?
Leon: It's a sector at the front line. We change lives and are an important part of local communities. Also, I am quite keen on developing young people who are ready for the future. I think programmes like what we provide are a big part of that. We develop the public speaking skills of secondary school students. We help them get ready for their job interviews, to deliver presentations in front of large audiences and to get them thinking about social issues in their community.
Chris: Myself and my business partner really felt a responsibility to utilize the skills we developed working in the employment industry to benefit BME youths, as we saw firsthand the issues and could also see a viable solution. Without the vision and a good plan, we probably wouldn't have started the charity but we were also encouraged by the fact that we had a very good understanding of the employment business and what was required to ensure our charity could be self-sustainable. We were under no illusions of what would be required and we also knew that by putting our efforts out there we would not be alone in trying to provide a solution, which why we have successfully built up strong relationships with a network of organisations that share similar goals as our mission.
Heather: Actually, the business I set up is not a charity; it is a purpose-led business, a socially motivated enterprise.  I chose a for-profit structure for my business because my experience of charities was that, eventually, founders become fundraisers and I did not want to do that.  I do understand that to have an impact in the world through business, you have to know or learn how to make money.  If you are not clear about this, your enterprise is likely to fail.  So, I set myself the challenge of creating products and services that people want to buy, so that I would always have a flow of money to fund the development work I am committed to. That is the journey I am on. I could have set up a social enterprise, but I did not know anything about this type of venture and I figured that taking the time to find out might lead to procrastination (something that, as a perfectionist, I have to guard against in myself).  There are moments in life when you have to trust your instincts and this for me was one of them.
What's the difference between working for a charity and other jobs?
Leon: I'm not sure. All careers have their ups and downs. There is more risk in the charity sector – it's hard to find permanent contracts so you have to have some appetite for risk.
Chris: Working for a charity really requires commitment and an acceptance that you will have to be passionate about this because the journey is incredibly testing with many trials and a constant reliance on you to be the driving force. Other jobs outside of this sector may not require you to have the same level of commitment to the cause and you can always walk away if you do not enjoy or want the job anymore; but with a charity, if you walk away the charity may not survive without you.
Heather: Certainly when I was younger, I would have said that working for a charity is all about fulfilling a passion for making a difference, whilst working for a for-profit enterprise is all about making money.  This is less true today than it was back then. In the last 10-15 years, I have seen a convergence of for- and not-for-profit organisations. Many for-profit organisations are moving into what has traditionally been the charity space. Take a look at Danone's Manifesto (danone.com). Now I would say that there are more opportunities for find great roles in purpose-led for-profit organisations. What matters is where you are placed within in your work environment.  So, for example, someone with a passion for workers rights may work in a not-for-profit, then get a new role in a for-profit purpose-led supermarket chain, before joining an educational institution as a lecturer or the UN as an Ambassador etc.  Equally, there are now opportunities for selling products for profit that fund not-for-profit activities, like solar panels or drinking water. These may provide as reliable a means of generating income as traditional fundraising. What defines the success of your choice of work in the 21st Century is the reason you have chosen to do it. What the satisfaction of doing it offers you on a daily basis. Get that right, and you can work in almost any environment.
What do you get out from working for a charity?
Leon: Everything you could ever want from a job! Igniting and channeling your passion into the front line is probably the best bit about it.
Chris: It's very satisfying to see how your work can benefit others and that makes a big difference to how you might view your contribution and effort. It is very rewarding when what you have worked for actually makes a difference to a person's life.
Heather: I get to make a difference and this is very important to me. I am a deeply caring person, and I believe that we can create a world that works for everyone. Of course, we are not always successful in our commitment to this, but many of us are still willing to try. I've dedicated my life to fulfilling a passion for making such a difference and I've found this choice both satisfying and rewarding on a personal basis. I get to be the best expression of myself in the world when I do this work. That does not mean that I am nice all the time. But, I am committed. I enjoy the challenge of giving of my best as much as I can. This is the way that I like to live and work. I would not want to live in any other way.
What do you think the first step to take is in order to get a job in the charity sector?
Leon: Volunteering is a great way to discover some of the roles and organisations that are out there. Take the plunge, put your name forward and learn more about the sector before you commit yourself to a career in it. 
Chris: The first step is to have a think about what you are passionate about and then go and volunteer so you can get a better understanding of the workings of a charity. There is nothing better than getting the first-hand experience.
Heather: Actually, here I am going to be a little provocative.  I do not think this is the correct question anymore. I think there are two questions that everyone could usefully ask themselves when looking at their future career:
1. What 3 skills do I love to do?
2. What context do I love to do them in?
I found the first question in a book called: "What Colour Is My Parachute?", which is well worth a read. I may have found the second question there, too, but I cannot remember. I have already shared the three skills that I am good at, i.e. communication, organisation and 'thinking'. The last one took me many years to understand. I love to think – critically, analytically and creatively. Our society (and especially schools, when I was a child) did not recognise 'thinking' as a work skill. Yet, this is the thing that I am best at and which I love to do the most. Friends and family were always telling me: "You think too much!". In my head, I would think: "How can anybody think too much!"  You see the problem! Now, many years later, I understand that this is an essential aspect of my problem-solving toolkit. I love to solve problems with and for people. An understanding of my passion for problem-solving in environments where I can make the maximum difference led me to set up the Positive Change Initiative Ltd. The core of the business is my own creative idea, which I am developing to share with others.  
Any other advice for someone looking to get into the sector?
Leon: If you're an Undergraduate starting to think about your career and you haven't done much – start now – you don't have long left of the safety of University. 
Chris: Think about what skills you have that you can offer, what a charity of interest for you might have an issue with and contact them to see if you might be able to offer your skill or support them in some way. Don't be afraid to ask and don't have any expectations just be open-minded and committed to being resourceful.
Heather: Yes, there are three essential attributes you will need for succeeding in the charity sector:
A passion for making a difference 
This has to get you out of bed in the morning, ready to face the day's challenges in your role, whatever they may be.  If this is not you, choose something else to dedicate your life to.
Determination 
Which is not the same as 'forcing outcomes'; rather, it is about commitment, not giving up, doing whatever it takes to succeed and begin happily with small wins until the bigger wins come through.
Resilience
There will be moments in your life when you need to draw back if only a little and temporarily, to take care of yourself or people you care about and who may need you. Do not be afraid to put yourself first from time to time (although this may occur at the moment as counter-intuitive). This does not make you selfish. It makes you human.
When we work in charities, we work with some of the most vulnerable people in the world. If we care, we will tend to give the maximum we can as often as we can. The more compassion you can bring to yourself, the more compassion you will bring to your work, your colleagues, your organisations, and beneficiaries.  Making the world a better place is not a linear process: you will have moments of elation and moments of despair. The key is whether you can tap into what I call your 'Nelson Mandela moments'. To become someone who is able to get up every morning and live, work for, believe in and inspire others to fulfill a common goal.  
---
Thank you so much to Chris, Leon, and Heather for taking the time out to answer our questions. You can catch them live at What It Takes to work in the Charity Sector on Tuesday 27th March, book your tickets today!
Latest posts by Faye Murphy (see all)