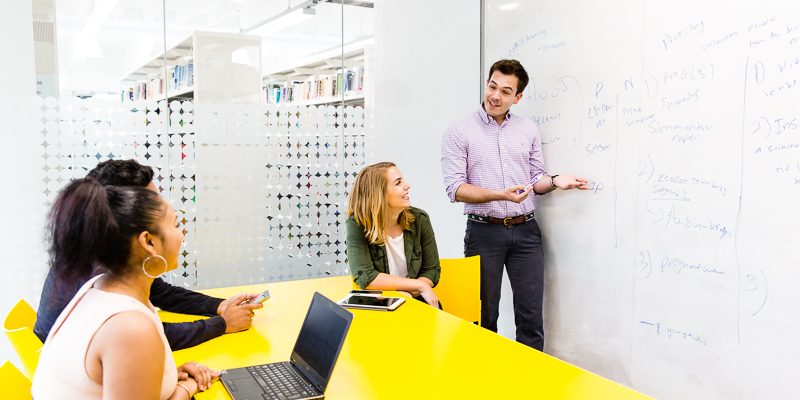 As my first semester at Westminster Business School quickly approaches its end, I reflect upon all of the skills I have come to learn in my time as a student here so far. I have become more self-sufficient and assured in the quality of my work. I have learned how to write in a formal business style. I have also learned why group assignments are so widely unpopular among students.
Understandably, taking a course about Marketing Communications warrants a certain amount of group presentations. Presenting is at the core of this career, and I was aware of that fact going into University. I can even honestly say that I've come to find presenting fairly enjoyable. Within a range of courses, presentation will also be at the core of several modules. If you're lucky enough – like I have been thus far –  the entirety of your projects may be group work.
Throughout my experiences working in groups, I've established 5 main steps on how to maintain good relations between your group mates and your sleep schedule.
1.      Strategic group mate selection – similar priorities and work ethic.
My biggest regret at this point in the semester would probably be my failure to be selective about my group mates. Admittedly, in your first groups of University, there is no way to guarantee how hard everyone will work as you are all virtual strangers to one another. However, as the years pass and you begin to figure out who works in a similar fashion to you, it will be in your best interest to bind yourself to them when you can. The worst thing that can happen in a group is everyone else avoiding doing their respective assignments so that a larger burden is upon you.
If, for whatever reason, you find yourself in a group like this, there are steps that you should take.
a. Document your group mates' negligence
If you take your situation to a trusted advisor at University, you will need proof of your group mate's negligence – for good reason.
b. Discuss your situation with a teacher
While university work is largely independent, you are not alone in your group work struggles. Every seminar tutor that I've had this year has told us all the same thing – if you're having group difficulties and members are not showing up or doing their work, you must let them know. There's no point in keeping quiet and suffering from the workload on your own, especially if this will end up lowering your final mark.
Discussing your situation doesn't necessarily mean you will be throwing a group mate under the bus, nor does it mean you're creating unnecessary problems. It's quite the opposite, in reality. Taking this step is probably the most responsible action you can take to promote your own successful academic career. Addressing this issue will ease your mind far more effectively than pushing on and doing all of the work yourself will.
2.      Create a WhatsApp group
The key to a successful group is cohesion, which cannot be present without effective communication. It's imperative to your group work survival that you have a means of communication. You can divvy up tasks, ask questions, follow up, and generally get to know each other more.
Group work is only that much harder if the people by your side are strangers to you, so having a place to chat is an added bonus.
3.      Get to know each other
Like I said before, group work is only made more difficult when you cannot interact with your group mates like friends. It's able to be a much less painful process if you reach out and try to create opportunities for everyone to get more acquainted with each other. Who knows? You might make a great friend in the end.
4.      Give fair warning
If your group decides to remove a member from the group, it is important that you give them fair warning. Everyone should have the chance to change their behavior and work habits if the situation is dire. By not providing them with the benefit of the doubt to become a better group mate, you're hindering their success as well as your own.
It's much easier and much less contentious to communicate your group's dissatisfaction with said member(s) and give them a chance to improve. After all, you would probably want the same done to you.
5.      Overall – treat others with respect
Whether your group has a friendly dynamic or not, it's important to treat your group mates with respect. This can take on different forms. It can vary from thanking them for completing their assigned part, to asking if they need help with something.
Most of all, it means under no circumstances disrespecting one another. No calling anyone an 'idiot,' even if they have done absolutely no work in 9 weeks. I know from personal experience that this type of treatment only makes group work all the more difficult to complete.
University is an exciting time to meet new people in different settings, all while becoming a better student and professional. If the opportunity is seized the right way, you can truly make the most out of group work assignments and avoid the unnecessary stress of trying to maneuver through sticky group dynamics.
Thank you to Julia Hastings, BA Marketing Communications student, for writing this blog piece.
Click here to read more of the 'Student Minds' series. For more stories from Westminster Business School, click through to our blog.
Latest posts by Julia Hastings (see all)