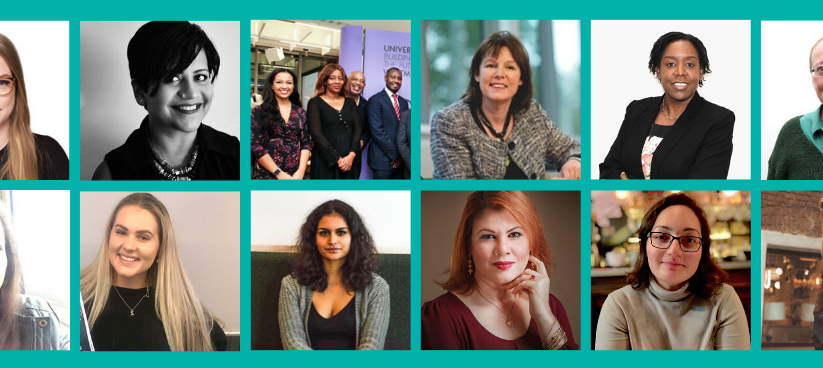 International Women's Day is, probably, one of my favourite days of the year. This is the day when my friends and I discuss the latest progress in promoting equality in different countries, come to protests for women's rights, read about inspirational female leaders of all backgrounds who changed, are changing or about to change the world. There are so many of them that these conversations can go non-stop.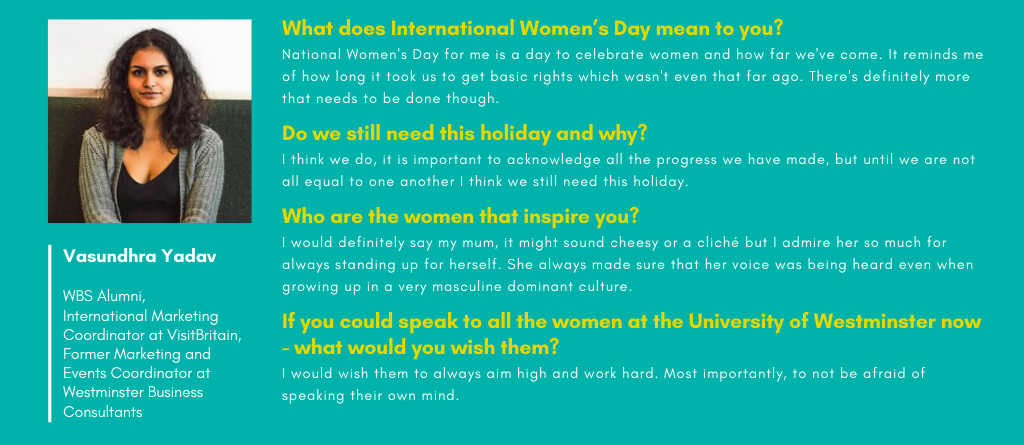 However, originally, I come from quite a patriarchal country where this day is celebrated very differently. On the 8th of March I used to see women getting credit for being good mothers and wives, but not for being ambitious and successful businesswomen, scientists or politicians. I remember times when publicly admitting that you are a feminist was a massive taboo, and women's rights activists were receiving a lot of hatred and were constantly mocked.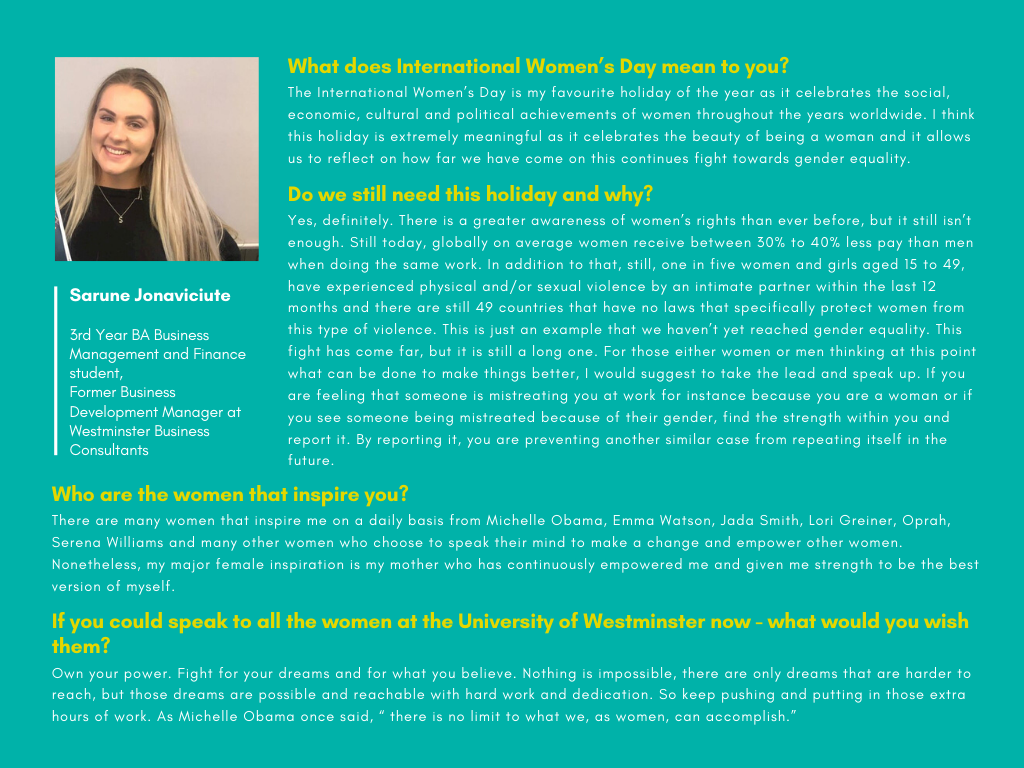 Nevertheless, it brings me joy to see how the situation is changing both in my country of origin and everywhere else. Nowadays, International Women's Day together with the Women's History Month (1-31 March) seems to bring excitement and joy to every environment. The voices of activists are getting louder, businesses start realising that they can benefit from diverse workforce and leadership, advertisers stop using toxic stereotypes, governments implement legislation to guarantee equal rights and women of every age and background begin to feel more empowered. Dozens of events are organised almost every day where female leaders share their stories of success, challenges, growth, struggles and victories.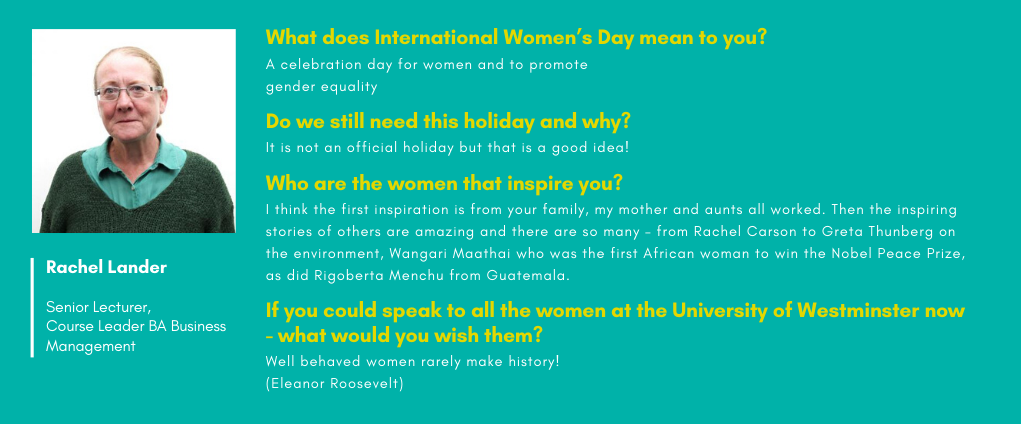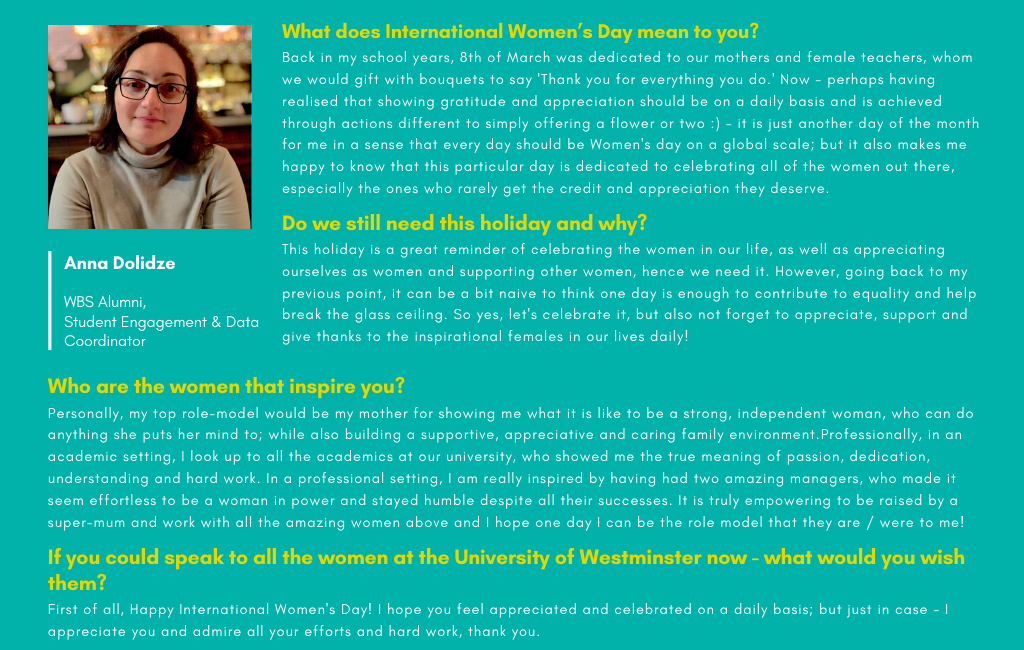 Just this week I have been to "What is takes to be a successful Woman in Tech" event by Creative Enterprise Centre (CEC) and Westminster Alumni Association, attended the Office for Students (OfS) Harassment and Sexual Misconduct consultation student workshop with Nish Kumar and Laura de Courcey from the Student Union, and I'm joining a discussion led by FEMINominal on achieving success as a woman in the East and in the West on the weekend. These events unite women and their allies around important concepts, such as supporting and elevating each other; creating safe and fair environments where people from different backgrounds can thrive; getting rid of the glass ceiling and pay gap; providing girls all over the world with access to education, healthcare and other human rights. They allow us to acknowledge all the progress that was already achieved and continue to move in the right direction in the areas where, unfortunately, there are still a lot of unresolved issues.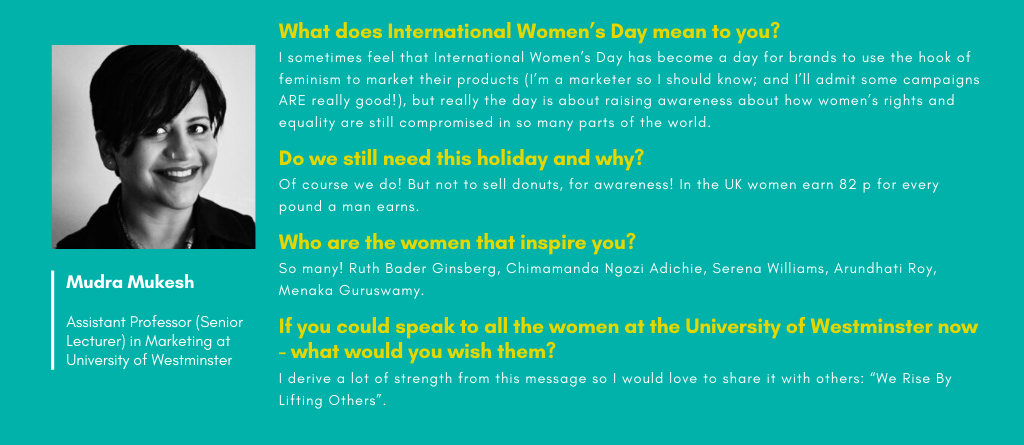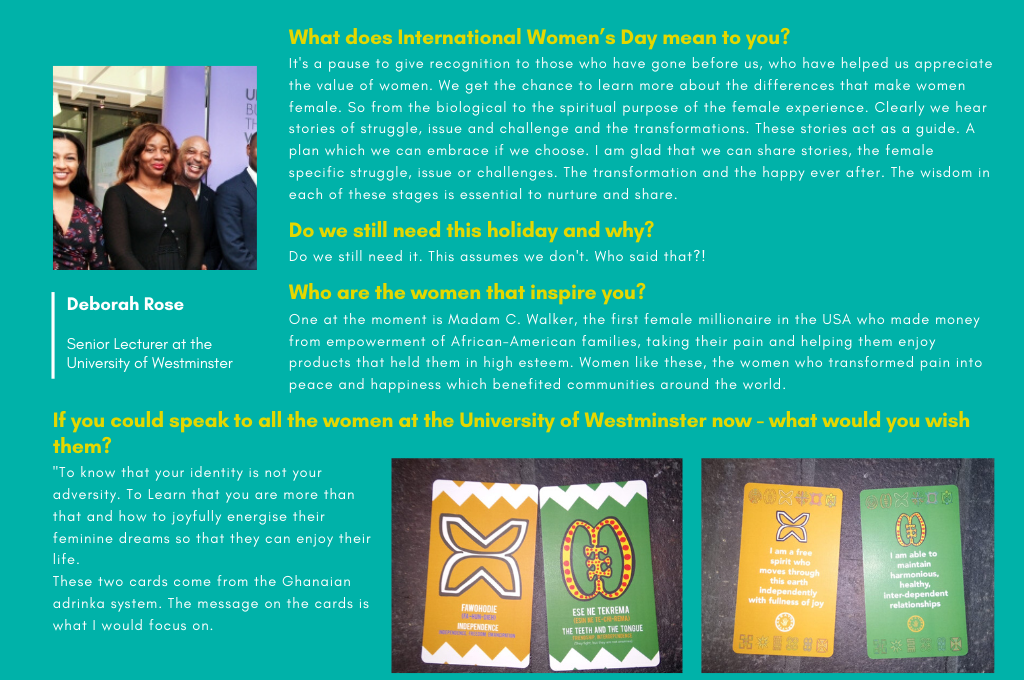 I am lucky to meet so many amazing women who inspire me – not only at these events, but every day: in classrooms and lecture halls, at work, in cafes, the tube, on Instagram and on LinkedIn – they are everywhere, and it makes me truly happy. When I decided to write a blog about International Women's Day, I felt that it was important not only to share my views, but collect thoughts and experiences of some of these women. I have spoken to several academics, students and members of staff at the University of Westminster about what this date means to them, why we need to celebrate it, who inspires them and what they would wish to every woman in our University. Sounds exciting? I hope it does. You can read these inspiring women's answers displayed as "cards" throughout this blog article.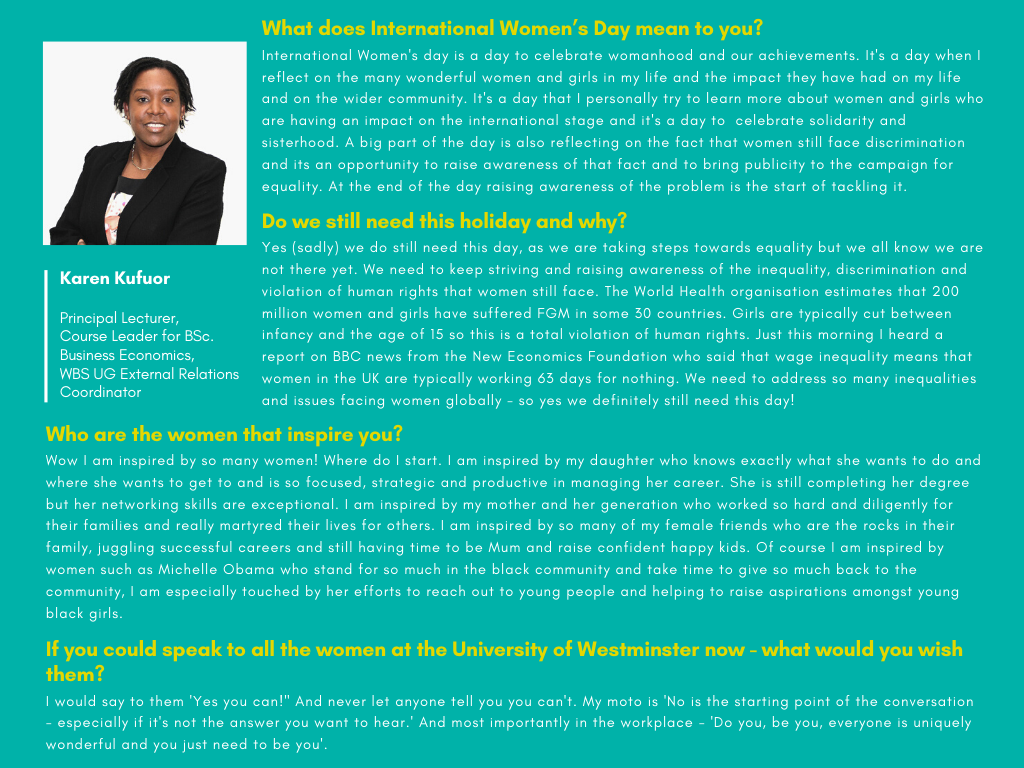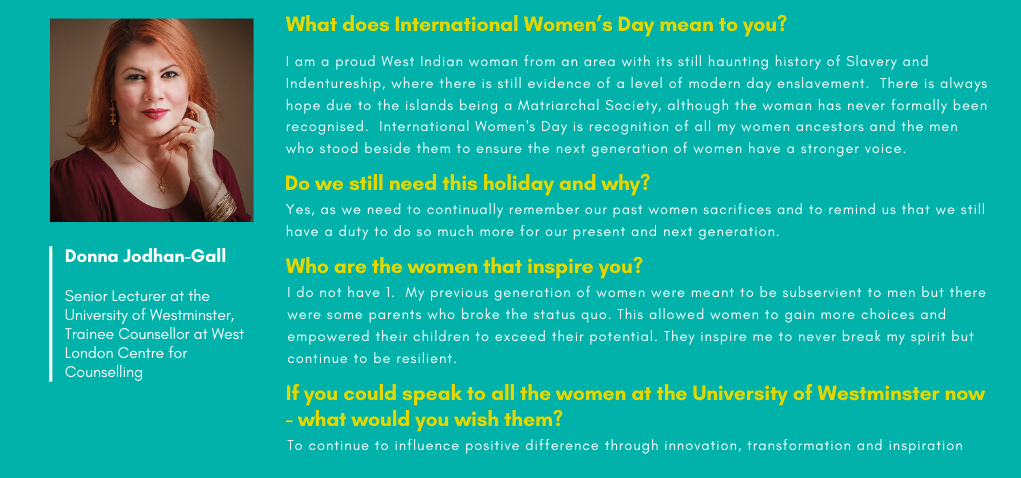 I enjoyed talking to these great women so much and hope that this blog was interesting to you regardless of your background or stage of your career. I would love to read more about what International Women's Day and Women's History Month mean to you. Feel free to leave your thoughts in the comments section. And let me wish you to achieve your dreams – and to dream big! And to celebrate every wonderful, powerful, strong and unique woman around you not only on a particular day, but every day of the year.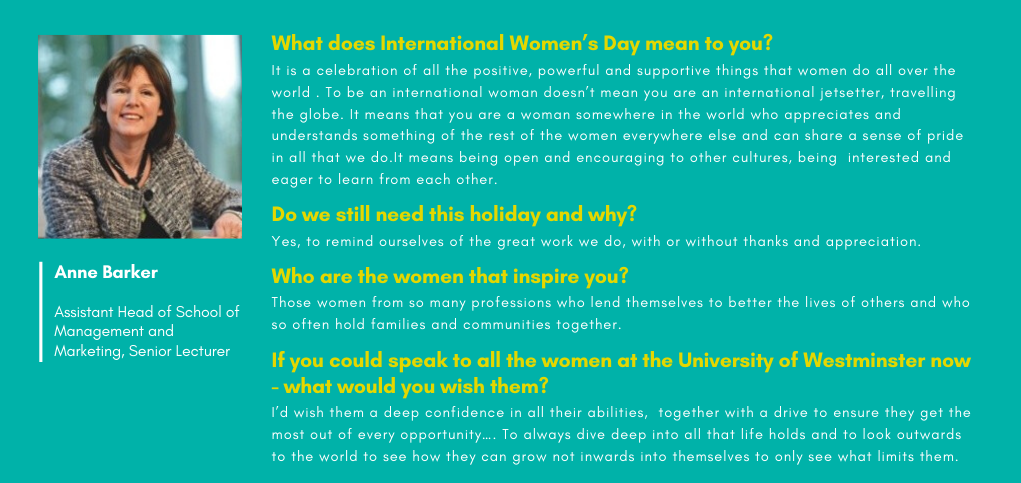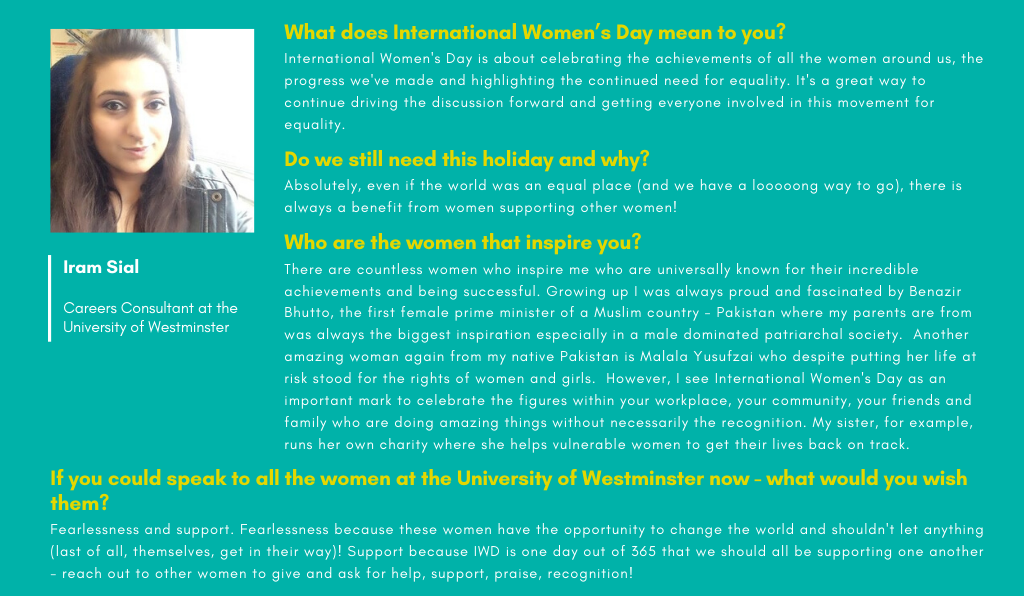 Latest posts by Mariia Kogan (see all)