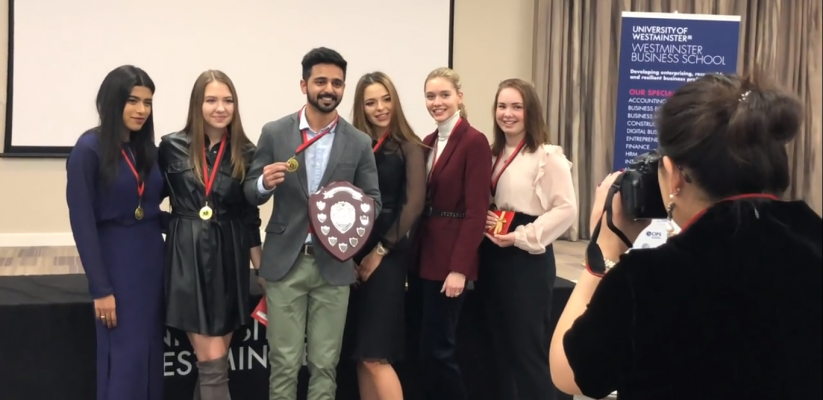 Recently, MA/MSc Marketing Management students from the September 2019-2020 and January 2020-2021 cohorts travelled to De Vere Latimer Estate in Buckinghamshire.
We arrived early in the afternoon, and had a refreshing walk with scenic views of the Chess Valley and took many photos against the picturesque facade with Dr Donna Mai and Dr Kanyanee Ingsa. The Estate is recorded to have existed since 1194 AD with the design reflecting the revival of British heritage.
The Residential Weekend was a real-life corporate training event, that enabled character and team building amongst MA/MSc Marketing Management students in a professional and competitive environment.
The combination of contemporary spaces with natural elements highlighting the beauty of the interior architecture set the perfect scene for the hectic weekend that was to come.
We were introduced to the Client Shivali Gandhi representing British Orchard Nursery by Dr Jaafar El-Murad. The Residential Weekend is designed to test our abilities and integrate theoretical learnings into a practical real-world scenario . We had to draw upon various facets of our knowledge. Acting as consultants, we had to formulate a strategic marketing plan for our client. The current marketing challenges and corporate objectives were clearly outlined by the Client. We were divided into groups of 5 and were briefed about the task we had to achieve over the weekend by producing a marketing plan, which was to increase UK Turnover from £550k per annum to £5m per annum by the end of March 2023.
We had a professional working schedule set out before us with a race against the clock to present a suitable strategy relevant to the client. Dr Jaafar El-Murad helped us review the marketing planning process, and emphasised the importance of each phase by asking us to apply it to British Orchard Nursery, strengthening its presence in the UK market. Team working and time management skills were put to test since we had very little time to complete the tasks.
On Day 1 we were required to submit our Marketing Research with a thorough Situation Analysis and correct identification of Segmentation, Targeting & Positioning (STP). Analytical Marketing Plans and creative solutions for the overarching Ad Campaign were offered to the client, British Orchard Nursery in a series of presentations the next day – this was our final task for Day 2. The preparation behind this task strengthened our ability in delivering a marketing plan and we were very careful to pay attention to linking evidence with practical applications. The opportunity to work on a live case study will help us to apply what we have learned on the course and in our future careers as marketing managers.
The long day of preparation and final presentations was concluded with the Prize ceremony and a formal dinner. Various prizes could be won for each task. A First and Second Prize for the Best Marketing Plan, Best Press Release, Top Social Media Influencer Award and Best Advert Design. Members of the team that won the best marketing plan award received a gold medal, work opportunities with the client and will have all their names engraved on a commemorative plaque, as is the University of Westminster's tradition for all of the former champion teams. The prize-giving was subsequently followed by the individual certificate awarding ceremony. Each student was given a certificate of attendance at the Residential Weekend by Dr Leigh Doster and Dr Donna Mai, in a formal ceremony and pictures with them.
The intense weekend enhanced our practical knowledge in marketing planning and helped us develop transferable skills such as communication, co-operation and problem-solving: all essential for employability in the field of marketing. Our navy blue University of Westminster fleeces provided a strong sense of belonging, helped us feel connected and will prove to be an object of remembrance for the happy memories we had at the Residential Weekend for years to come!
The teachers who accompanied and supported the facilitation of this rewarding weekend are Dr Donna Mai, Dr Jaafar El Murad, Dr Kanyanee Ingsa, Dr Pinar Demir, Dr Leigh Doster. Their constant guidance, effort and dedication to making this weekend a holistic learning environment for us despite the challenges is wholly appreciated. A special shout out to the Vice Chancellor, Peter Bonfield for following and encouraging our journey.
Watch our video diary for Day 1 and 2 to see some of the fun moments captured by the lovely Aizhan:
______________________________________________________________________________________
We would like to credit and thank the author Tanushree Ravikumar, current MA/MSc Marketing Management student for contributing this blog piece. Would you like to find out more about studying marketing at Westminster Business School? Check out other articles on our Westminster Business School Blog
Supporting you throughout the application process.
Latest posts by Kasia Kicinska (see all)