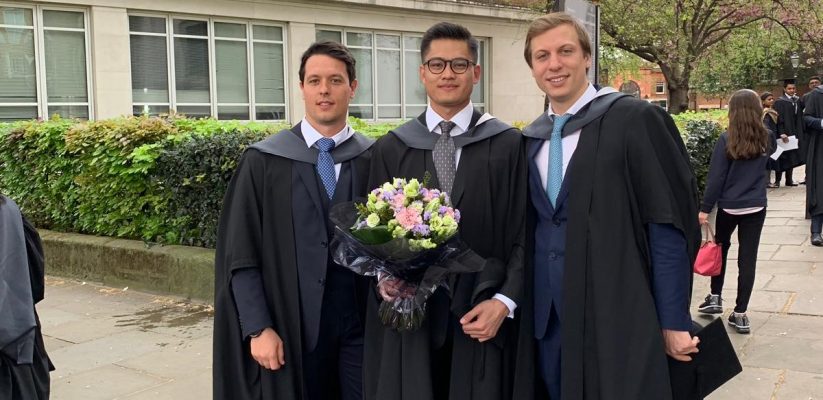 Studying abroad really changed my life!
After graduating back in Italy, I decided to move to one of the most vibrant cities in the world, London. One of the triggers of this decision was to embrace multiculturalism and diversity. Most of us will agree that learning by doing is the most effective way to learn. And so, sharing thoughts, hands-on projects, working together with people from different backgrounds really did help tremendously in speeding up my career. Westminster Business School is definitely the right place to be if you want to pursue your global career path!
Besides studying, I enjoyed my time in London with fellow students, now my friends for a lifetime. One of my favourite moments from those days is the time spent after classes in a nearby Regents Park. Indeed, just across the Marylebone Campus, this amazing park was the place where we used to chill and study while sitting on the grass.
A true Career Boost!
After applying for MA/MSc International Business and Management I secured a place on the winter start of the programme, in January 2018. My journey at Westminster Business School gave me the possibility to integrate my economics background with the widest range of areas such as leadership, strategy, digital information management and many more.
Let me give you an example of why MA/MSc International Business and Management is a truly International Master's degree. During the first semester, we had the opportunity to do a field trip in Tashkent,
Uzbekistan, and conduct a project for a leading retail company Korzinka.uz.
It is a company mostly relying on traditional channels to market its products. Therefore, our project focused on evaluating how disruptive technologies could affect online shopping in Uzbekistan and a possibly of switching capital investment from offline store to online ones. This project boosted my knowledge of overseeing international consulting projects by using primary research, understanding best practice and working in a team. It also helped me understand how to deliver and meet the expectations of a board of directors when presenting a complex project which may affect the success of a company. What's more, this experience helped me to understand how corporate life works by considering different stakeholder expectations and complex corporate systems. For sure the skills gained helped me to stand out when re-entering the job market after graduation. If you are interested to find out more, check out our trip video on Youtube! IBM Tashkent Trip
In addition, during our second semester, we had the privilege to visit Mini Cooper Plant in Oxford. A production plant which over time has been completely transformed thanks to robots and connected manufacturing systems. All these projects and experiences have allowed me to identify what my next career step would be.
In order to find the right path, review my CV and practice mock interviews I participated in long career consultations delivered by WBS consultants. These were 1 to 1 consultations which can be easily booked through 'Engage'. By attending those career consultations I was able to "connect all the dots" and apply my passion for technology in the finance and manufacturing sector. As a result, my next step was nowhere else but into the Silicon Docks, Dublin.
Into the Silicon Docks!
After graduating from Westminster Business School in April 2019, thanks to extracurricular activities and project that included the use and the deep understanding of digital tools, I decided that I wanted to specialise in this area.
The following September after graduation, I was hired by the Tech Giant Oracle Corporation in the EMEA HQ with the role of Business Development Consultant for the Italian market.
As Consultant at Oracle I help Italian companies to embrace Digital Transformation. I especially work along with IT and executive professionals to develop innovative practices in the manufacturing, supply chain and finance processes.
I am in charge of ERP and EPM cloud applications, my daily activities include:
Uncovering sales opportunities in new and existing Italian Named Enterprise Accounts ($500m+ in revenue) through well-organized territory planning and demand generation efforts via an account-based marketing approach,
Creating and nurturing positive business relationships with the key client accounts;
Addressing clients' needs and providing them with Oracle's business-relevant solutions;
Social and Digital Selling.
Supporting you throughout the application process.
Latest posts by Kasia Kicinska (see all)