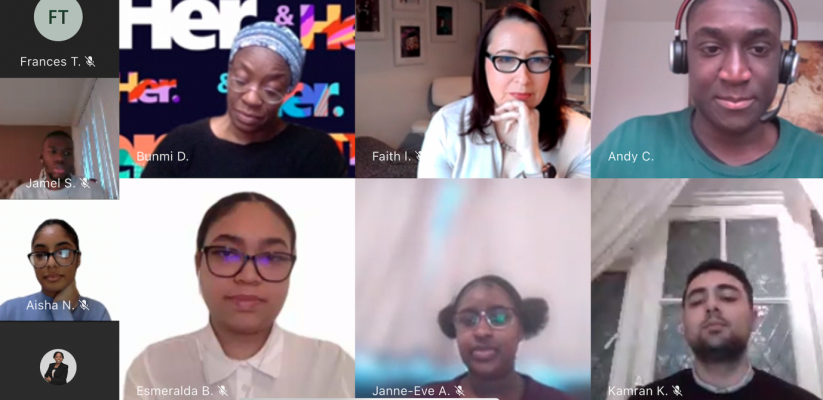 Challenges of 2020/21 and student engagement
2020/21 academic year has been a challenging year, as the world comes to grips with the global pandemic and the restrictions that have inflicted our lives. Like most things in life, change brings challenges and opportunities.
As a Course Leader and Module Leader I have had to meet the challenges of delivering our fantastic University experience via online platforms. That involves promoting student engagement in their studies and ensuring students feel supported throughout their academic studies. But it also means effectively communicating and actively encouraging extra-curriculum opportunities that provide opportunities for personal and professional development. I was especially mindful of first year students who would not have the usual pleasures of physically meeting up and making new friends.
Every cloud has a silver lining
As a University we were well prepared; with an intranet platform able to deliver classes live and save recordings, which also allowed for some measures of interactivity. I was also delighted to have the support of the Quintin Hogg Trust (QHT), which provided funding for a number of extra-curriculum initiatives. QHT is a unique source of funding aimed at the advancement of education for Westminster students. For my first year Business Economics students the funding allowed me to buy in an exploring enterprise business simulation course from Learning Dynamics  – the company who run the IBM University Business Challenge, the longest running national University business competition.  More than 45 Business Economics students in 9 teams took part;  the course ran over 8 weeks with students meeting and working online in virtual classrooms to work on a range of business decisions from formulating the initial business  idea, assessing commercial viability, through to running the business. The simulations generated real -world issues that the students would need to tackle, making decisions on stocks levels, storage, staffing and office space. The course culminated with pitches to investors for funds to upscale operations. Oli Ben from the winning team said of the experience:
"The course helped me realise the complexities of business; making business decisions each week was time consuming but we learnt the importance of business planning and the key business pitfalls."

Oli Bein-Harrison, Business Economics BSc Honours
For me the aim of the course was not just to introduce students to commercial awareness, but also to build course identity and a sense of belonging. I know how excited students are about the first semester at University. It is such a milestone and during these difficult times I wanted to do my best to ensure the new students got the opportunity to meet and engage with fellow students.  I felt my goal was at least partially achieved with over 60% of students surveyed stating that they felt part of the course and that they had gotten to know their team mates better due to the team work within the course.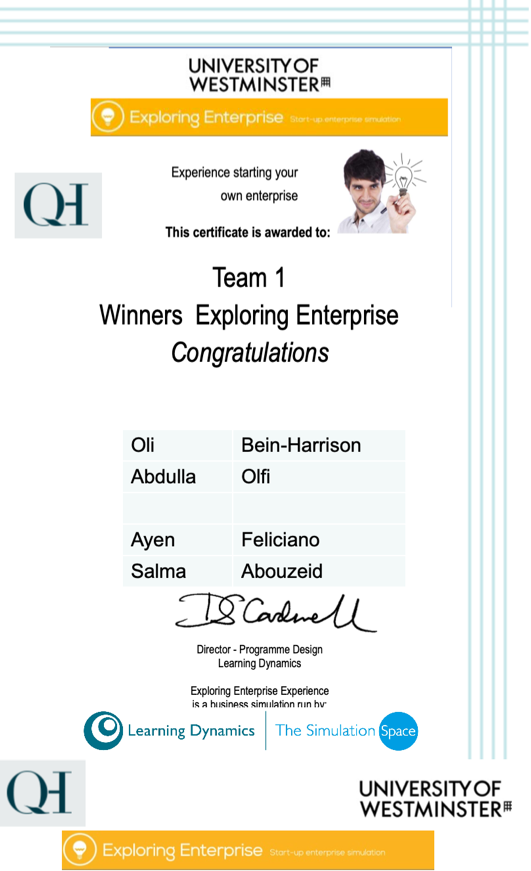 Inspiring a team of Business Economic students to enter the IBM University Business Challenge
Inspired by the exploring enterprise course a group of first year Business Economics took part in the IBM University Business Challenge, competing against 250 other University teams. While Westminster had three teams in the semi-finals only one team progressed to the finals, where 20 teams battled it out for the championship. I believe the online environment made it  more convenient to meet up for mentoring opportunities and it became quite a relaxed environment where the students felt comfortable exchanging their ideas.
Talking about the experience and becoming one of the top 20 teams to make it to the finals Team Leader Shaheer Ahmed, said:
 "…Everything was so new to us as first year students, but as we worked together we got through." 

Shaheer Ahmed, Business Economics BSc Honours
Echoing the importance of team work member Armash Ramzeen added:
"Teamwork and dedication is what brought us success."

Armash Ramzeen, Business Economics BSc Honours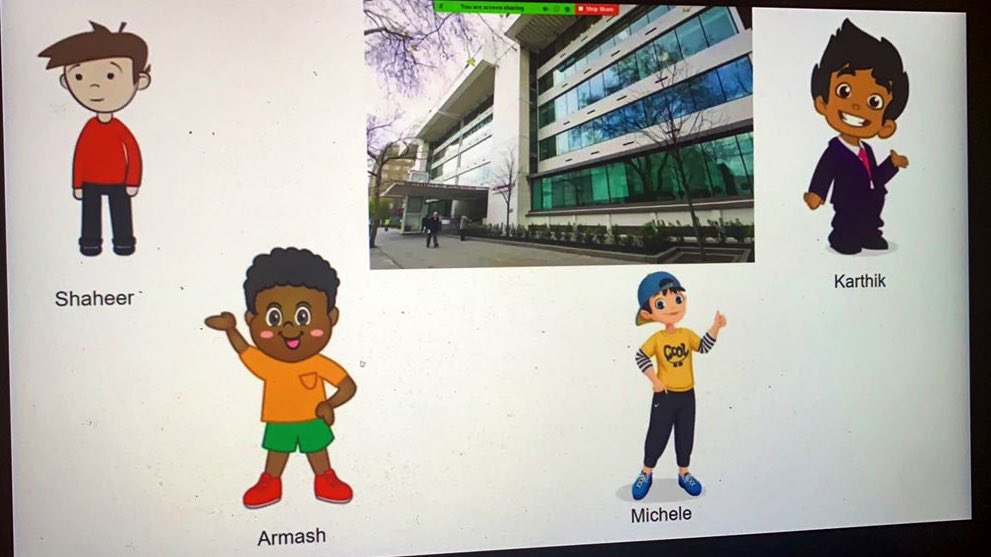 Diversity initiatives prove successful
In another student engagement activities, our students also bagged third place in the EDI Microsoft BAME network University Business Challenge. The competition is skills-focused and based on a live business challenge, set by Microsoft BAME Network, where students work together in teams to apply their knowledge and develop solutions to a real-world challenge. Thirty-five teams and 18 Universities took part.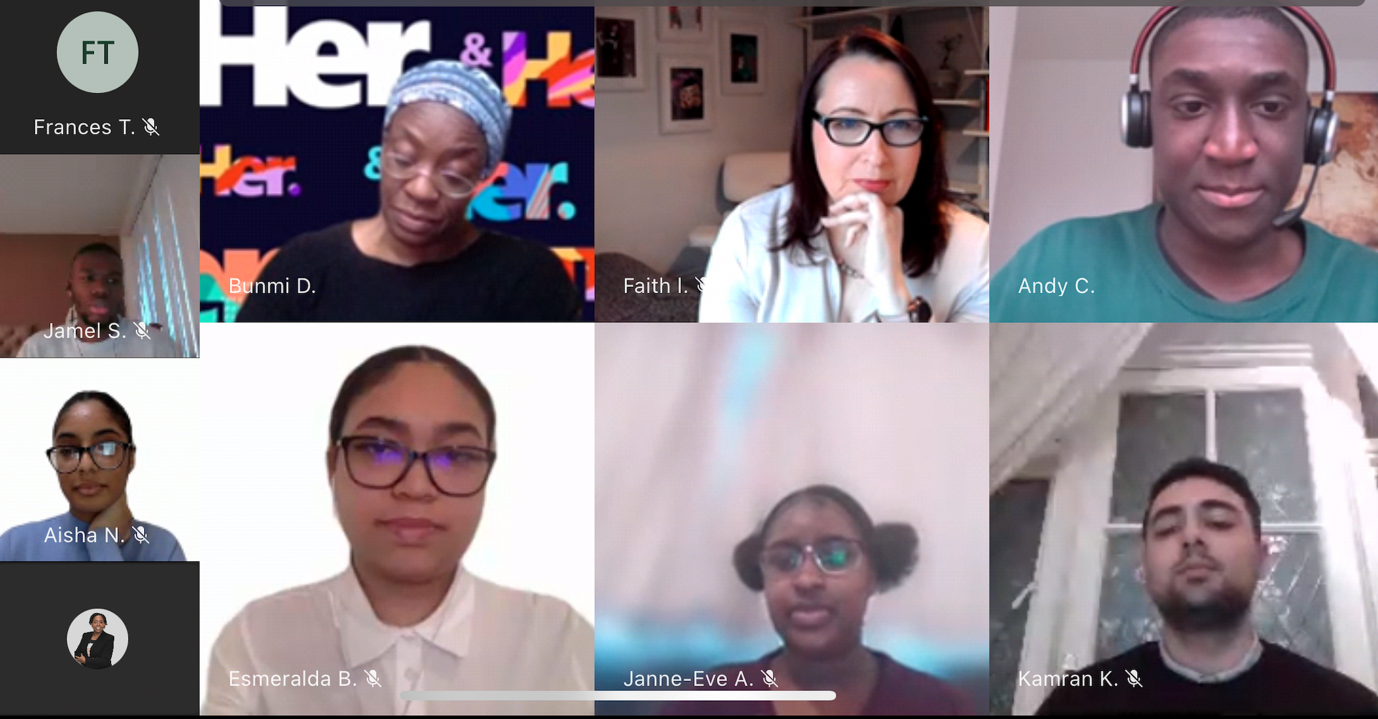 Talking about the competition, student Esmeralda Blackson said:
"This business challenge has made me engage with extremely interesting projects which are relevant in today's world. I have become a better risk taker and critical and creative thinker."

Esmeralda Blackson, Business Management (Marketing) BA Honours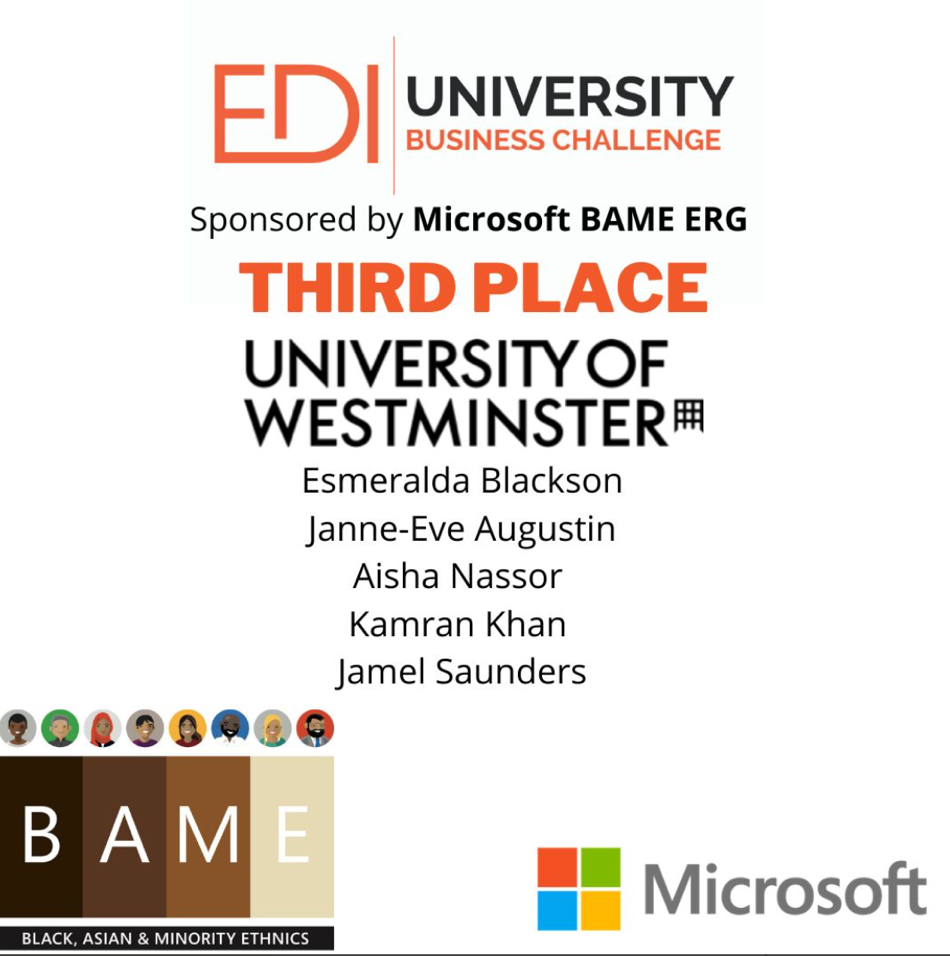 The year as a whole was an eye-opener for us all; we tested our resilience and adaptability. We had to find new ways to safely engage with others, we created new outlets to reduce stress and developed  new support mechanisms. We all certainly embraced technology like never before and improved our digital skills. Many of us revalued what was important to us and found new innovative and efficient ways to work. We also found a new sense of comradeship and a deeper appreciation for the medical profession. As the world continues to battle the pandemic and emerges from lockdowns and restrictions across the globe, the education journey could never be more relevant; we are reminded of the value of being flexible, adaptable and independent critical thinkers, digitally literate, able to research and analyse information, in order to make informed decisions and solve critical problems. This coming academic year the University has embraced authentic assessment across all degree programmes, meaning our students will be even better prepared to respond to real world problems, in the work environment.
Meet our students 
Exploring Enterprise course winners team members are Business Economics BSc Honours students Salma Abouzeid, Oli Bein-Harrison, Ayen Feliciano, Abdulla Olfi.
EDI Microsoft  BAME University Business Challenge third-place team consisted of Business Management BA Honours students Aisha Nassor and Janne-Eve Augustin, Business Management (Finance) BA Honours students Kamran Khan and Jamel Saunders and Business Management (Marketing) BA Honours student Esmeralda Blackson.
IBM University Business Challenge finalist team consisted of Business Economics BSc Honours students Shaheer Ahmed, Michele Anastasio, Karthik Ramesh, Armash Ramzeen.
---
Karen Kufuor is the Course Leader for the Business Economics BSc (Hons) and UG Conversion Liaison. She has also written articles for the Times Higher Education (2019, 2018) and in Trought (2017) Brilliant Employability Skills. 
Read more from our Academic Minds blog column or browse our undergraduate and postgraduate courses taught at Westminster Business School. Other articles on Student Engagement activities can also be found on Westminster Business School Blog. 

Karen Kufuor is a Principal Lecturer in the School of Organisations, Economy and Society and UG External Relations Coordinator at Westminster Business School.

Course Leader: Economics BSc Honours, Financial Economics BSc Honours

Latest posts by Karen Kufuor (see all)